High-Vis Workwear: What Do I Need to Know?
Tuesday, 11 February 2020 | Admin
High-vis clothing is certainly eye-catching, but there are so many international standards for judging a garment's visibility that it can become confusing. Although low light conditions might not sound like the most formidable danger you face in your workplace, high-vis PPE can and does save lives.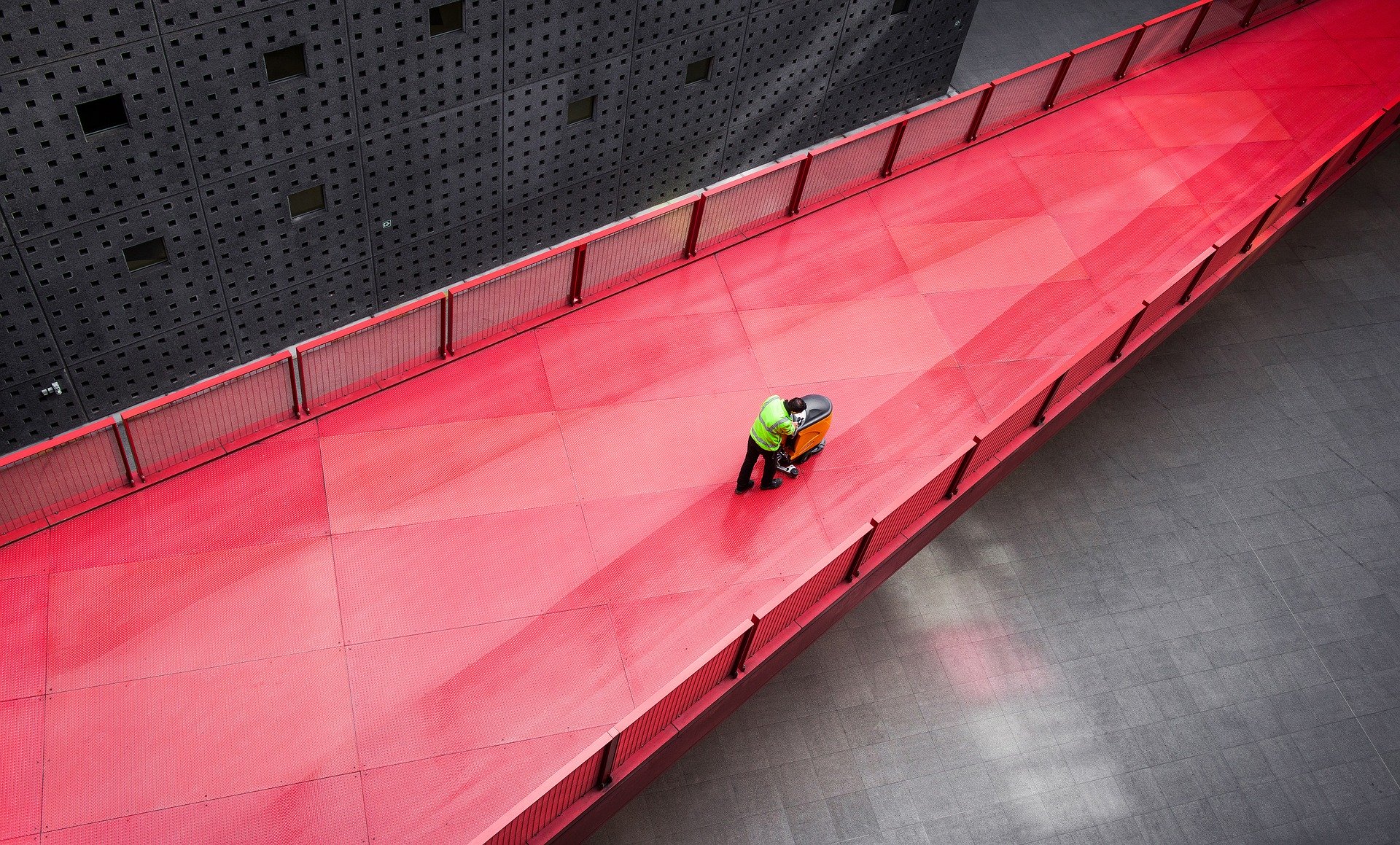 High-vis clothing ensures you stand out from your surroundings
A recent New Zealand study found that a third of motorbike accidents could have been prevented by high-vis clothing. Yet it is important that the makeup of the garments is exactly right, as certain reflective tapes have been known to result in retinal damage due to their extreme luminosity!
Which Professions Require High-Visibility PPE?
Many professions require high-vis PPE, here is just a selection:
Emergency Services
Heavy equipment and construction workers
Security personnel
Warehouses
Road and rail workers
Military
Why Do We Need High-Visibility Workwear?
The most obvious reason for high-visibility work wear is to ensure that workers are visible to those operating heavy-machinery or vehicles, thereby preventing accidents. Another reason for high-vis work wear is simply easy identification. When working in security or on a construction site it is often important to identify other employees amongst a crowd, which is made far easier by hi-vis clothing.
What Makes Something Highly Visible?
There are three main factors which contribute to a garment's level of visibility:
Fluorescent Material
Fluorescent materials reflect light, often glowing most brightly at dawn and dusk. These materials are usually exceptionally bright in colour, the exact shade depending on the environment in which they are intended for use. For example, coast guard workers usually wear orange as it is the most prominent colour against the dark background of the sea.
Reflective Tape
The second component of a high-vis garment is usually reflective tape. This can be either microprismatic tape or glass bead reflective tape.
Microprismatic tape is formed from 3 point prisms, which reflect 80% of the light directly back at the source
Glass bead tape works like thousands of tiny mirrors, reflecting back a diffused white glow
Contrast Panelling
Darker coloured panels of the garment are less sensitive to dirt than the fluorescent materials and reflective strips. Without these dark panels the functionality of some high-vis garments would decrease. These sections frequently cover parts of the garment where dirt is likely to build up, for instance the sleeves, ankles and knees.
How Are Garment's Tested for Visibility?
Reflective Tape Testing
A retroreflectometer is an instrument that measures the coefficient of the light reflecting properties of a surface or fabric from 2 rotating angles. This is measured in candela per square metre (cd/lx/m²), which essentially means the luminous intensity per square meter. For reflective tape to meet the high-vis EN ISO 2071 standard it must not register below 330 cd/lx/m².
Fluorescent Fabric Testing
A spectrophotometer can be used to measure the colour intensity of a fabric and interpret it as a precise set of numeric values. Both the precise chromaticity co-ordinates of a fabric and the luminance factor of a fabric contribute to whether the garment qualifies as sufficiently fluorescent to meet standards of high-visibility.
An Introduction to High-Vis Standards
EN ISO 20471
This European standard specifies whether a garment can sufficiently signal the users presence in a variety of conditions:
During the day or night
In light or dark conditions, including under the beam of headlights
When viewed by operators of vehicles or other mechanised equipment
These garments are made from a fluorescent coloured fabric with strips of reflective material. The table below details the standard's certifications more thoroughly. It is worth noting that the amount of the body covered by high-vis material impacts the certification.
| Class | Requirements | Intended Use |
| --- | --- | --- |
| Class 1: Minimum Level | Minimum of 0.142m2 background fluorescence and 0.10m2 of retro-reflective material | Required for work on a private road |
| Class 2: Intermediate Level | Minimum of 0.50m2 of fluorescent background material and 0.13m2 of retro-reflective material | Intended for those working near A and B class roads or delivery drivers |
| Class 3: Highest Level | Minimum of 0.80m2 of background material and 02.20m2 of retro-reflective materials | Required for work near motorways, dual carriageways or airports |
RIS-3279-TOM
This is the Railway Industry Standard, and sets out the minimum specification for high-visibility clothing in the rail industry. This standard is especially stringent, due to high-speed trains and the otherwise dangerous nature of the work. Almost all garments which meet this standard are fluorescent orange as this is the brightest colour and can be seen from over half a mile away.
ANSI/ISEA 107 - 2015
This is the American standard for high-visibility. Garments that meet this standard can be worn for 24 hours a day and provide users with a high level of conspicuousness through the use of combined fluorescent and retro-reflective material. This standard has 3 garment types indicated in the table below.
Garment Type
Intended Use

ANSI/ISEA 107 - 2015 Type O Class 1

For Off-Road Use

ANSI/ISEA 107 - 2015 Type R Class 2
ANSI/ISEA 107 - 2015 Type R Class 3

For Roadway Use

ANSI/ISEA 107 - 2015 Type P Class 2
ANSI/ISEA 107 - 2015 Type P Class 3

For Public Safety
AZ/NZS 4602.1:2011
This Australian/New Zealand standard specifies high visibility requirements for those occupations where people are exposed to moving traffic or moving equipment. This standard covers garments for daytime wear, night-time wear, where they will be seen by retro-reflected light.
| Class | Intended Use |
| --- | --- |
| Class D | Garment Designed for Daytime Use |
| Class N | Garment designed for night use using retro reflected light |
| Class D/N | Garment designed for day and night use |
A Case Study: Portwest High-Vis Long-Sleeve Shirt
Let's put this into practice. Portwest offers an amazing range of high-vis work wear. As an example let's use the Portwest FR96 High-Vis Flame Resistant Long-Sleeve Shirt.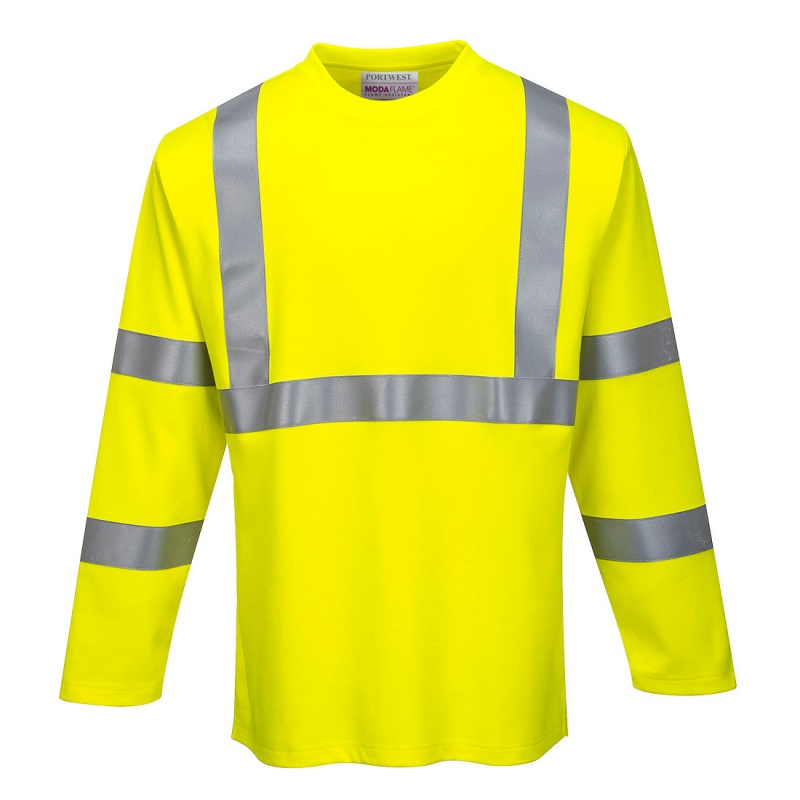 Portwest FR96 High-Vis Flame Resistant Shirt
What Certifications Does the Shirt Receive?
The FR96 shirt received the following certifications:
EN ISO 20471: Class 3
ANSI/ISEA 107

2015 Type R
Class 3 (2015)
EN ISO 20471
The shirt receives a class 3 rating according to EN ISO 20471. This means that it offers the highest level of protection and is suitable for working near motorways, dual carriage ways or airports.
ANSI/ISEA 107
The shirt receives a Type R, Class 3 classification according to ANSI/ISEA 107. This means that it is highly suitable for use on roadways.
RIS-3279-TOM / AZ/NZS 4602.1:2011
This shirt has not received certification according to RIS-3279-TOM or AZ/NZS 4602. It has not been certified as suitable for railway work, likely because it is yellow not orange. It has most likely not been tested according to AZ/NZS standards as these are not generally applicable in the United Kingdom.
Can Visibility Be Improved by Layering?
Yes, absolutely. Two garments, one with an EN ISO 20471 Class 1 rating and one with a Class 2 rating, can be combined into a Class 3 rating ensemble. This is due to the importance of highly-visible surface area according to the EN ISO 20471 standard.
The shirt below has a Class 2 rating and the trousers also have a Class 2 rating. However, when worn together they qualify as a Class 3 ensemble.
Where Can I Find More High-Vis Workwear?
For further information and high-vis work wear have a look through our High-Vis Workwear category!
If you have any questions or anything to add, then we would love to hear from you. Please leave a comment below!