Our Best Sustainable Workwear 2022
Wednesday, 3 August 2022 | Sam
A focus on sustainability is more important than ever. Many companies are reflecting this nascent eco-conscience and releasing new sustainable ranges full of environmentally-friendly, robust workwear. To help you decrease your impact on the planet without having to change your lifestyle, we have created this guide to Our Best Sustainable Workwear so that you can construct an outfit of your choice that doesn't harm the planet.
What Will This Article Cover?
This article showcases the very best sustainable workwear currently available on the market, not only made from bio-based and recycled materials but also with reduced emissions throughout the manufacturing process and greater service life for re-usability. We'll take you through our favourites from each of the following categories:
Our Best Sustainable Protective Eyewear
Winner: Uvex 9145265 Pure-Fit 100% Recyclable Clear Safety Glasses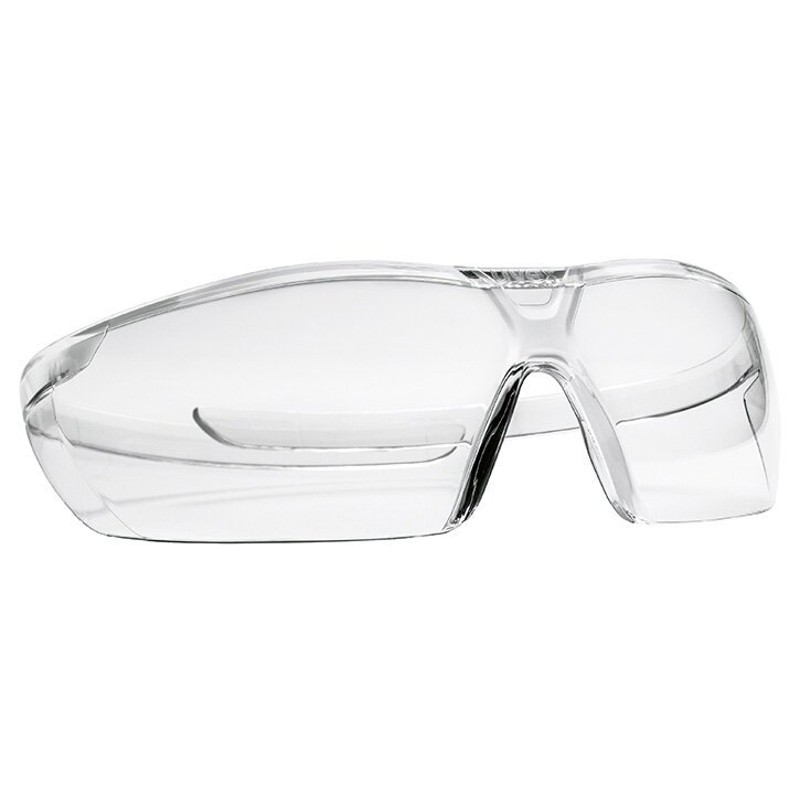 Uvex's Protecting Planet range goes above and beyond when it comes to sustainability, using recycled and bio-based materials while also reducing the amount of packaging they use and the number of emissions involved in production. The Uvex 9145265 Pure-Fit 100% Recyclable Clear Safety Glasses go one step further as they can be completely recycled if you ever decide to stop using them.
Why we love them:
✔ Wraparound protection coated with Uvex's Supravision for anti-fog clarity
✔ Ultra-lightweight build weighing just 19g for comfortable all-day wear
✔ Their design is timeless and will stay relevant to avoid waste from obsolescence
Our Verdict: Uvex have created an iconic pair of high-quality safety glasses that are fully recyclable.
Our Sustainable Choice for Disposable Gloves
Winner: TraffiGlove TD04 Sustainable Nitrile Disposable Gloves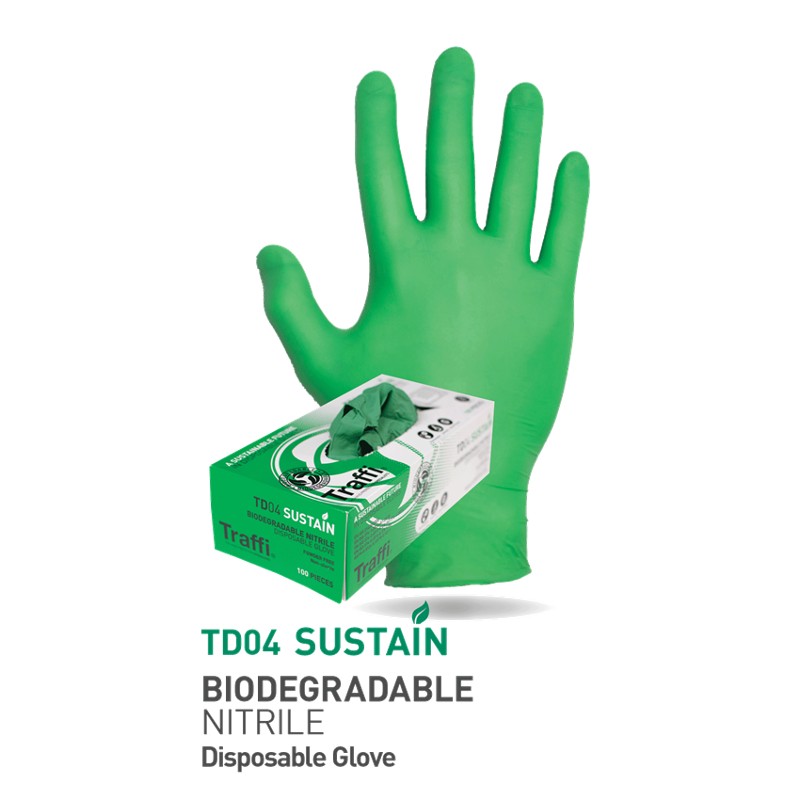 Sustainable and disposable aren't typically two characteristics of the same product. That's what makes the TraffiGlove TD04 Sustainable Nitrile Disposable Gloves so impressive. These gloves biodegrade by 79% in just 735 days without compromising on the high-quality of their nitrile construction which is great for use with food or where oil is involved for mechanics or riggers.
Why we love them:
✔ Affordable box of 100 gloves for multiple uses that doesn't create excess waste
✔ Textured surface offers superior grip compared to other disposable gloves
✔ Powder and latex free so those with sensitive skin can use these without worry
Our Verdict: TraffiGlove are doing their bit to protect the planet with disposable gloves that don't produce a large amount of waste.
Our Most Sustainable Work Shirt
Winner: Leo Workwear T01 Newport EcoViz Bamboo Yellow Hi-Vis T-Shirt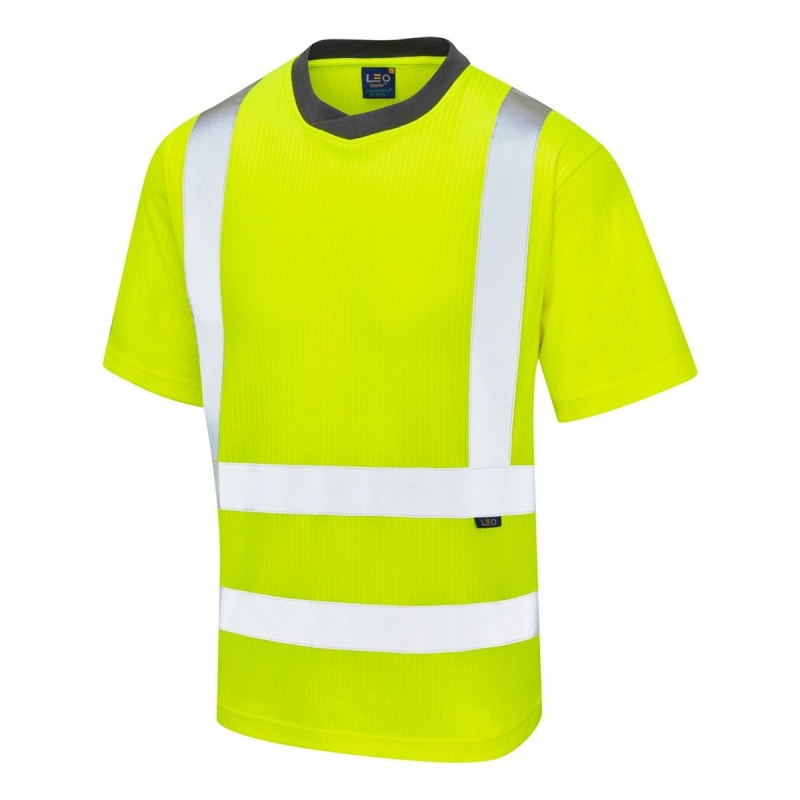 Leo Workwear have an excellent EcoViz range of comfortable clothing that is all made from recycled and sustainably sourced fabrics. The Leo Workwear T01 Newport EcoViz Bamboo Yellow Hi-Vis T-Shirt makes simplicity stylish while providing bright hi-vis apparel that is comfortable thanks to its soft biomaterial bamboo build.
Why we love it:
✔ The bamboo fabric is soft to touch, breathable and anti-microbial
✔ Stay clearly visible on site while also protecting the environment
✔ Guaranteed comfort and a secure fit thanks to split hem design
Our Verdict: A stylish, sustainable and practical work shirt that is astonishingly comfortable.
Our Best Sustainable Work Trousers
Winner: Portwest T706 Black Eco-Stretch Holster Trousers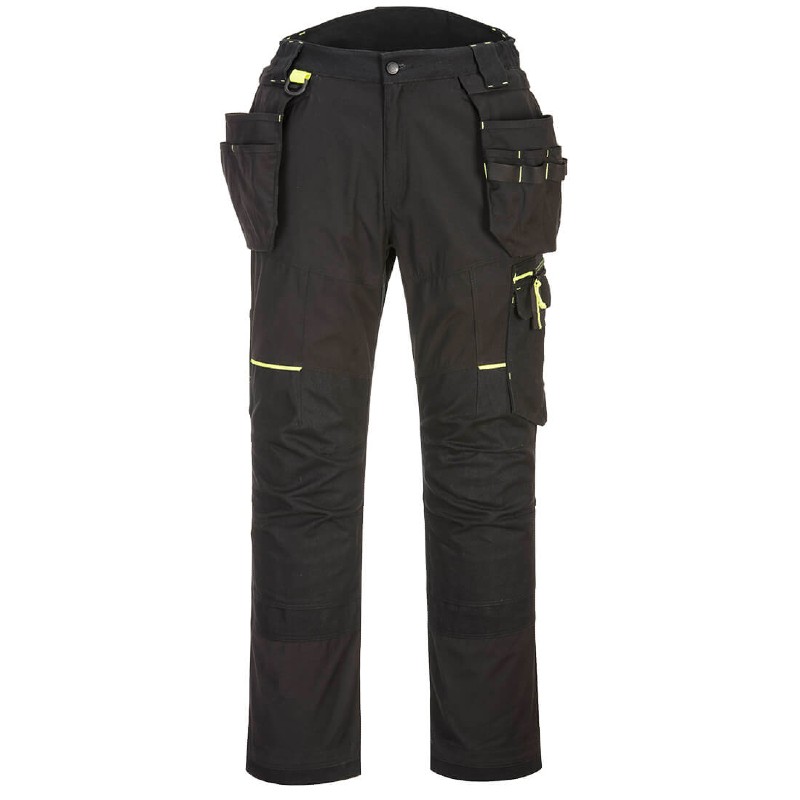 Portwest's Planet range goes a step beyond sustainability to make ethical business practices the core of their mission, ensuring labour rights, sustainable procurement and joining the UK Plastics Pact. While doing all of this, they continue to make exceptional work gear as is the case with the Portwest T706 Black Eco-Stretch Holster Trousers, versatile utility trousers with an abundance of storage space.
Why we love them:
✔ Two holsters allow for safe storage of tools, parts and anything else
✔ Use of recycled polyester for an eco-friendly and durable build
✔ Total of thirteen pockets for an incredible amount of storage
Our Verdict: These multifunctional trousers are suitable for use in a range of industries.
Our Most Suitable Hi-Vis Workwear
Winner: Leo Workwear CV02 Watertown EcoViz Hi-Vis Orange 10KX Stretch Coveralls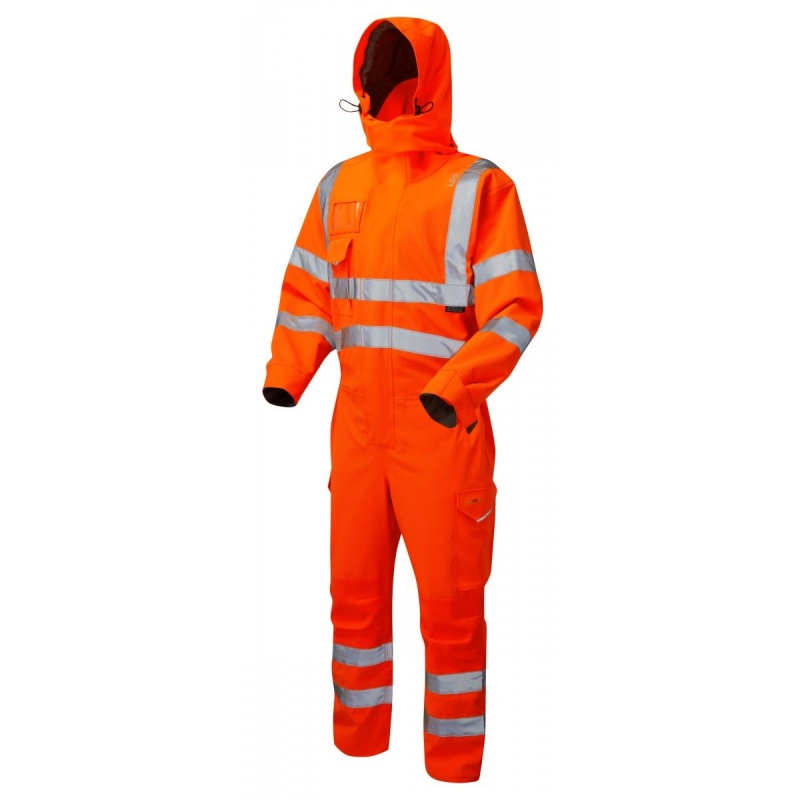 We've already commended Leo Workwear's EcoViz range but their exceptional hi-vis clothing and the benefit of their recycled plastic method deserves another mention. With the Leo Workwear CV02 Watertown EcoViz Hi-Vis Orange 10KX Stretch Coveralls you're guaranteed to be easily seen and protected in a warm, waterproof coverall that is breathable for your comfort.
Why we love them:
✔ Visibility that will be clear in storms, wet, underground environments and at night
✔ Comfortable coveralls that are tough enough to handle harsh environments
✔ Built with over 100 recycled plastic bottles and reduced emissions in manufacturing
Our Verdict: Stay dry and clearly visible even in intense storms with these eco-friendly coveralls.
Our Choice for Sustainable Head Protection
Winner: Uvex 9772042 Pheos Planet B-WR Safety Helmet
Uvex turn their sustainable tech to head protection that cares for your safety and the planet's too. Made from 30% bioplastic with a headband consisting of 50% recycled helmet shells, the Uvex 9772042 Pheos Planet B-WR Safety Helmet is designed to keep your head safe and cool with two vents that allow cooling air to flow in and hot air flow out.
Why we love it:
✔ Long brim helmet for secure protection from objects falling from above
✔ Designed for wearer comfort, centralises its weight to relieve neck tension
✔ Adjustable six-point suspension harness and climate management system
Our Verdict: Uvex impress again with this comfortable with sustainable head protection.
Unlike Our Resources, There's Always More...
Wow! What a selection of quality products... we hope that all this gear will help you to help our planet. If not, this sustainable workwear only scratches the surface of what we have available on Workwear.co.uk so if you're looking for more, why don't you get prospecting and search any of the categories mentioned above to see complete ranges from our favourite brands?
Which of our sustainable choices has you ready to help our planet? Let us know in the comments below, or hit us up on Facebook and Twitter.