Our Top 5 Hi-Vis Work Gloves
6 March 2020 | Admin
Welcome to our best high visibility gloves blog, designed to help you make your decision when it comes to buying your first pair. High visibility gloves are great for a number of reasons, whether it's being seen in dark and dingy working conditions, or even meeting Health and Safety guidelines in your place of work. You might even need hi-vis work gloves for working on a building site, where a crane operator would benefit from being able to see a workers hands at distance.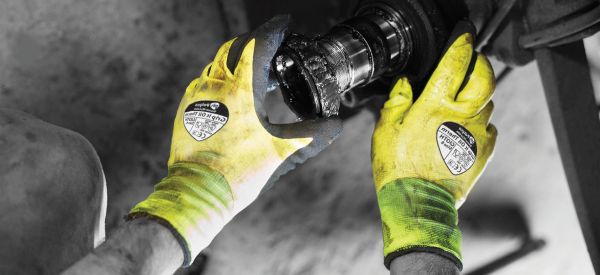 The Grip It Oil Therm Gloves are Among Our Best Selling Hi Vis Gloves
Hi-vis gloves are a fairly new trend. Starting as a small, niche area of the safety glove market, hi-vis gloves now come in all shapes and sizes, with cut-resistant, anti-impact, thermal, waterproof and more all available for purchase. This short blog gives you the best hi-vis gloves on the site, separated out into easy to navigate sections that should make your choice a little bit easier.
Which Hi-Vis Gloves Should I Choose?
It's worth understanding the type of glove that you actually need. If you work with sharp objects such as glass, then cut-resistant gloves should do the trick. Alternatively, if you work with heavy machinery on the building site, then maybe you should opt for some anti-impact gloves instead. Click any of the below six points to find our recommendation.
Our Best All-Round High Visibility Work Gloves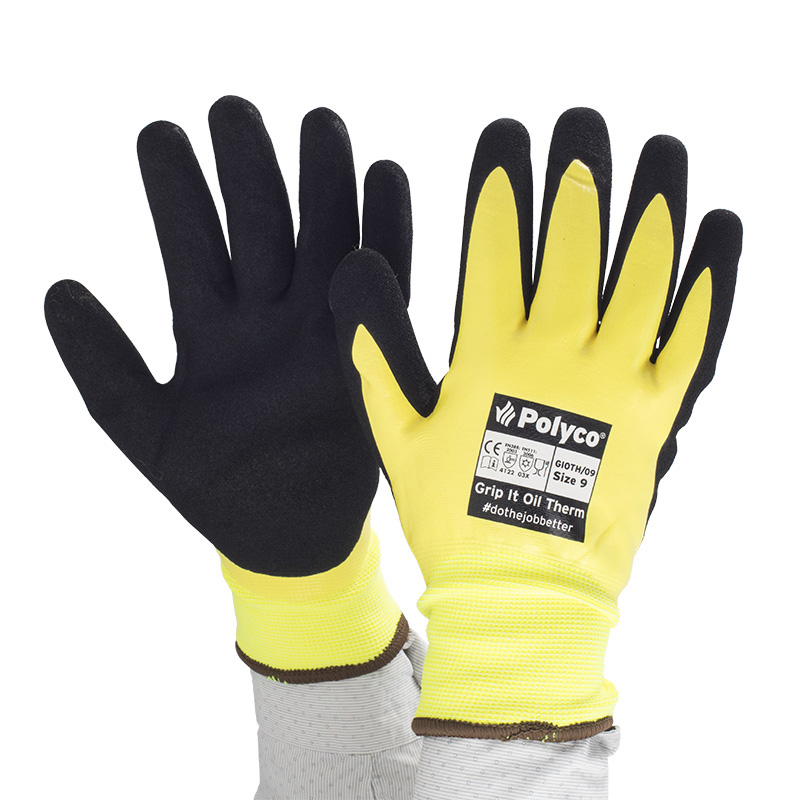 Firstly, we have the Polyco Grip It Hi-Vis Waterproof Thermal Oil GIOTH, which make our list for being thermal, waterproof, hi-vis, lightweight, grippy, dexterous and durable – pretty much everything that you could possibly want in a work glove. It's no surprise that the GIOTH Gloves are at the top of our list and at the top of our best sellers list too, as their exceptional versatility means that they are perfect for handling materials, doing tactile, tricky work, or just gripping slippery items. For anyone whose day is unpredictable, choose these.
Key Industries: DIY, assembly, outdoor work, construction, handling, recycling, winter work, window cleaning.
Key Features: Fantastic thermal capabilities, protect against water, all-round protection, versatility, longevity.
Our Best Anti-Impact High Visibility Work Gloves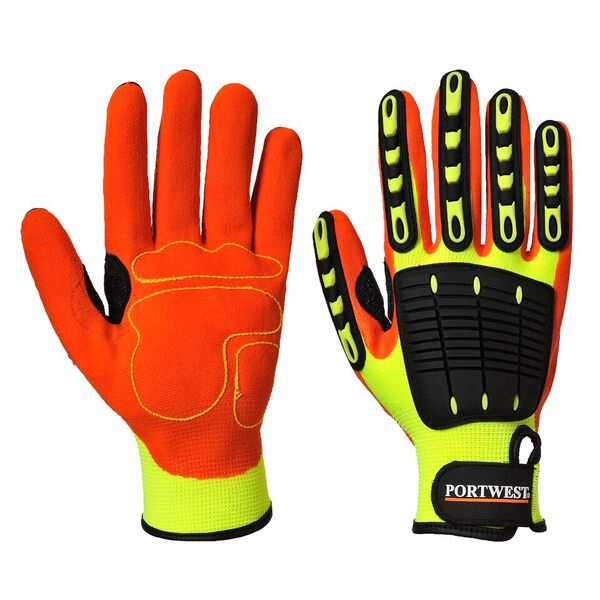 High visibility anti-impact gloves are a bit of a niche, perhaps confined to building sites, shipyards and industrial outdoor work. The Portwest A721 Anti-Impact Waterproof Gloves, a long favourite of ours, offer excellent protection on the back of the hand against impacts from machinery, tools, hammers and more, while their high vis yellow and orange design is well suited to darker, dingier environments. One of their biggest selling points is their longevity, with level 4 tear resistance lasting long after purchase even in the tougher working environments.
Key Industries: Rigging, shipyard work, building, ship building, construction, DIY, industrial, scaffolding, machinery.
Key Features: Resistant to impact on the back of the hand, extremely durable and long-lasting, dexterous for tool use.
Our Best Waterproof High Visibility Work Gloves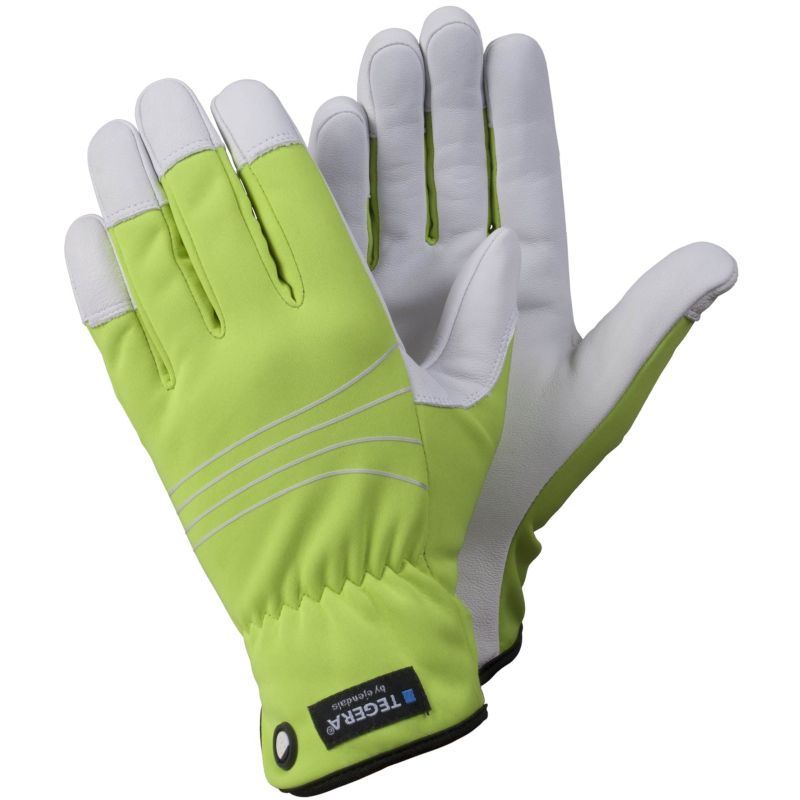 If you work in wet weather, then you'll probably want high visibility gloves too, which is why the Ejendals Tegera 290 Hi-Vis Waterproof All Weather Gloves are so popular. Perfect for dingy days, night shifts or even meeting health and safety standards, these waterproof work gloves are a comfortable choice for the more harsh environments. Don't get us wrong, they are still pretty durable and will protect your hands from a variety of threats, so you can use these gloves for general tasks outdoors while remaining comfortable and dry.
Key Industries: Outdoor work, wet weather work, maintenance, utilities, transportation, tiling, gardening, forestry.
Key Features: Water and windproof for outdoors, reinforced fingers and thumbs for protection, goatskin palm for fantastic grip.
Our Best Thermal High Visibility Work Gloves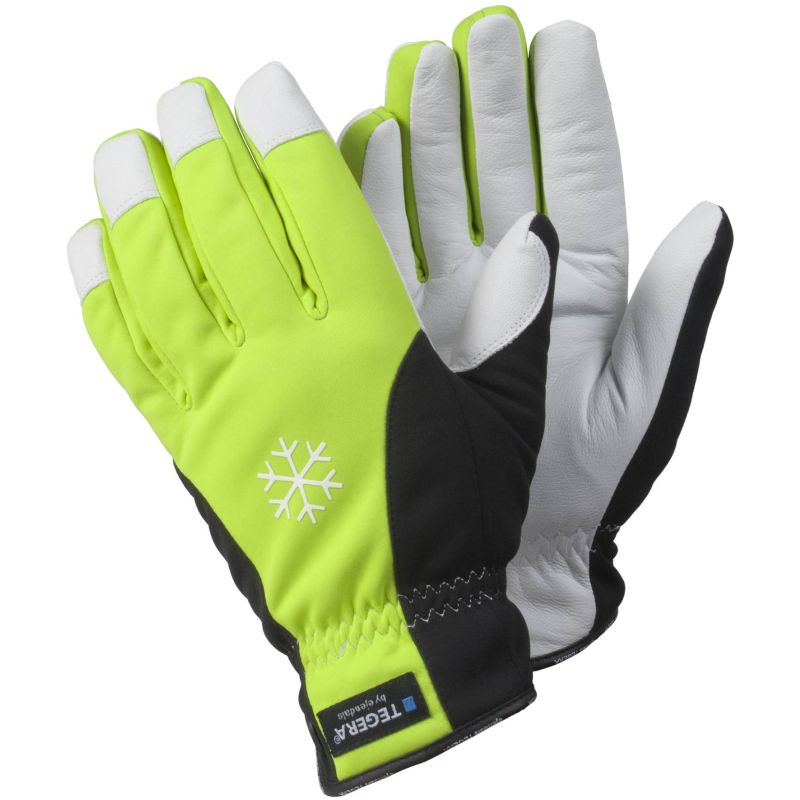 The Ejendals Tegera 293 Thermal Hi-Vis Wet Weather Gloves are the gloves to choose for harsh wintry environments, with fantastic resistance to cold temperatures. We would recommend using these gloves for most wintry tasks, and don't be afraid to use them for tougher jobs too such as handling, machinery use and gardening. Reinforced fingers and thumbs offer some much needed protection, while the high-visibility design is well recommended for use in tough weather.
Key Industries: Outdoor wet work, wintry work, handling, maintenance, driving, building, logistics, gardening.
Key Features: Designed to protect against cold temperature, grippy for handling tasks, reinforced for your protection.
Our Best Cut Resistant High Visibility Work Gloves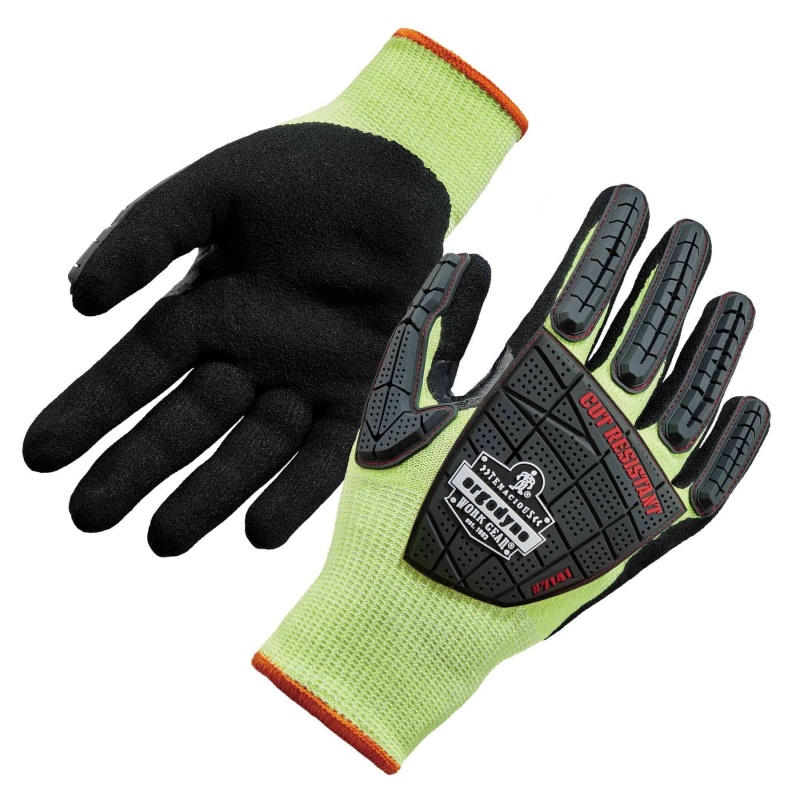 We've covered quite a lot of high-vis gloves so far, but we need to talk about cut resistance with the Ergodyne ProFlex 7141 Hi-Vis Nitrile Dipped Cut-Resistant Impact Gloves. These are serious work gloves, with Cut D protection ensuring protection during glass handling, steel handling and more, while their impact-resistant back ensures further protection if you're working with heavy tools and machinery. The gloves are breathable, oil and water resistant, seamless and comfortable, making them an extremely useful and protective option.
Key Industries: Assembly, glass handling, construction, mechanics, fabrication, tool use, machinery.
Key Features: Exceptional cut-resistance, impressive impact resistance, all weather, durable, comfortable.
Ensure Visibility at Work
We hope that this blog has given you a better picture on the gloves that are best suited to you. If you haven't quite found what you're looking for, then take a look at our Hi-Vis Gloves category for our full range.
If you have any questions on our high-vis gloves or anything to add, then we would love to hear from you. Please leave a comment below!