Your Guide to Choosing a Safety Helmet
Friday, 3 April 2020 | Admin
Safety helmets, otherwise known as hard hats, are commonplace among workers on development sites and members of emergency services. In fact, virtually any task involving risk of injury involves the use of a safety helmet. There is however, more than colour and style to consider when choosing the right helmet.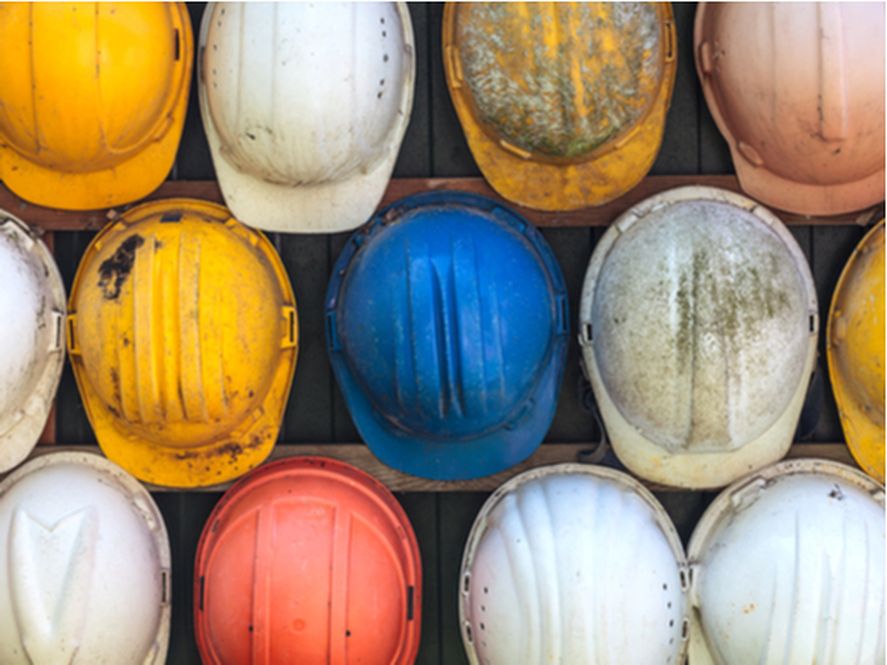 Choosing the right helmet is essential for worker safety
Testing Helmets Against European Standards
All hard hats are submitted to conformity tests in order to be verified for distribution and use. A manufacturer may choose to present their helmets for additional tests, and these tests often appear as extra markings on the industrial helmet in question.
EN 397: Impact Protection
EN 397 is a European Standard that specifies the physical performance requirement of a safety helmet. For a helmet to achieve EN 397, there are certain mandatory tests that the helmet must pass. These include:
Chinstrap Anchorage
Resistance to Penetration
Shock Absorption
Flame Resistance
EN 14052: Further Impact Protection
Building on EN 397, EN 14052 governs the more complex tests attributed to greater levels of impact. This includes impact to the front, rear and sides of the head, and also included tests regarding the retention system of the headband and chin strap.
EN 50365: Electrical Insulation
EN 50365 specifies whether the helmet is electrically insulated for use during low voltage installations. Specifically, these helmets are tested for working live or close to live parts on installations not exceeding 1000Vac or 1500Vdc.
EN 12492: Mountaineering
For tasks such as mountaineering, specific tests are carried out to ensure the safety helmets meets a required quality. EN 12492 is a standard directly targeted towards such occupations.
EN 812: Industrial Bump Caps
This standard directly applies to "bump caps" intended to provide protection against bumps caused by walking into hazardous projections. Such a cap should not be used where a safety helmet is required, as they do not protect against falling objects or projectiles.
Other European Standards
MM: Molten Metal Splash Test
Workers in metal foundries are exposed to many dangers, including not only the extreme heat but also splashes of molten metal. This test measures the amount of molten metal required to cause damage to the helmet.
-20°/-30°C
Any helmet registered with either -20°/-30°C will provide thermal protection against cold temperatures, specifically at or above the chosen temperature.
440V a.c.
A helmet registered with this standard will protect against accidental contact with live electrical conductors up to a voltage of 440V a.c.
What Material Should I Choose?
Hard hats are in wide demand across the world and as such, need to be constructed from strong but inexpensive materials. Most often, they are constructed from either ABS or HDPE. These are both thermoplastic polymers with their own strengths and weaknesses.
ABS
ABS or "acrylonitrile butadiene styrene", is a common thermoplastic. It is a highly stiff material with a strong heat-deflection temperature, and is generally more expensive than HDPE.
HPDE
High-density polyethylene or "HDPE" is a thermoplastic polymer that is also quite common in the industrial world. It has a higher flexibility and toughness than ABS, and also boasts a slightly higher resistance to solvents.
Why Should I Consider a Helmet's Shelf Life?
Industrial safety helmets, much like any PPE product, have a shelf life. Complying with European standards, all hard hats are marked with the month and year of manufacture. The shelf life of a helmet is not limited so long as helmets are stored in boxes that do not not experience environmental damage. It is worth observing however, that a helmet should not be used five years after the date of manufacture.
How Do I Care For My Helmet?
Helmets can be cleaned with hot soapy water and by drying with a cloth. Do not clean your helmet with any solvents or abrasive substances. After cleaning your helmet, check for any signs of damage. If there is anything more than superficial damage, your helmet should be immediately replaced.
What Other Differences Should I Consider When Choosing a Helmet?
When deciding upon a correct safety helmet, there are plenty of other differences to consider. Helmets are often manufactured with a target industry in mind. Different brands will cater to specific user benefits:
Length of Peak - Helmets often feature a peak on the front of the helm that allows for protection against direct rays of sunlight. Alternatively, a shorter peak may be more useful during tasks that require close inspection of modules.
Ventilation - To provide cooling airflow and improve moisture management, helmets can be fitted with side and rear vents. Conversely, ventilation will often render a helmet ineffective for electrical insulation.
Weight - Some helmets are more lightweight than others. A heavier helmet can be more robust, but a lightweight helmet will allow the wearer to endure longer periods of wear.
Retro-Reflective Surfaces - Some helmets are fitted with retro-reflective surfaces (an example being CR2). These surfaces will reflect light in low-light conditions allowing for a greater depth of visibility.
Sweatband - Helmets are often fitted with sweatbands with PU absorbent materials. More expensive helmets are afforded more absorbent materials which ensure longer use.
Cradle - The cradle is the webbing inside the helmet. Usually, these are either a comfortable textile webbing cradle, or a more perfunctory polyethylene cradle.
Type of Adjustment System - Some helmets benefit from a quick-release system which allows for improved close quarters dexterity.
Case Study 1: Delta Plus Granite Wind ABS Safety Helmet
The immensely popular Delta Plus Granite Wind ABS Safety Helmet is a helmet targeted towards industrial work at a height. Constructed from flexible ABS, the helmet is ventilated and allows for optimised comfort in hot weather work. Moreover, the helmet is peakless - this allows for close inspection of modules without infringement.

The helmet conforms to EN 397 and is also certified "MM" against Molten Metal Splash tests, allowing for high-risk industrial work.
Case Study 2: Portwest Classic ABS Ear Defenders PW40
The Portwest PW50 Expertbase Blue Safety Helmet is a versatile hard hat that offers protection against electrical insulation and impact from projectiles. The helmet features a simple strap that ensures a secure fit, and will continue to work in full effectiveness in freezing conditions.

The helmet is certified to EN 397 and EN 50365, ensuring safety against electrical risks, impact and extreme temperatures.
Protect Yourself At Work
We hope that this blog has given you a better understanding of the differences between safety helmets. If you're looking for specific safety helmets, please visit our Electrical Safety Helmets and Construction Hard Hats categories.
If you have any questions on our Safety Helmets, or anything to add, then we would love to hear from you. Please leave a comment below!