Best Bar Aprons 2022
Friday, 8 January 2021 | Admin
Sticky residue, coffee spills and keg splashes. These are just a few of the things a bartender has to deal with, and sometimes these are enough to make you dread the late night rushes. In a recent survey conducted by Statista, researchers found that between 2017/2018 that over 53% of adults go to pubs, bars and clubs in their free time. In a post-pandemic world, hopefully these soaring highs will return.
But how can we make our bartenders ready and prepared for a big shift?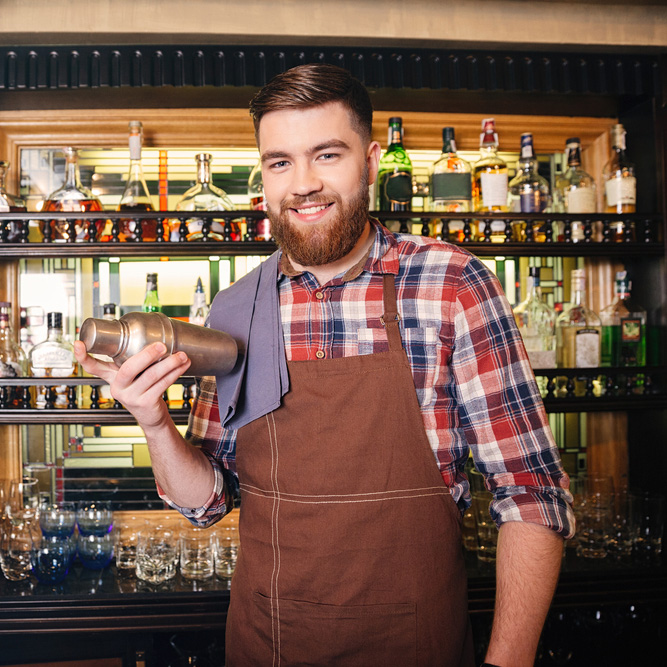 Key to Success: Quality aprons equal quality service
Quality aprons are an underrated form of protection and convenience within the bar industry. In fact, our experts believe they are one of the most important effects a bartender has in their possession.
Why Are Bar Aprons Important?
Standardised Uniform - Aprons provide a degree of professionality. They allow customers and other members of staff to quickly identify bartenders, as well as looking smart and competent.
Practicality - Some aprons have different functions. Barbers, for example, have a number of holsters and pockets for carrying sharp razors and scissors. A bartender however, should have an apron with quick-access pockets for on-the-go storage, and moreover, zipped pockets for cash.
Protection - Quality aprons don't stain or break easy. A bartender requires a high quality (but affordable) apron that can be washed industrially, usually at higher temperatures. Stains from cocktails, wine and beer can be costly and expensive but an apron ensures a constant precaution against this threat.
How Do Bar Aprons Boost Business?
Protecting your staff and profits are your primary concerns as an owner/manager - and by protecting your staff you will, without a doubt, increase your profits. By kitting your staff with with good aprons, you will:
Boost staff morale, ensuring good service, therefore boosting sales
Boost productivity, therefore boosting sales
Boost the image of your premises, therefore boosting sales
Our Best Bar Aprons 2020
Here at Workwear.co.uk, we know how much aprons can benefit your business. That's why we've consulted our experts and selected the Best Bar Aprons for 2020.
Best Mid-Waist Aprons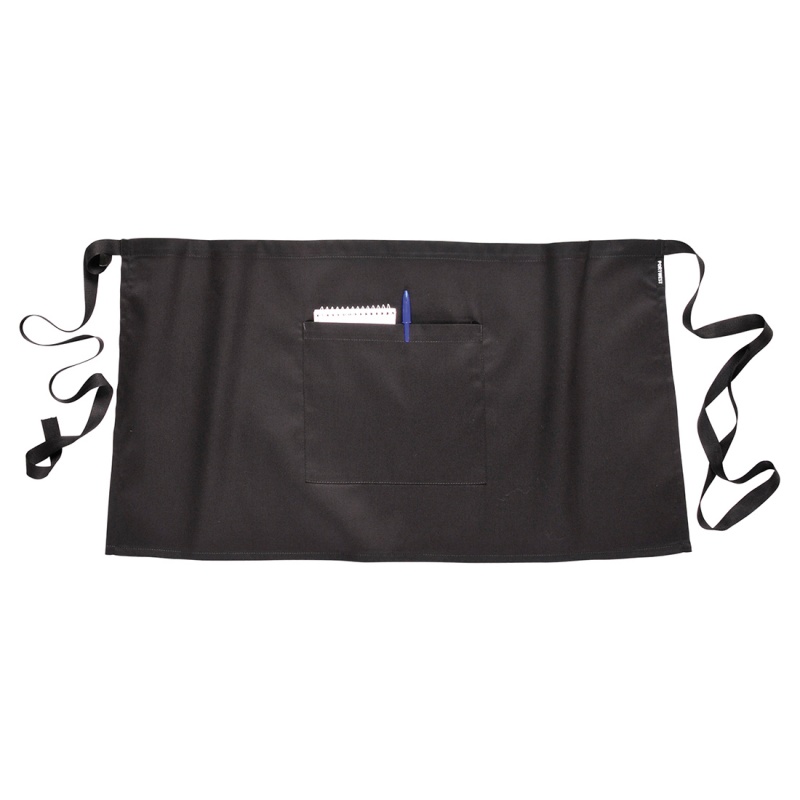 First on our list is the Portwest S845 Bar Apron. Portwest create fantastic aprons, in part due to the use of Kingsmill fabric. Kingsmill allows for pre-shrunk fabric with incredible dye retention qualities, keeping your apron neat and tidy after high intensity washes (this apron can be washed at 60°C). The fabric is also hardwearing, ensuring maximum usage for the money you pay.
Key Features: High dye retention, hardwearing, pocketed, anti-tangle ties, Kingsmill.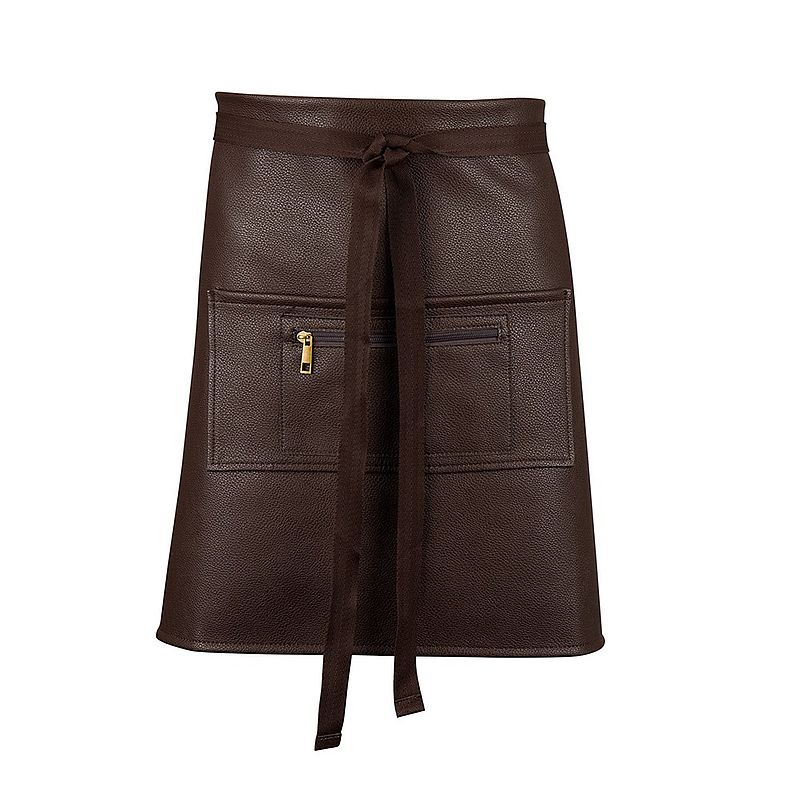 It would be foolish to purchase real leather aprons for your staff, as the upkeep and expense would be too high. Retaining the elegance and quality of leather (without actually being leather) is the Alexandra FOH Faux Leather Waist Apron. Constructed from a durable polyurethane (PU) coated fabric with a stunning brass eyelet detail, this waist apron is a good choice for premises looking for a rustic look.
Key Features: Gorgeous faux leather, durable pu-coated fabric, brass eyelet detail, anti-tangle ties, twin pockets.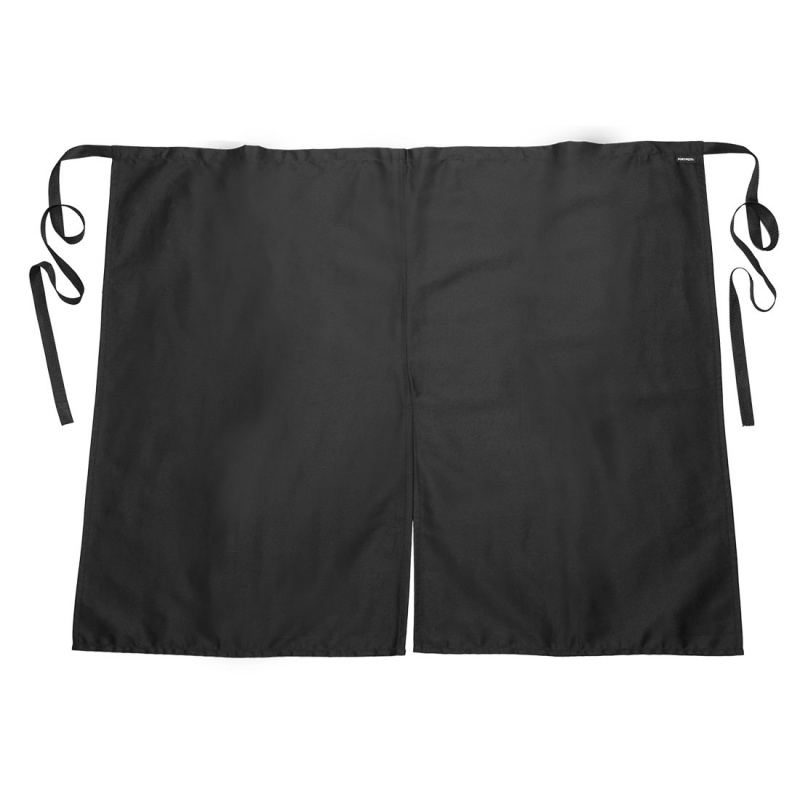 Sometimes it pays to have aprons that allow you to move with full flexibility and speed, especially with regards to mixologists. However, most aprons prioritise spills and storage over flexibility. The Portwest S796 Split Waist-High Apron allows full freedom of movement with a front split, whilst still providing full coverage.
Key Features: Front split, full coverage, twill fabric, flexibility, speed, anti-tangle ties, non-shrink.
Best Long Aprons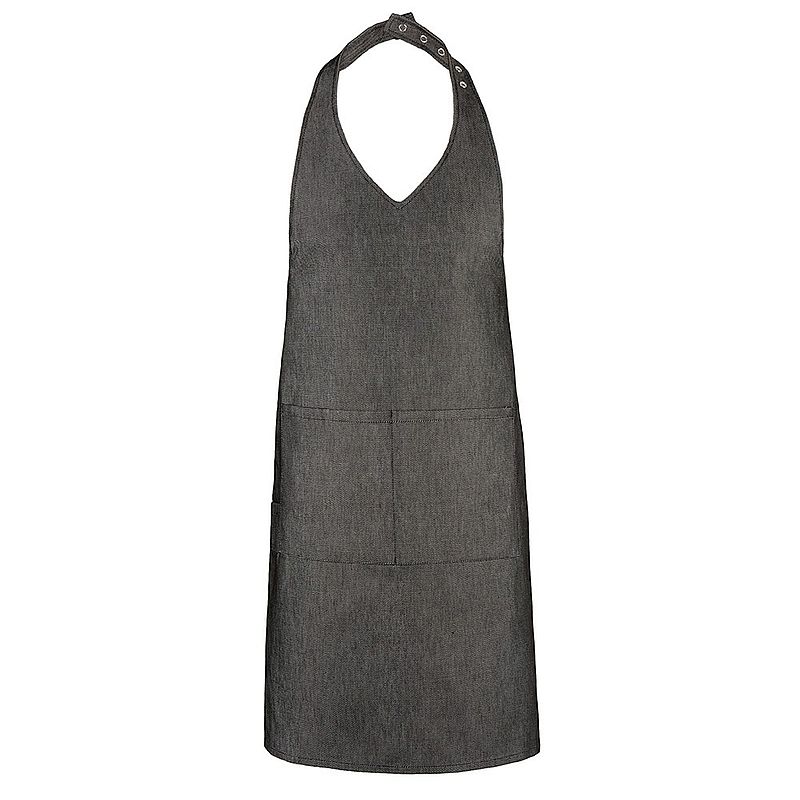 Trend-led and fashion-forward, the Alexandra FOH Denim Halter Bib Apron combines practicality and style. Featuring a stud adjustable halter neck strap and a contemporary look, the Denim Halter Apron is perfect for hospitality roles where a contemporary and sophisticated appearance is required.
Key Features: Stud adjustable halter neck strap, contemporary denim, 76cm, full body coverage, three-part pocket, 60°C wash.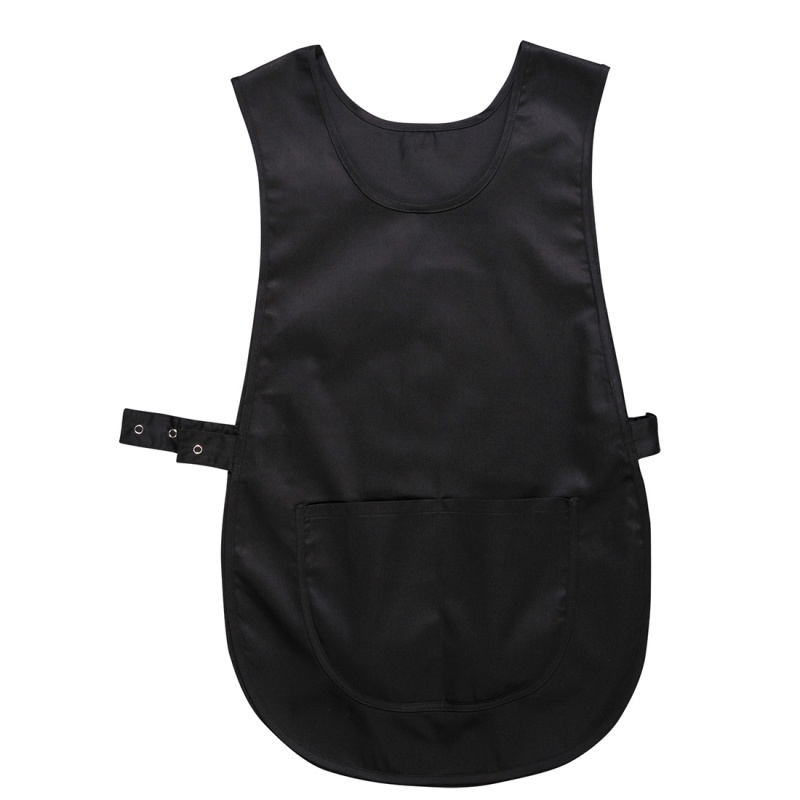 A little different to your standard apron, the Portwest S843 Tabard with Pocket is a durable and highly convenient apron for high-stress bar environments. The shape is ergonomic, allowing for front and back coverage as well as freedom of movement. Featuring an adjustable side-opening for additional flexibility, as well as a front-facing pocket for storage, this tabard is for managers and owners who want to transform their staff uniforms.
Key Features: Tabard, back coverage, freedom of movement, adjustable side opening, front-facing pocket, six colours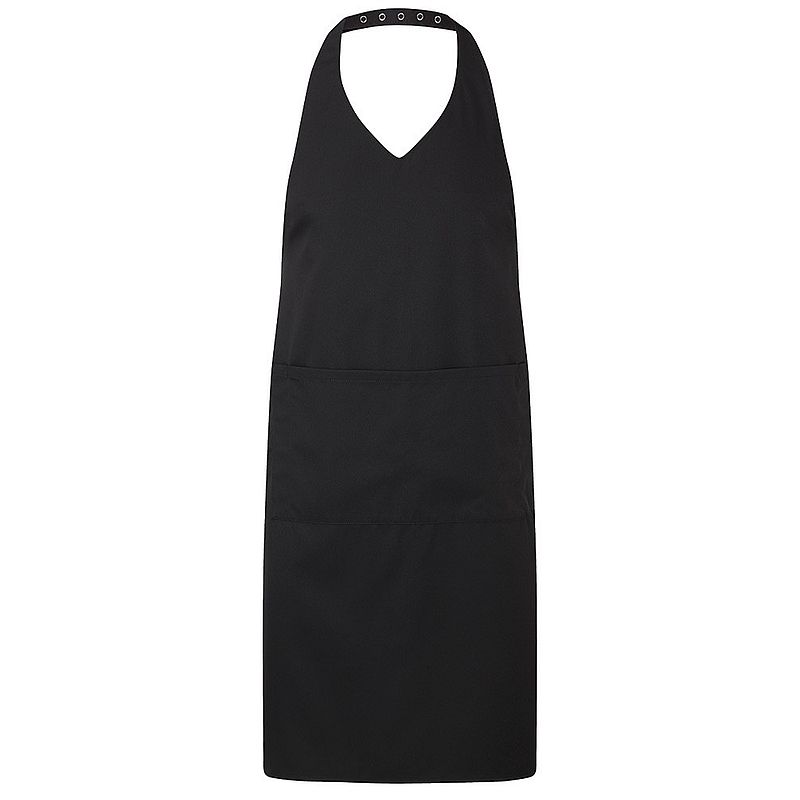 An alternative to the denim apron, and featuring some slight alterations, the Alexandra Workwear FOH V-Neck Halter Apron is the standardised bartender apron across the UK. The apron is constructed using Alexandra's signature Polycotton blend, allowing for a comfortable and durable wear. The v-neck fits both formal and informal settings, and the Halter Apron features a front pocket with two pen divisions for ordered storage of slips, stationary and cash.
Key Features: V-neck design, polycotton, comfortable, front pocket with two pen divisions, accessible storage.
Prepare, Outfit and Standardise Your Bar Staff
Finding a suitable apron for your bar staff can be difficult, especially as there's a lot of low-quality and flimsy garments on the market. If you want to make further improvements to your staff uniform, check out our Hospitality Uniforms category.
If you have any questions on our construction gloves or anything to add, then we would love to hear from you. Please leave a comment below!