Your Guide to EN Standards for Gloves
Monday, 15 October 2018 | Alex
Protective gloves, along with most other products you can find here on Workwear.co.uk, are part of your personal protective equipment (PPE), which means they have to meet certain standards that make them suitable for the job at hand. You know best what kind of hand protection you need, and with the help of this short guide you'll be able to find the gloves that meet your demands in no time.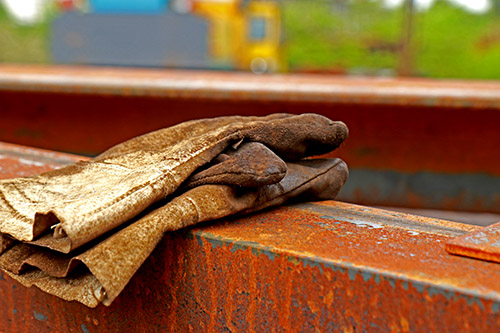 There are hundreds of gloves out there that offer outstanding protection for your hands, but most hazards can easily be grouped into no more than five groups. Most likely, the gloves you need offer one of the following types of protection:
Mechanical protection
Heat protection
Cold protection
Chemical protection
Electrical protection
EN 420 - General Requirements for Protective Gloves
EN 420 is the most basic standard that defines the general requirements for protective gloves in terms of construction, fitness of purpose and safety. The basic guidelines for making high quality safety gloves are:
The gloves themselves should not impose a risk or cause injury.
The pH of the glove should be as close as possible to neutral.
Leather gloves should have a pH value between 3.5 and 9.5.
The highest permitted value for chromium is 3mg/kg.
Details of any substance used in the glove that is known to cause allergies should be specified.
EN 388 - Protection from Mechanical Risks
Protection from mechanical risks is one of the most common requirements when it comes to work gloves. EN 388 is expressed by four numbers, or performance levels, each representing test performance against a specific hazard:
Abrasion resistance
Cut resistance
Tear resistance
Puncture resistance
Generally, the higher the number, the better the performance and protection of the glove against mechanical risks. When either of these numbers is replaced with an X or N/A, this doesn't mean the glove has failed the test, but that it's never been tested for that particular hazard.
Example: Mechanical Resistant Gloves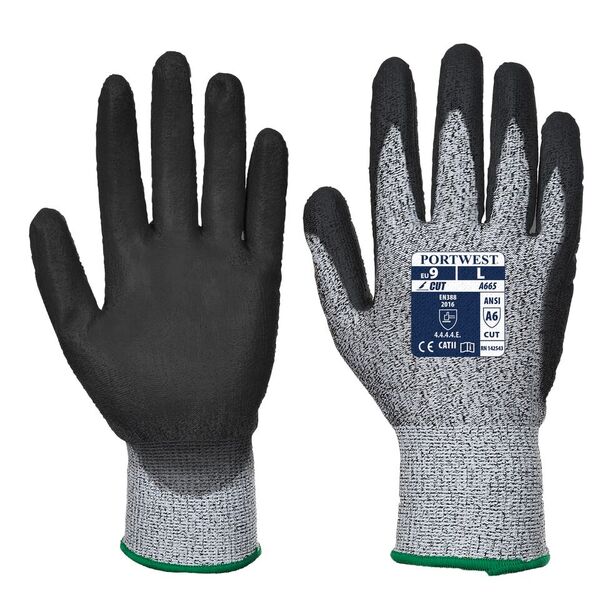 The Portwest VHR A665 Advanced Cut-Resistant Gloves are an excellent example of gloves that conform to the EN 388 standard. These high-quality gloves boast the highest possible standards for all four mechanical properties: abrasion, cut, tear and puncture resistance. This makes them the perfect choice for a range of work applications, from general assembly to construction and even metal handling.
EN 407 - Protection from Thermal Hazards
Protection from thermal risks is shown by a series of six performance levels. Again, the higher the number, the better the result. The types of resistance are as follows:
Flammability
Contact heat
Convective heat
Radiant heat
Small splashes of molten metal
Large splashes of molten metal
Example: Heat-Resistant Gloves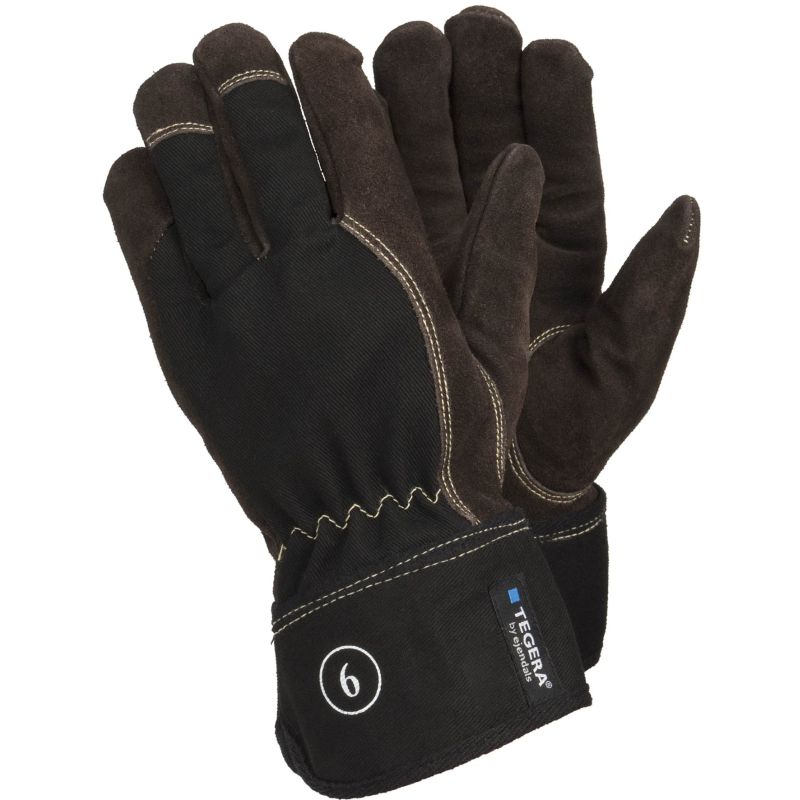 The Ejendals Tegera 169 Kevlar-Lined Heat-Resistant Gloves feature Kevlar lining for improved heat resistance, as well as a water- and oil-repellent design that makes them even more versatile. They are burn resistant and resistant against contact, convective and radiant heat, as well as splashes of molten metal. With their highly protective, durable design, they are suitable for a variety of industries, including machine operation, metalworking and even welding.
EN 511 - Protection from Cold
EN 511 marks gloves that provide protection from cold, with the test revealing how the glove leads cold and what is the insulating capacity of the materials used. As with the standards mentioned above, EN 511 is shown with three digits that represent:
Resistance to convective cold
Resistance to contact cold
Permeability to water
Example: Cold-Resistant Gloves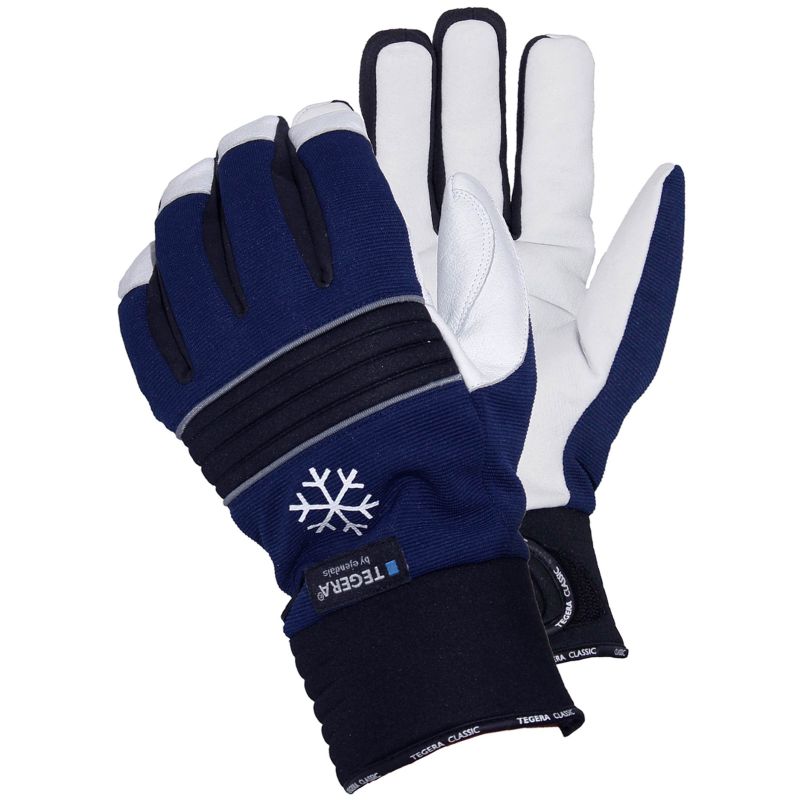 Fully waterproof and featuring Thinsulate winter insulation, the Ejendals Tegera 297 Thinsulate Waterproof Gloves are the perfect thermal gloves. They are resistant against both convective and contact cold. They are designed specifically for use in cold and wet environments, making them ideal for most winter and outdoor work that doesn't include other hazards.
EN 374 - Protection from Chemicals and Micro-Organisms
Slightly different from the standards we've encountered so far, EN 374 specifies the capability of the gloves to protect against chemicals and/or micro-organisms. It's different, because it includes two tests, EN 374 - 2 and EN 374 - 3. A glove doesn't need to pass both to get an EN 374 marking, but that does mean it will only be suitable to protect against certain substances.
The main difference between the two is that one deals with penetration, and the other permeation.
EN 374 -2 tests for penetration: the movement of a liquid and micro-organism through materials, seams, pinholes or other imperfections in protective glove material at a non-molecular level.
EN 374 – 3 tests for permeation: the process by which a chemical moves through a protective glove material at a molecular level.
EN 455 - Medical Gloves
The EN 455 Medical Gloves for Single Use standard covers any gloves that could safely be used for medical work. The glove must adhere to four separate parts before it is considered suitable to be used for medical practice:
Part 1: Requirements and testing of gloves for freedom from holes
Part 2: Requirements and tests for physical properties
Part 3: Requirements and tests for biological evaluation
Part 4: Requirements and testing for shelf life determination
EN 12477 - Welding Gloves
Welding is one of the most dangerous tasks, and only certain protective gloves can safely be used for this activity. EN 12477 combines tests for EN 388 and EN 407, as welding gloves are required to protect from small splashes of molten metal, short exposure to convective heat, radiant heat and contact heat, as well as from mechanical risks.
EN 60903 - Protection from Electrical Risks
Gloves manufactured and approved according to EN 60903 are the only gloves that should be used when there is a risk for electrical shock. Different gloves can tolerate different voltage levels. Please consult the table below to find out what kind of protection EN 60903 gloves offer:
| Class | Tested at: | Approved for Work under: |
| --- | --- | --- |
| 00 | 2500V | 500V |
| 0 | 5000V | 1000V |
| 1 | 10,000V | 7000V |
| 2 | 20,000V | 17,000V |
| 3 | 30,000V | 26,500V |
| 4 | 40,000V | 36,000V |
EN 10819 - Protection from Vibrations
EN 10819 specifies vibration transmissibility in terms of vibration transmitted from a handle through a glove to the palm of the hand in one-third-octave frequency bands with centre frequencies of 25Hz to 1250Hz. At a high frequency, gloves with an EN 10819 marking are expected to reduce the level of vibration by 40%.
These are some of the most important standards to consider when purchasing your gloves. Do you have any specific requirements for your workwear? We'd love to hear from you – why not leave us a comment below!