Our Best Thermal Work Gloves 2023
7 March 2023 | Admin
Protecting your hands from the cold is always a good idea, but it's especially important when working outdoors during winter or in cold environments. At WorkWear.co.uk, we're proud of our extensive range of thermal work gloves, each made for specific industries with particular hazards in mind.
Whether you need cut-resistance for outdoor forestry work, or a high level of grip for working in the oil industry, we have thermal gloves designed to match your exact occupational needs this winter. Read on to learn more about Our Best Thermal Work Gloves.
Which Gloves Will Work Best for Me?
Depending on which industry you work in, you're going to need gloves that provide a certain type of protection. This article showcases our top picks for thermal work gloves across five different categories, as well as a few alternatives for each.
Best Waterproof Thermal Work Gloves
Winner: Skytec Argon Thermal Waterproof Work Gloves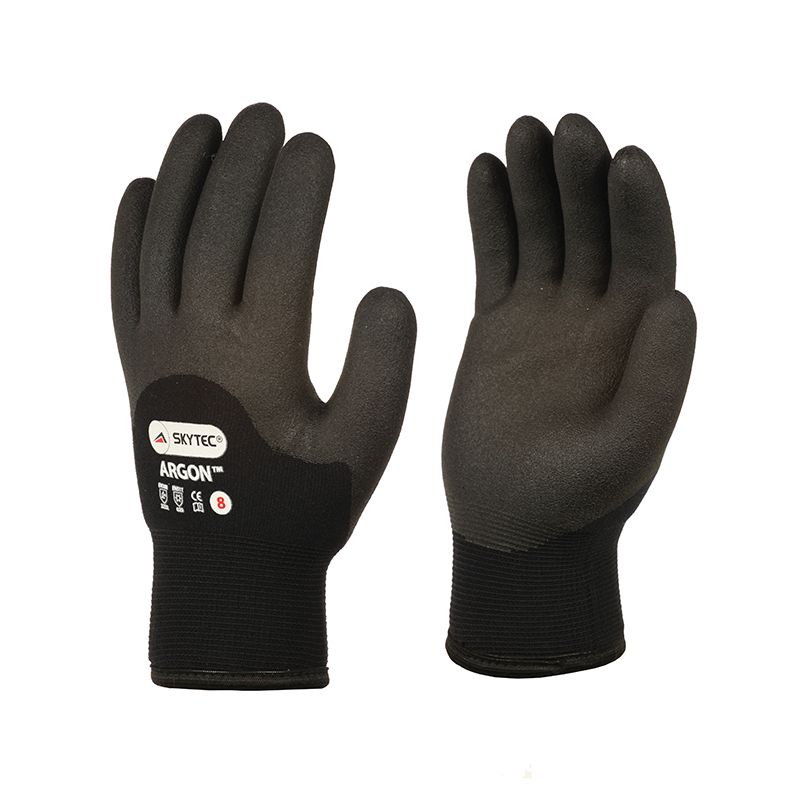 Working outdoors means your hands are exposed to the cold and wet, which when combined can cause a great deal of discomfort.
With 100% waterproof lining, the Skytec Argon Thermal Gloves protect your hands in temperatures as low as -50°C. An incredible feat considering their very agreeable price tag.
What we love about them:
✔ Entirely waterproof up to the wrists and water-resistant from then on
✔ Warm nylon fit designed for freezing conditions
✔ Inexpensive yet provide high-quality protection
Perfect for:
✔ Wet weather and environments
✔ Freezing conditions
Editor's verdict: Despite their price, these thermal work gloves perform expertly in cold and wet weather. Warm enough for temperatures way below zero, and so waterproof that you can lower your hands into a water bucket and still stay dry, these gloves are popular for a very good reason.
Best Cut-Resistant Thermal Work Gloves
Winner: Traffiglove TG5070 Thermic Cut Level 5 Cold Weather Gloves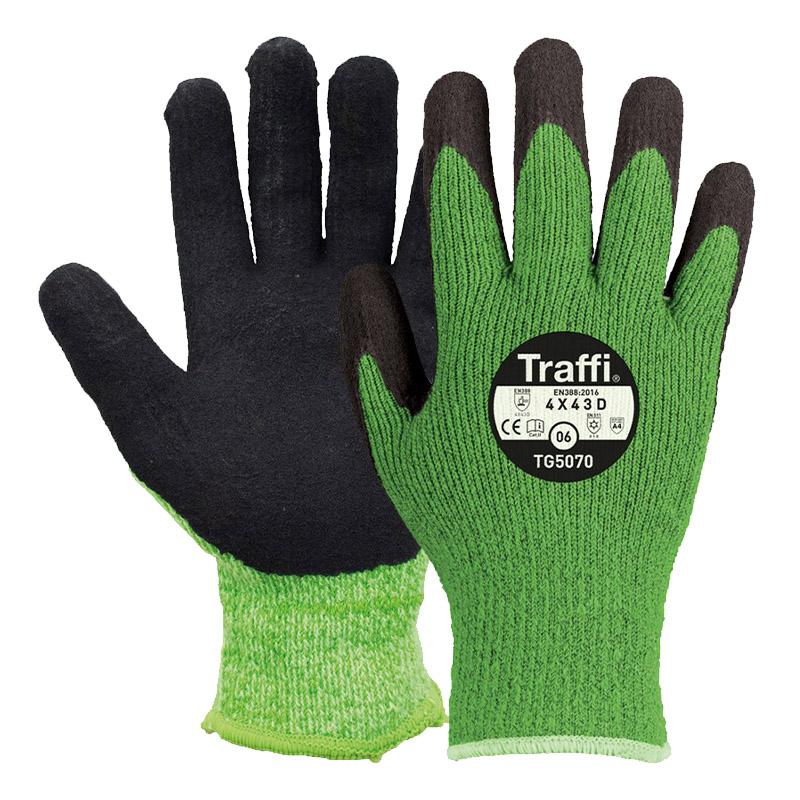 Having achieved the highest possible grade of cut-resistance, the Traffiglove Thermic Cut Gloves are the perfect all-round work gloves for winter.
Warm, durable and fitted with a rubber coating for extra grip, these gloves provide everything needed to get through a full day of cold winter work.
What we love about them:
✔ Rubber coating provides excellent grip even in wet conditions
✔ Thermal components ensure warmth in cold weather
✔ X-Dura latex coating enhances durability and protection
Suitable for:
✔ Tasks involving sharp or abrasive objects
✔ Working in cold temperatures
Editor's verdict: If your work entails handling sharp, rough or heavy objects, then these thermal gloves are perfect for you. Tested in accordance with EU standards, these work gloves offer certified protection of the highest degree, and provide warm insulation for use in cold weather.
Best Oil-Resistant Thermal Work Gloves
Winner: Maxidry Zero Fully Coated Thermal Insulating Gloves 56-451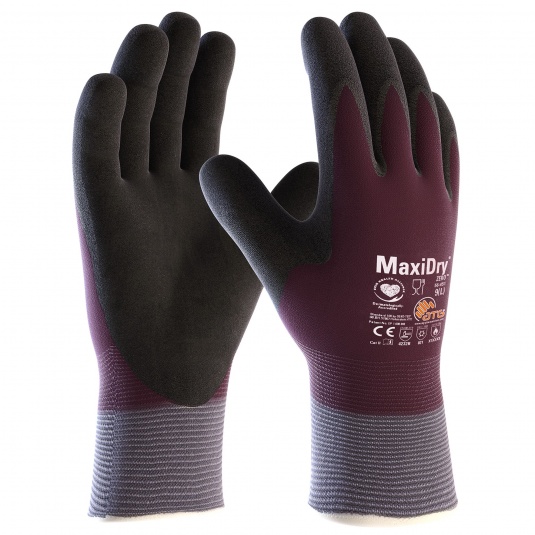 Designed for high-risk environments, the Maxidry Zero Thermal Insulating Gloves are ideal for oil riggers, mechanics and construction workers.
Protective against oil, water, heat and more, these thermal work gloves offer versatile protection to handle a wide range of applications.
What we love about them:
✔ Tough oil-resistant gloves for conditions as low as -30°C
✔ Also protective against water, heat, abrasion tears and more
✔ Impressive grip levels suitable for most industrial tasks
Perfect for:
✔ Mechanical, construction and engineering work
✔ Working in sub-zero temperatures
Editor's verdict: When working with hot, oily materials in winter, you need gloves that protect against both hot and cold temperatures. Designed to do just that, the Maxidry Zero Gloves offer protection in sub-zero conditions, as well as contact heat up to 100°C. Working with oil also necessitates good grip, which these gloves provide thanks to their textured, micro-foam coating.
Best Gripping Thermal Work Gloves
Winner: Portwest A140 Thermal Latex Palm-Coated Black and Yellow Gloves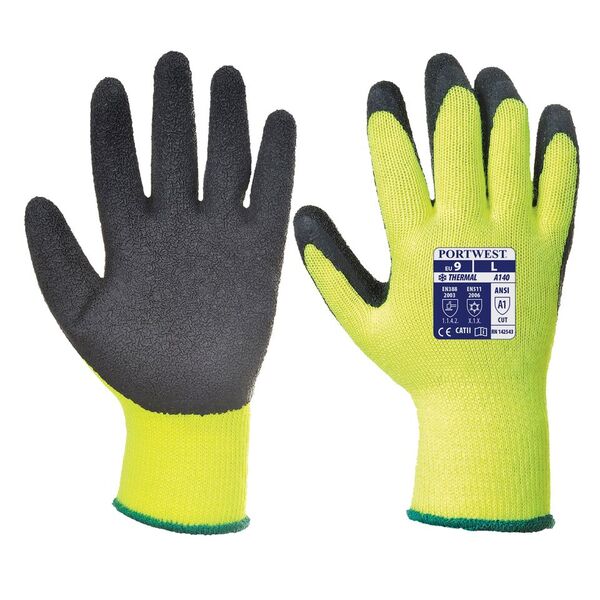 Functionality is just as important as protection when choosing workwear, so gloves that provide a good degree of grip are essential.
The Portwest A140 Latex Palm-Coated Gloves feature a crinkle-grip latex palm and thermal acrylic liner which makes them suited to heavy lifting tasks in construction, transportation and refuse collection.
What we love about them:
✔ Textured palm coating provides excellent grip
✔ Warm 10-guage acrylic liner keeps your hands warm and insulated
✔ Excellent tear resistance and durability
Perfect for:
✔ Construction, transportation, refuse collection
✔ Outdoor winter work
Editor's verdict: Protective work gloves aren't much use if they prevent you from getting any work done. With excellent grip and dexterity, these gloves protect you from the cold while still enabling you to lift, carry and build without inhibition. Inexpensive yet still high in quality, these are superb gloves to have on site for general use during winter.
Best Precision Thermal Work Gloves
Winner: Ejendals Tegera 517 Waterproof Outdoor Gloves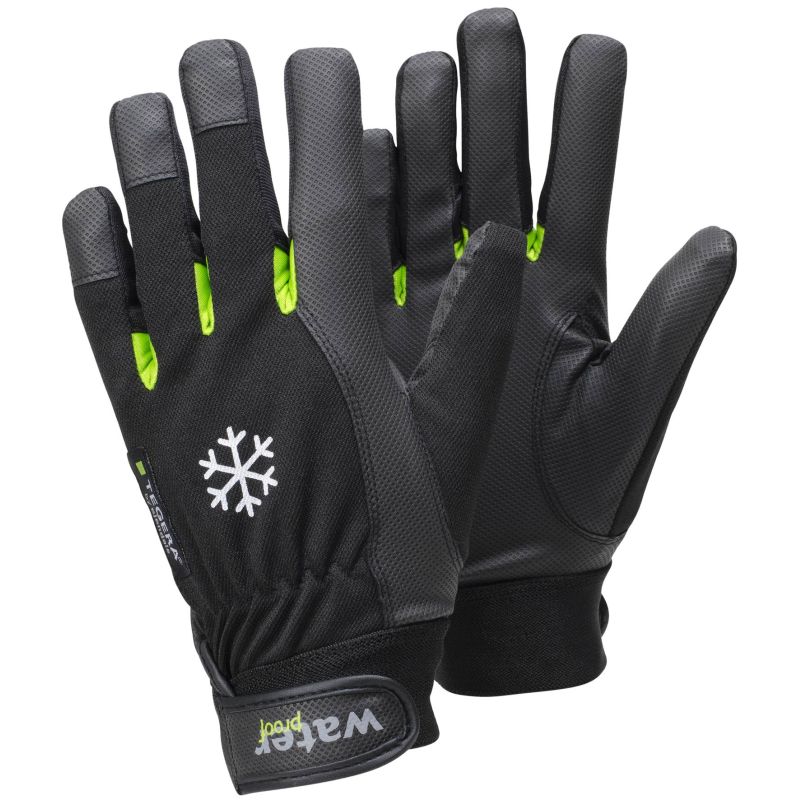 The Ejendals Tegera 517 Outdoor Gloves manage to provide what most winter work gloves don't - precision and dexterity.
Their anatomical shape and breathable construction makes them flexible enough to operate machinery, while reinforced fingertips and insulation provide protection against cold and impacts.
What we love about them:
✔ Windproof insulation offers total protection from cold
✔ Light and nimble for precision handling with grip textures
✔ Anatomical shape improves comfort and reduces fatigue
Perfect for:
✔ Precision work in cold weather
✔ General use, cycling and sports
Editor's verdict: Suitable for use either at work or for personal use, the Ejendals Tegera 517 Gloves are mechanically certified and proven to protect against mid-level risks. Their main benefit is without a doubt their flexibility, which is far superior than most other thermal gloves, making them well suited to precision tasks in assembly and maintenance.
Equip Yourself for Winter
A reliable pair of gloves can make the difference between a good day and a bad day on the job, so hopefully this guide has helped you find the perfect equipment for winter. However, if you still haven't found what you're looking for, we have plenty more to choose from in our full range of Thermal Work Gloves.
Have any questions, or anything to add? Tell us in the comments section down below.