Top Mechanics Gloves of 2023
11 January 2023 | Admin
Being a mechanic is hard, dirty work - that's why having a decent pair of gloves goes a long way. The right pair can make all the difference, helping to keep you comfortable, safe and in control.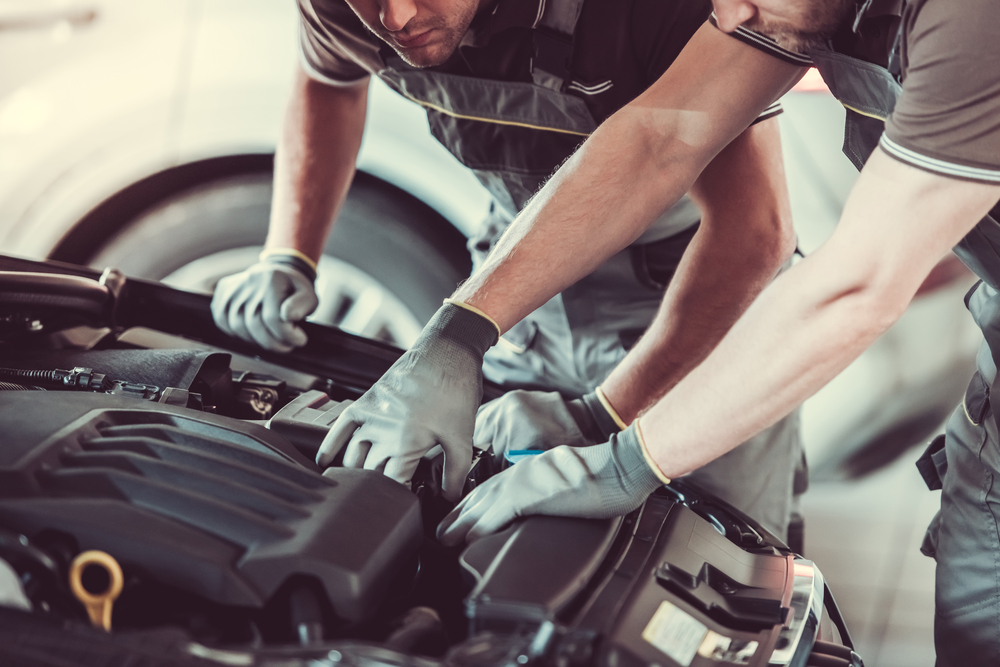 Getting mucky under the hood requires the right pair of gloves
There are plenty of gloves available, but finding the right pair can be tricky, as there are plenty of factors to consider. How oil resistant or cut resistant should they be? The differences between glove linings, glove thickness, glove material and type of protection can make the choice all the more difficult. If you're struggling, don't panic – we've asked our experts for some tips and they've come up with a Top 5 list.
Best Thermal Waterproof Gloves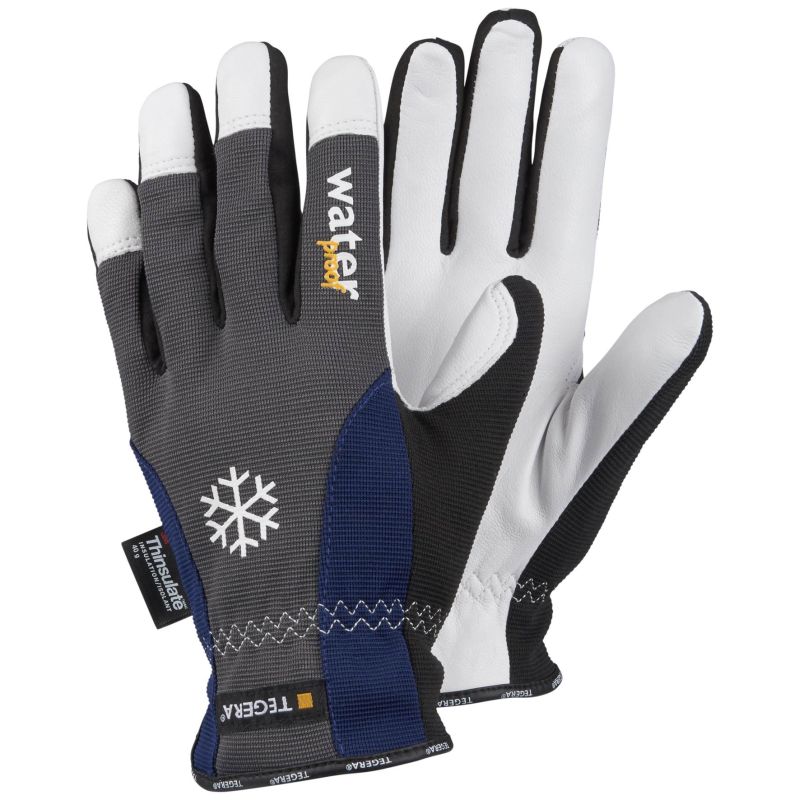 First on our list are the Ejendals Tegera 295 Insulated Waterproof Gloves. Whilst these aren't the cheapest pair of gloves on the list, their quality for chilly outdoor work is next to none. Featuring an advanced Thinsulate material that keeps hands warm without adding bulk, they are perfect for those cold winter mornings. These gloves are physically built to last with reinforced fingers and thumbs, and an elastic closure with a 360° design.
Key Features: Waterproof; good thermal insulation; reinforced fingers and thumbs
Best Lightweight Oil-Proof Gloves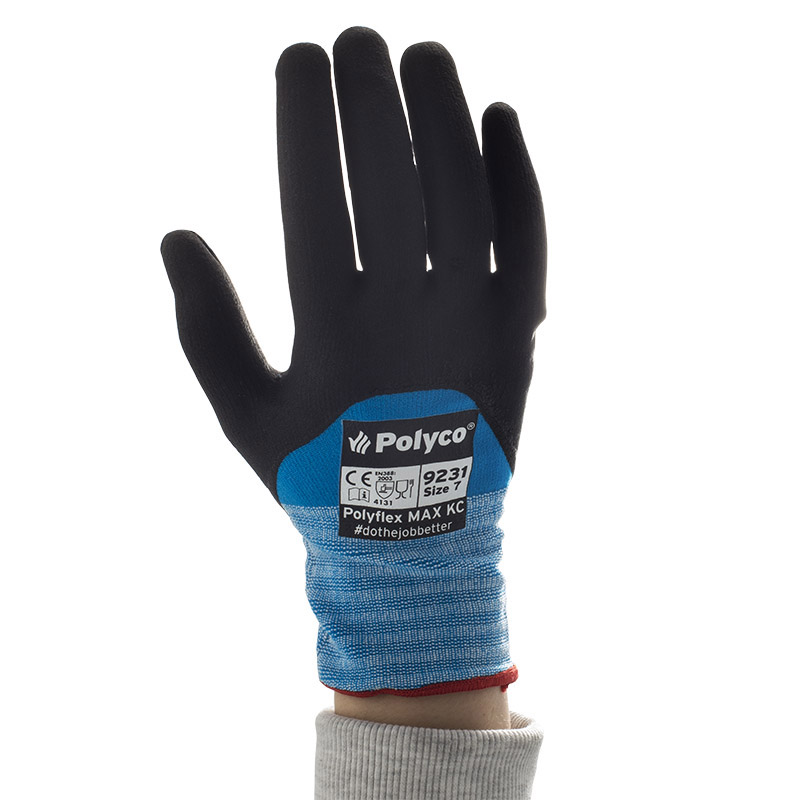 While all the Top 5 offer some resistance to oil and grease, we thought it best to find a pair that will go the extra mile. Introducing the Polyco Polyflex MAX KC 3/4-Coated Nitrile Gloves 923; these gloves are feature a seamless knitted liner with a nitrile 3/4 coating which is made to enhance grip in extremely wet and oily conditions. Moreover, the gloves offer level 4 and level 3 in abrasion and tear resistances respectively, promising durability and protection against both hazards.
Key Features: Nitrile 3/4 coating to enhance grip; level 4 & 3 against abrasion and tear; offer superb grip even in oily conditions.
Best High Precision Mechanic Gloves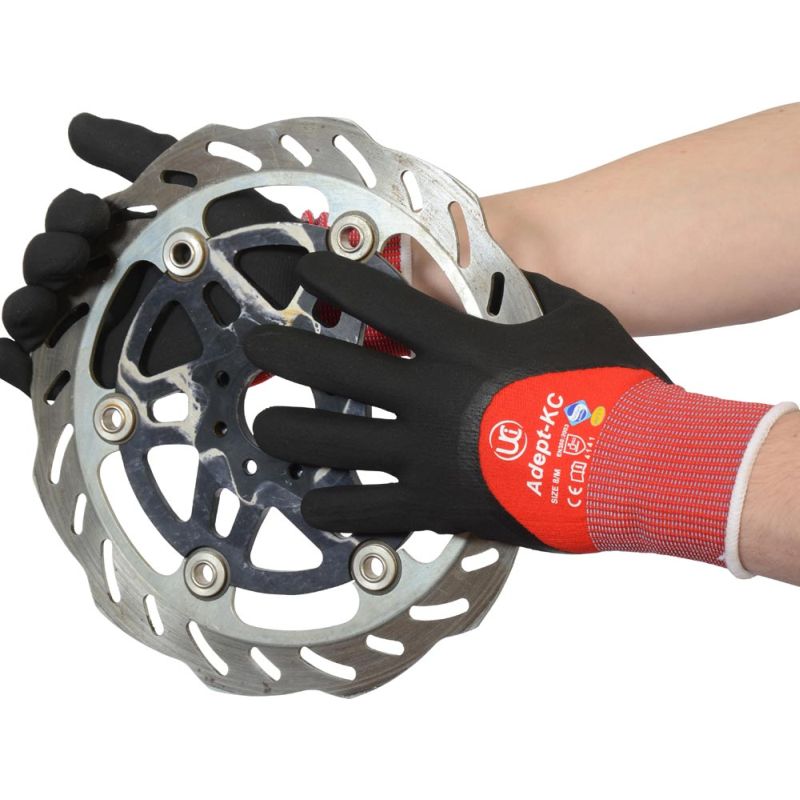 With patented NFT material coating the knuckles area, the Adept KC NFT Knuckle Nitrile-Coated Grip Gloves are designed to facilitate precision handling during tactile operations with high risks of abrasions and tears. The NFT coating of the knuckles offers unparalleled levels of control and grip whilst their nylon/lycra blend offer snug comfort and security when you are out in the field. A step ahead of the 923 gloves, these Adept KC NFT Grip Gloves have level 4 resistance to both tears and abrasions.
Key Features: Unparalleled NFT coating of knuckles for control and grip; comfortable nylon/lycra blend; level 4 against abrasion and tear.
Best Kevlar Lined Cut-Resistant Gloves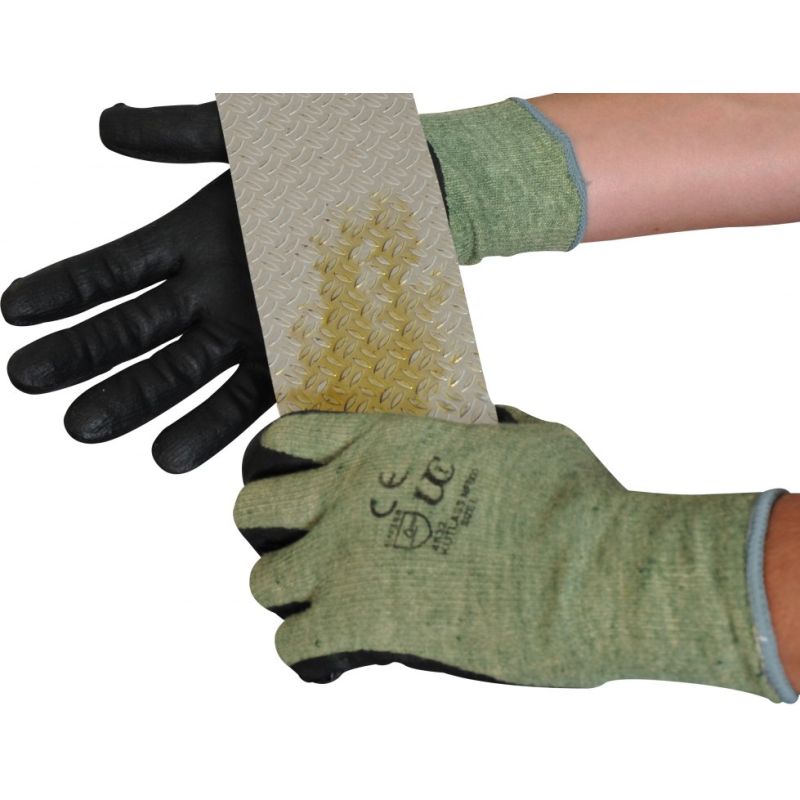 Our final two pairs pack some serious power. Without further ado, the Kutlass NF800 Kevlar Lined Cut-Resistant Wet Grip Gloves are an extremely capable pair of gloves that offer enough protection that they'll protect your hands from sharp edges and coarse surfaces. Featuring a DuPont Kevlar and stainless steel blend, these gloves provide an outstanding level 5 cut resistance. Their Nitrile foam coating produces fantastic grip in dry, wet and oily conditions.
Key Features: Outstanding level 5 cut resistance; DuPont Kevlar and stainless steel blend; nitrile foam coating for fantastic grip in wet conditions
Best All-Round Resistant Gloves of 2020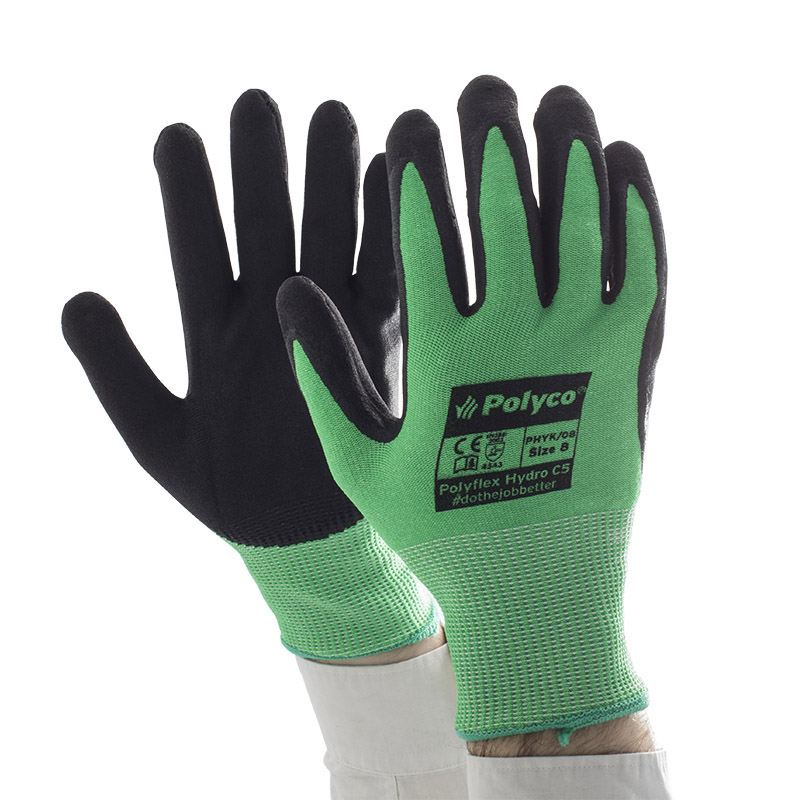 Providing fantastic mechanical resistance and durability as well as water resistance, the Polyco Polyflex Hydro C5 PHYK Cut Resistant Gloves are ideal for the toughest applications. Featuring a nitrile-coated palm which offers great grip and resistance in the worst of conditions, this pair of gloves are built to withstand further water penetration with a unique hydro treatment. These gloves even feature touch-sensitive finger tips, allowing for smart phone and tablet usage.
Key Features: Unique Hydro treatment withstands water penetration ; level 5 cut resistance; touch-sensitive finger tips
Best High Grip Mechanics Gloves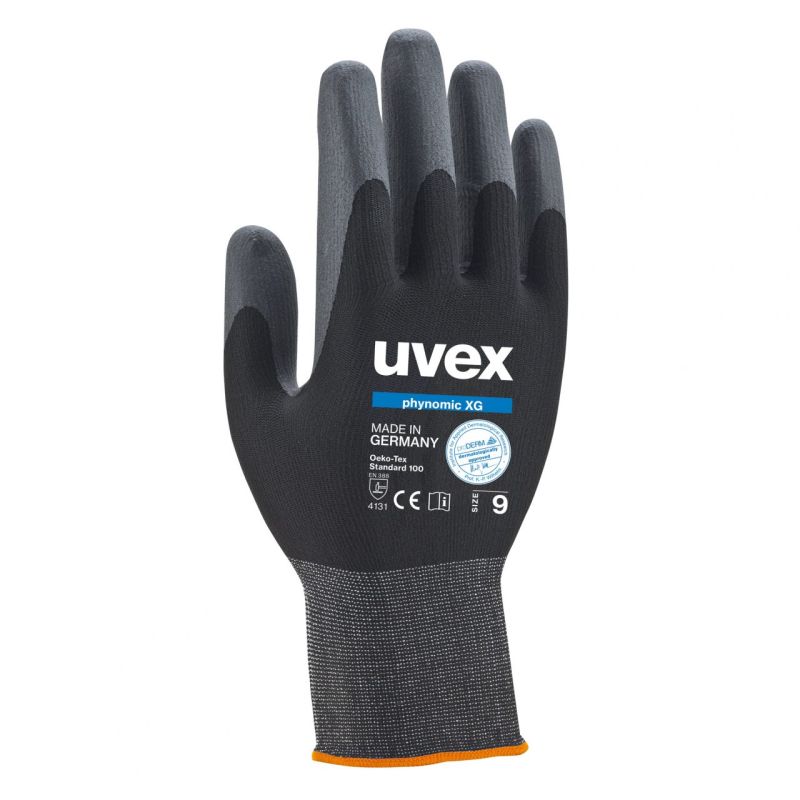 The Uvex 60070 Phynomic XG Oil Grip Safety Gloves use a special Xtra Grip Aqua Polymer coating that provides outstanding grip when handling oil and water. The gloves are designed to encourage dexterity during use, proving perfect for precision handling work. The gloves are tactile and comfortable, perfect for extended use.
Key Features: Special Xtra Grip coating for superb grip; protects against oil and water; high dexterity for precision handling.
Protect Your Hands Under the Hood
As a mechanic, protecting your hands is key, as millions of work days are lost every single year in the UK because of hand injuries. If you've not found the mechanic gloves that you are looking for here, take a look at our Mechanic Gloves category.
If you have any questions on our construction gloves or anything to add, then we would love to hear from you. Please leave a comment below!