Best Bump Caps 2023
20 October 2023 | Sharman
Wearing hard hats can be essential for dangerous work environments, but for lower risk jobs, bump caps present a comfortable alternative. As their name suggests, they offer a layer of protection against bumps and scrapes, perfect for working in tight spaces or under low ceilings.
The type of bump cap you want might depend on personal preference or the hazards you're dealing with, so we've put together this Best Bump Caps 2023 guide, to help you find the one for you.
What Does This Guide Cover?
Best Overall Bump Camp
Micro peak bump cap with inner ABS shell
Protection against impact and shock
Cooling mesh fabric for maximum ventilation
Reflective piping for enhanced visibility

| | | |
| --- | --- | --- |
| | | Dispatched in 1 - 5 working days |
Editor's Verdict: Combining a tough ABS shell and shock-absorbing foam, the the Portwest PS69 Micro Peak Bump Cap (Black) offers a fantastic mix of durability and comfort. The short peak ensures visibility, while still offering a buffer in case of bumps. It's also ventilated at the sides with mesh fabric and is adjustable with a buckle to give each wearer the best fit.
Best Long Peak Bump Camp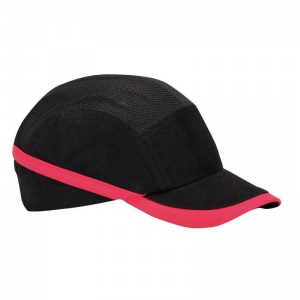 CE-certified bump cap in a choice of colours with reflective stripes
Long 7cm peak for maximum shock and light protection
Inner ABS shell and soft pad for shock absorption
Large mesh top allows maximum airflow
| | | |
| --- | --- | --- |
| | | Dispatched in 1 - 5 working days |
Editor's Verdict: The Portwest Vent Cool Semi-Vented Long-Peak Bump Cap features a longer 7cm peak that offers greater protection in case of front collisions, while also adding shade in case you're moving between working indoors and outdoors. The high-density EVA absorbs shock to protect your head, while the soft internal padding and mesh top keeps you cool and and comfortable. With reflective strips across the sides, it's great for working in low light as well. It's also available in four colours to best suit your personal style or work uniform.
Best Hi-Vis Bump Cap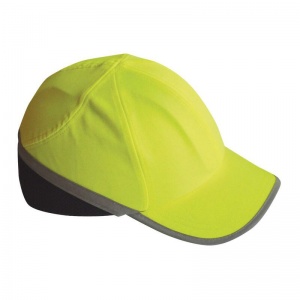 CE-certified bump cap in high-visibility colours
Long 7cm peak for maximum shock and light protection
Inner ABS shell and soft pad for shock absorption
Side holes improve ventilation and breathability
| | | |
| --- | --- | --- |
| | | In stock now |
Editor's Verdict: When working at night, in low-light conditions or roadside, being seen as quickly as possible is essential. The Portwest PW79 Hi-Vis Semi-Vented Long-Peak Bump Cap is supplied in either hi-vis yellow or orange for maximum safety. Like both bump caps above, it uses EVA foam and an ABS shell to provide comfortable impact protection and the long 7cm peak also provides a longer buffer zone.
Best Hard Bump Cap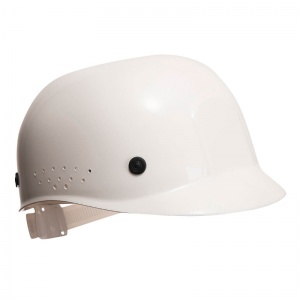 Lightweight impact-resistant bump cap
Four-point suspension harness for comfort and safety
Vented design for enhanced breathability
Suitable for demanding applications such as construction
| | | |
| --- | --- | --- |
| | | Dispatched in 1 - 5 working days |
Editor's Verdict: If you're looking for a harder shell bump cap, the Portwest PS89 Ultra Light Bump Cap (White) provides a brilliant half-way point between a bump camp and a hard hat. It combines a tough shell layer with a 4-point suspension harness to keep it in place in case of impacts. The soft foam sweatband offers a cushioned fit and keeps sweat out of your eyes, while the vented design stops the helmet getting too warm. It's extremely lightweight for practicality and comfort, while the adjustment strap gives you a great fit.
Protect Your Head!
We've highlighted some brilliant bump caps here, sure to prevent knocks and scrapes to the noggin on the job. But, if you're still hunting for head protection, why not take a look at our full Bump Cap range.
Have any more questions about disposable gloves or just something to add? Let us know in the comments below!