Best Chef's Clothes 2022
Monday, 11 January 2021 | Admin
Imagine you're a customer at a fancy restaurant. You've had your first round of drinks and you chance a trip to the toilet as you wait for the main course. But upon reaching the toilet you turn and see a window and through it you can see the kitchen. And what do you see? A chef in dirty tracksuit bottoms with a sauce-splattered t-shirt.
Ask yourself: do you trust this person to make your food?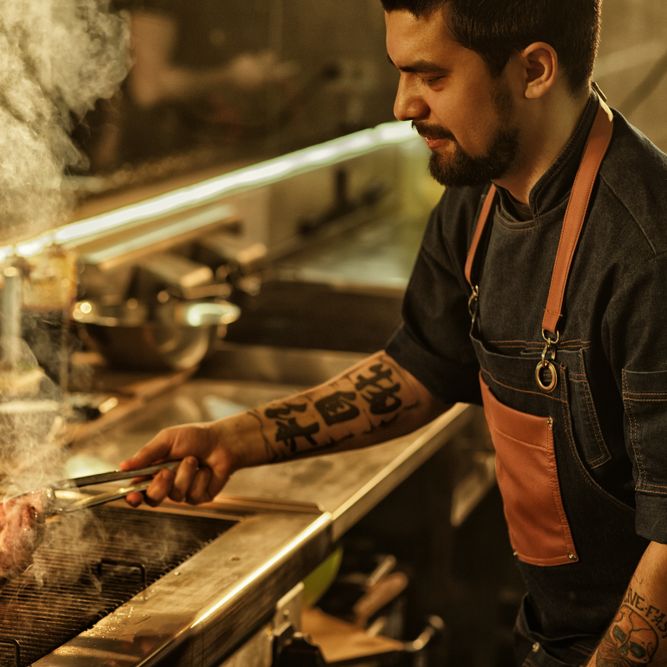 Key to Success: Look Professional and Be Professional in the Kitchen
The short answer is "No." We take a lot of time and effort to choose what we put in our bellies, and improperly dressed BOH staff suggests several things to a paying customer:
Your staff lack discipline
Your staff are at risk of injury
Your kitchen is unhygienic and unfit for service
Just because your kitchen staff are working behind closed doors, uniformity, professionalism and respect cannot be forgotten. In fact they're more important than ever. If you want your restaurant to withstand the test of time, it's time to invest in decent chef apparel.
Why Are Chef Clothes Important?
Branding
Your brand is not just a squiggly font and a few images online. Your brand is your uniform, and if you outfit your Back of House with quality, sleek new uniforms we promise they won't go unnoticed.
​Professionalism/Sense of Pride
If you work for a crummy kitchen, your motivation and drive are going to suck. Why care if they don't? Provide your Back of House with new uniforms that denote the seriousness of their task, and respect will follow.
Practicality
​Quality chef clothes aren't just for looks. They contain numerous pockets for on-the-go storage, feature vents that allow for breathable wear, and, moreover, they are easy to remove at the end of a hard day's work.
Protection
Quality chef garments do not stain or break easily. A chef requires a high-quality (but affordable) apron that can be washed industrially, usually at higher temperatures. Stains from food, wine and spices can be costly and expensive but a quality jacket/apron ensures a constant precaution against this threat.
Hygiene
Probably the most important reason there is for appropriate chef's attire. You have a responsibility to make good food for your customers. Someone has put their money and trust in your hands. Wearing unhygienic, dirty chef's gear is not just disrespectful, but

highly dangerous

. Dressing correctly is the first step towards a hygienic kitchen.
Our Best Chef's Clothes
Here at Workwear.co.uk, we know how much chef clothes can benefit your business. That's why we've consulted our experts and selected the Best Chef's Clothes.
Best Chef's Trousers 2020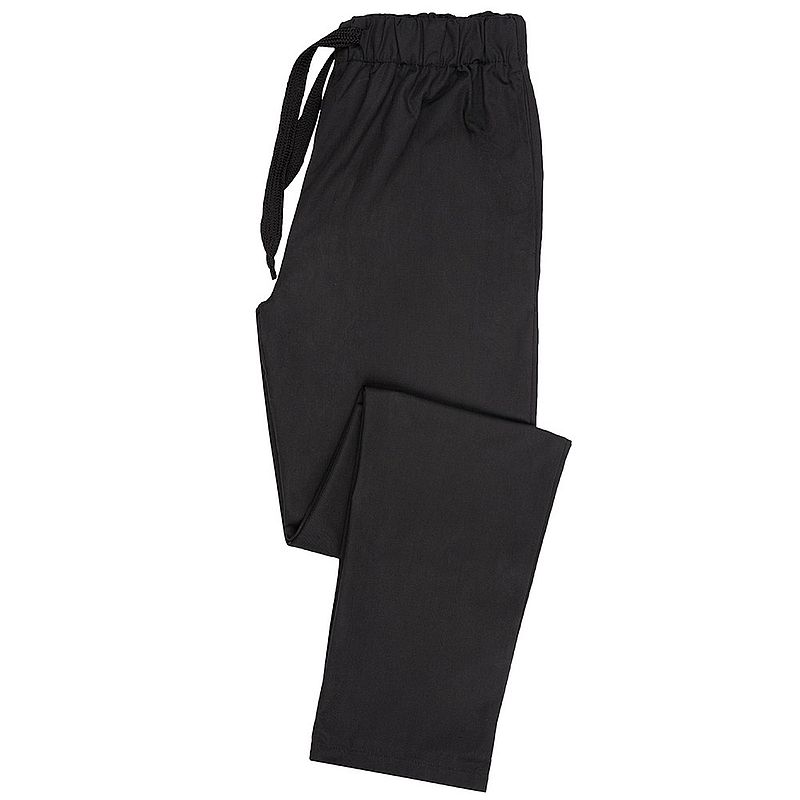 First on our list are the Alexandra Workwear Essential Chef's Elasticated Waist Trousers. Featuring a fully elasticated drawband and two side hip pockets, these trousers are the epitome of comfort and practicality. These high-quality pants are available in three neutral colours, including variations of gingham fabric. Manufactured with Alexandra's signature blend of polyester and cotton, these Essential Chef's Elasticated Trousers are a must-purchase for chefs looking for classic chef outer-pants. These trousers can be washed at 60°C.
Key Features: Fully elasticated drawband, two side hip pockets, polycotton, three available colours, 60°C wash.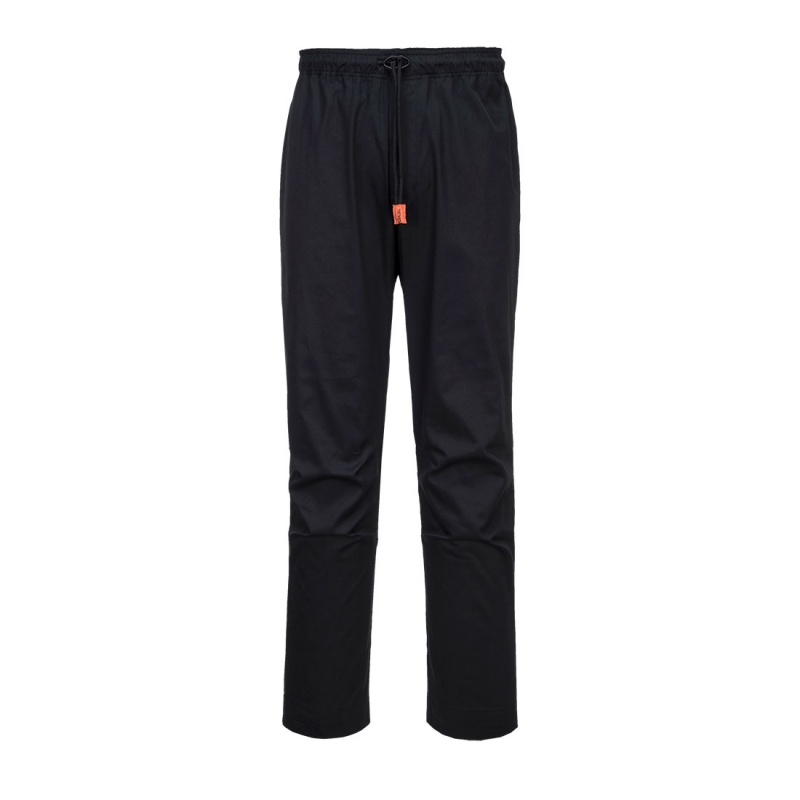 Next are the Portwest C073 MeshAir Pro Chef's Trousers. MeshAir Pro is a double layer polyester aerated mesh designed to improve airflow and draw moisture away from the skin, leaving the wearer cool and dry. Needless to say, these are valuable trousers to have in a hot and blustery cooking environment. Featuring a Texpel stain resistant finish and a fully elasticated waist and drawstring, these trousers will lend much comfort to your cooking crew. These trousers can be washed at 60°C and are available in black and grey.
Key Features: MeshAir Pro, Texpel stain resistant finish, fully elasticated waistband drawstring, two available colours, 60°C wash.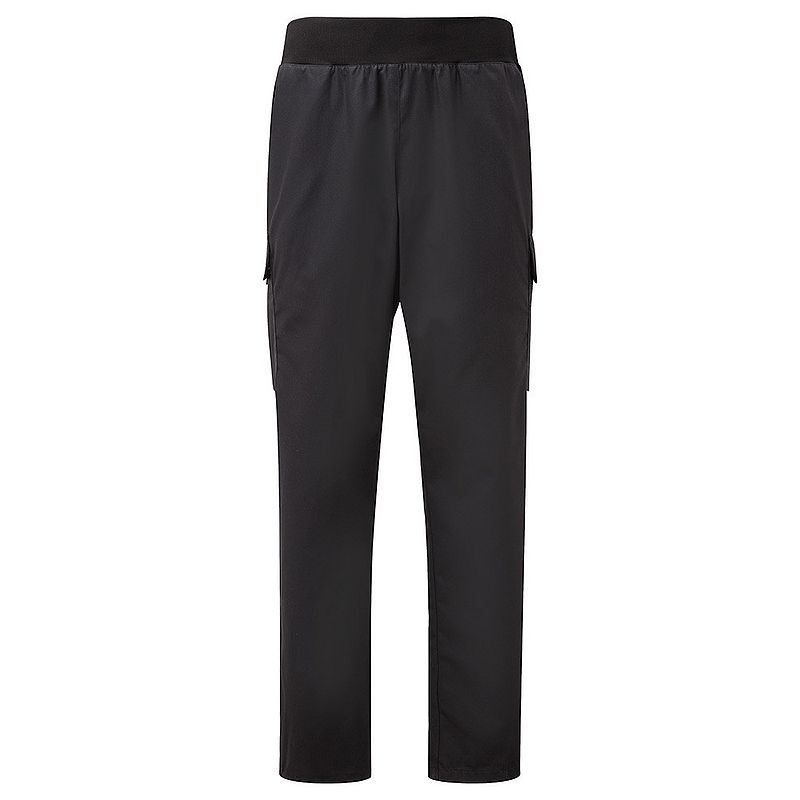 The Alexandra Workwear Precision Chef's Trousers are a pair of superb chef trousers that feature full freedom of movement with a jersey waistband and side panels. These cargo trousers contain a broad range of easy-to-access pockets, including back, hip and leg pockets, and there is also a tea towel loop fitted with a stud for efficient storage of towels, wipes and mittens. The jersey side panels ensure full breathability, keeping you cool. These trousers can be washed at 60°C and are available in black.
Key Features: Jersey waistband and side panels, broad range of pockets, tea towel loop with stud, 60°C wash.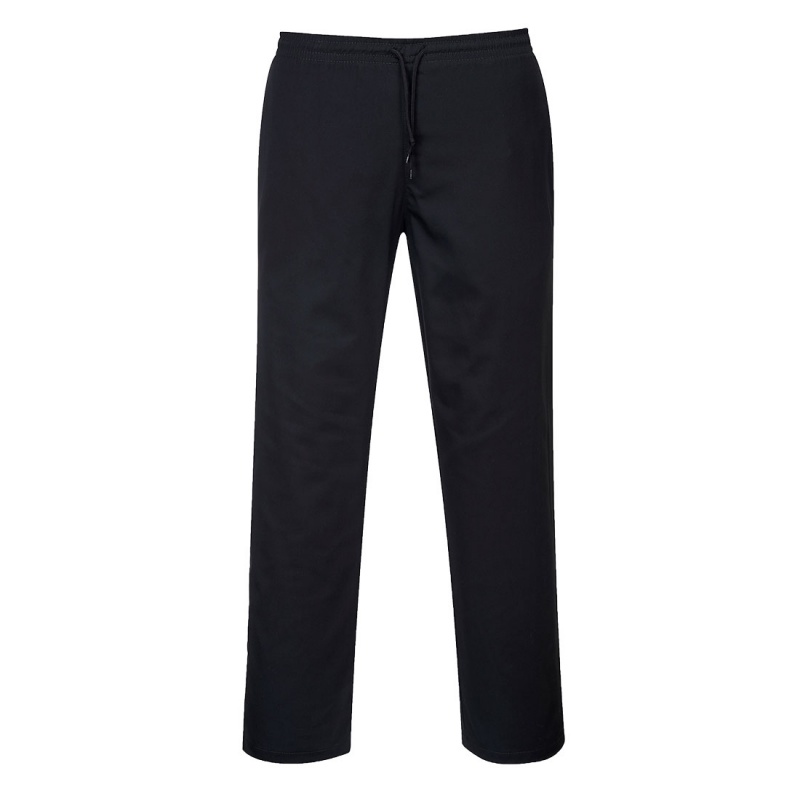 Manufactured using hardwearing and durable twill fabric with excellent dye retention, the Portwest C070 Drawstring Chef's Trousers are a stylish pair of non-shrinking chef trousers. With a premium stain-resistant finish that repels oil, water and grime, these trousers are a welcome companion for the saucier or a porter. Featuring a number of back and side pockets, these lightweight drawstring trousers are an affordable precaution against spills and grease.
Key Features: Hardwearing durable twill fabric, dye retention, non-shrinking, premium stain resistant finish, range of pockets.
Best Chef Jackets 2020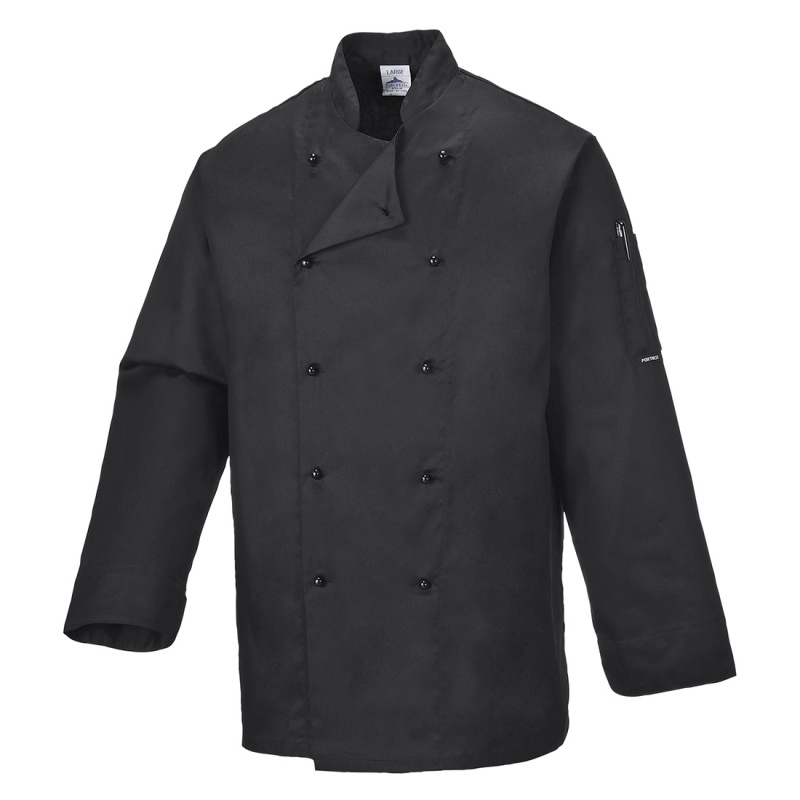 For our first jacket, we have the Portwest C834 Somersert Chef's Jacket, a stylish mandarin collar garment with a snug and well-kempt fit. This jacket features cuff vents for improved moisture management and humidity control, and can be removed with ease thanks to its five-popper opening. Like the C070 Drawstring Chef's Trousers, the C834 Chef's Jacket is made from hardwearing twill fabric, which therefore means it has excellent dye-retaining properties. Moreover, the jacket has a reversible front, which keeps you looking neat and presentable, even when you're overworked.
Key Features: Mandarin collar, moisture management, five popper opening, dye-retention, reversible front, 60°C wash.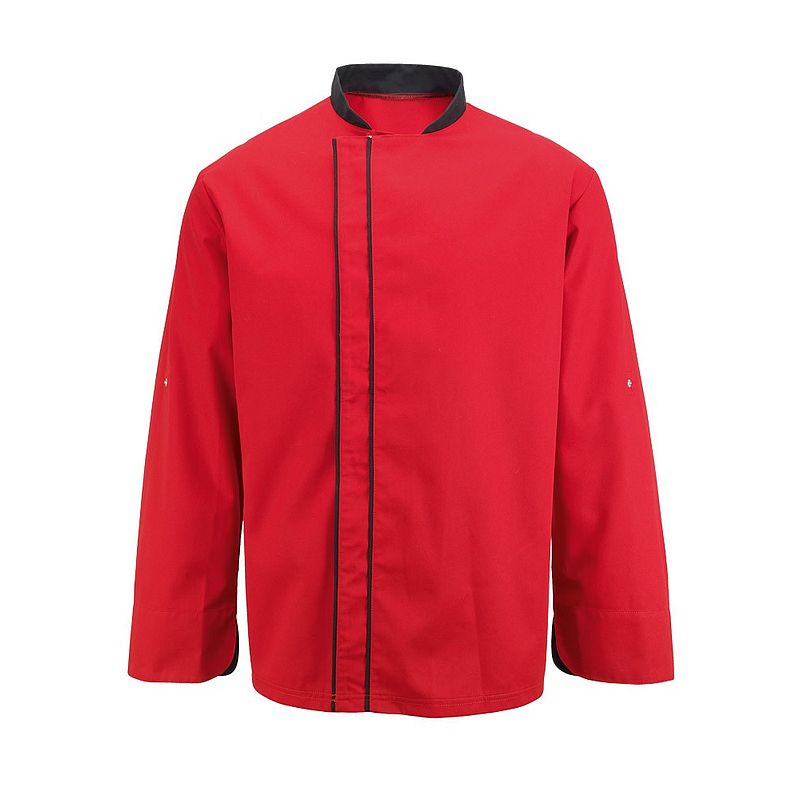 Next up is the Alexandra Workwear Chef's Coloured Jacket, a durable and highly convenient jacket for high-stress kitchen environments. With a trend-led design, this hi-definition coloured jacket is customisable with pin-up roll-up sleeves for faster cooling. Featuring iconic chef's back yoke piping and manufactured using a soft blend of polyester and cotton, the Chef's Coloured Jacket is essential for kitchens looking to overhaul and rebrand their kitchen. Available in two colours, the jacket can be washed at 60°C and is fit for industrial laundry.
Key Features: Hi-definition colour, iconic chef back yoke piping, polycotton, faster cooling, 60°C wash.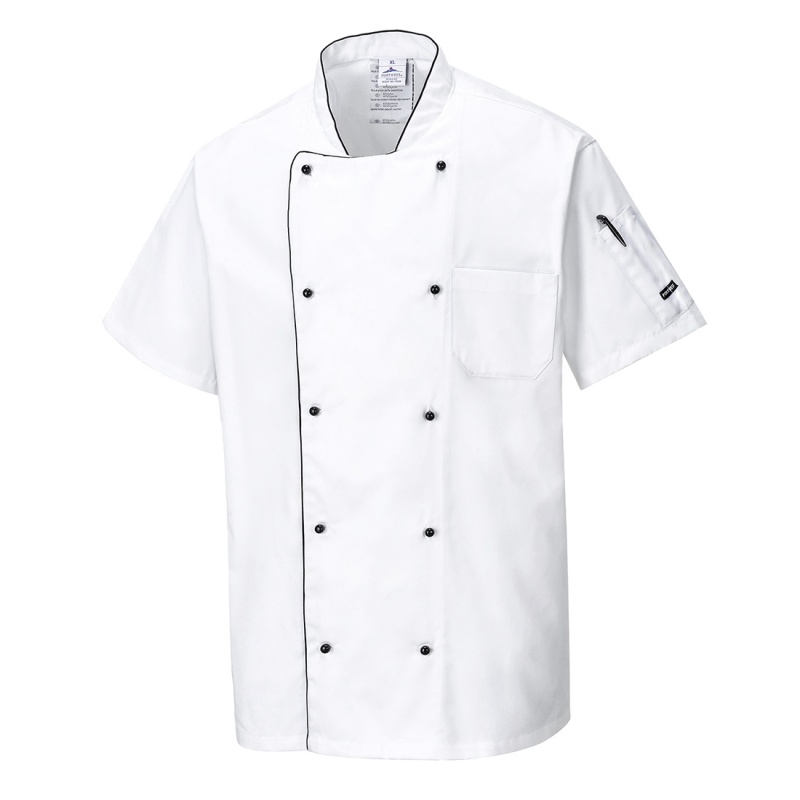 The Portwest C676 Aerated Chef's Jacket is a high-cotton modern jacket with cooling mesh fabric for increased breathability. The jacket has a reversible front which can be utilised to hide stains when covering the front pass. Moreover, the C676 features a broad range of pockets, including sleeve and chest pockets, and also features a five popper opening like the C834. The mandarin collar style jacket is stylish, hard-wearing and very reliable. You can wash this jacket at 60°C and is available in a wide range of sizes.
Key Features: High-cotton, cooling mesh fabric, enhanced breathability, reversible front, pocketed, five popper opening, 60°C wash.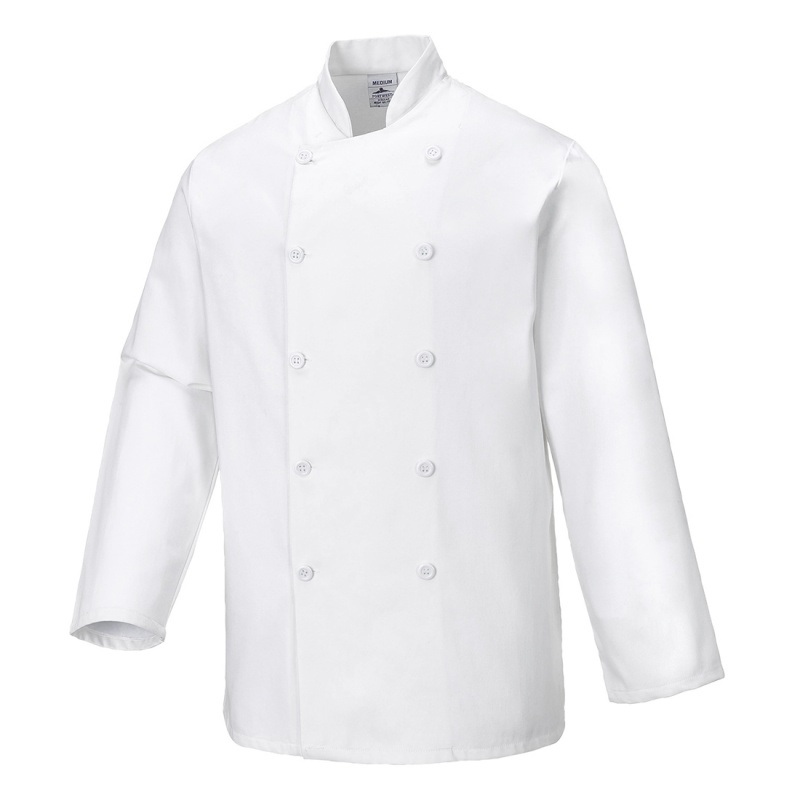 Constructed from 100% cotton, the Portwest C836 Sussex Chef's Jacket is a standardised form of chefswear recommended for budgeted kitchens. The Sussex Chef's Jacket possesses enhanced breathability thanks to its high cotton content, allowing for improved moisture management and wearability. The jacket features a reversible front to hide stains and uses a button front closure for a secure fit. Even the buttons are high quality, being made from durable rubber for a premium finish.
Key Features: 100% cotton, enhanced breathability, reversible front, button front closure, high-quality rubber buttons, budgeted chefswear.
Prepare, Outfit and Standardise Your Kitchen Staff
Finding suitable kitchenwear for your chefs can be difficult, especially as there's a lot of low-quality and flimsy garments on the market. If you want to make further improvements to your staff uniform, check out our Chef Workwear category.
If you have any questions on our construction gloves or anything to add, then we would love to hear from you. Please leave a comment below!