Ergodyne: Tenacious Work Gear
Friday, 31 January 2020 | Admin
Workwear and PPE are saturated markets, which often means creativity and authenticity become diamonds in the rough, precious and hard to find. If it were at all possible, one company has successfully combined style and quality to produce some of the finest workwear we have seen. From across the pond, the US PPE manufacturer Ergodyne has hauled their workgear to Workwear.co.uk, and now we would like to introduce them to you.

Ergodyne: Tenacious Work Gear
Who Are Ergodyne?
Since 1983, Ergodyne have pioneered their exciting range of workgear and PPE, consistently breaking moulds with new patented technology. Every year, new Safety Helmets, Hi-Vis Apparel and Footwear roll out from their labs. Battle-tested and fashionably rugged, they're certainly making a lot of noise back in the US. But where did Ergodyne find its roots?
Minnesota Born and Bred
In 1983 at a hospital in downtown St Paul, Minnesota, Dr Thomas Votel had an idea. The constant twisting and bending his fellow nurses and carers were doing had made their backs prone to injury. So Dr Votel devised an idea for a new kind of back support, one that would not only provide support to the affected back, but one that would encourage proper form.
When his company (then-called CompEquip) failed to take off, Dr Votel decided to pass the reigns to his son, a fresh university graduate. The younger Votel promptly changed the company name to Ergodyne and dug his heels in.
Then and Now
Back then, the Votels knew they wanted to make their mantra "Make the Workplace a Betterplace" a reality. But they didn't realise how far they'd get. In 1994, the National Institute for Science and Health (NIOSH) dropped a report stating that they did "not recommend the use of back belts among uninjured workers, and does not consider back belts to be personal protective equipment." Knowing the scale of this farce, Ergodyne contacted a group of industry peers and attacked the report with all they had.
Eventually, Ergodyne won out, though not after suffering heavy losses.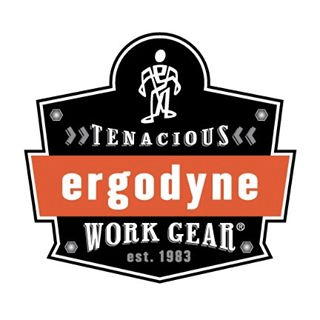 Three Pillars of Quality Work Gear
Today, Ergodyne no longer rely on one product. They entered the new millenium with a concept built around three pillars:
Prevention
Protection
Elements
Regulatory bodies and distributors have since come to expect a smoking hot range of products from Ergodyne every year - a steam engine pumping out cutting-edge work gear.
Where Can I Buy Ergodyne?
If you have decided to go with Ergodyne, we can guarantee that you are investing in quality, longevity and safety. Here at Workwear.co.uk, we've made sure that our range includes all of the Ergodyne products that you know and love, including top brands such as ProFlex and Squids. Click the links below for full access to our expanding Ergodyne range.
Click on the images below to take you to your Ergodyne destination.
Make the Workplace a Betterplace with Ergodyne
We're seriously impressed with the Ergodyne's range of workwear, and we want you to be too. You can find out more about their workwear over at the Ergodyne Work Gear category, where you can find all of our Ergodyne products. If you fancy taking a look at another brand, don't hesitate to head over to our Shop by Brand page, where you can find all of our best selling brands.
If you have any questions on Ergodyne or anything to add, then we would love to hear from you. Please leave a comment below!