Our Best Oven Gloves 2022
Sunday, 5 December 2021 | Admin
Choosing the right pair of oven gloves is important. Just as different types of knife benefit different methods of chopping, different types of oven glove benefit variables of caution, pace and skill in the kitchen.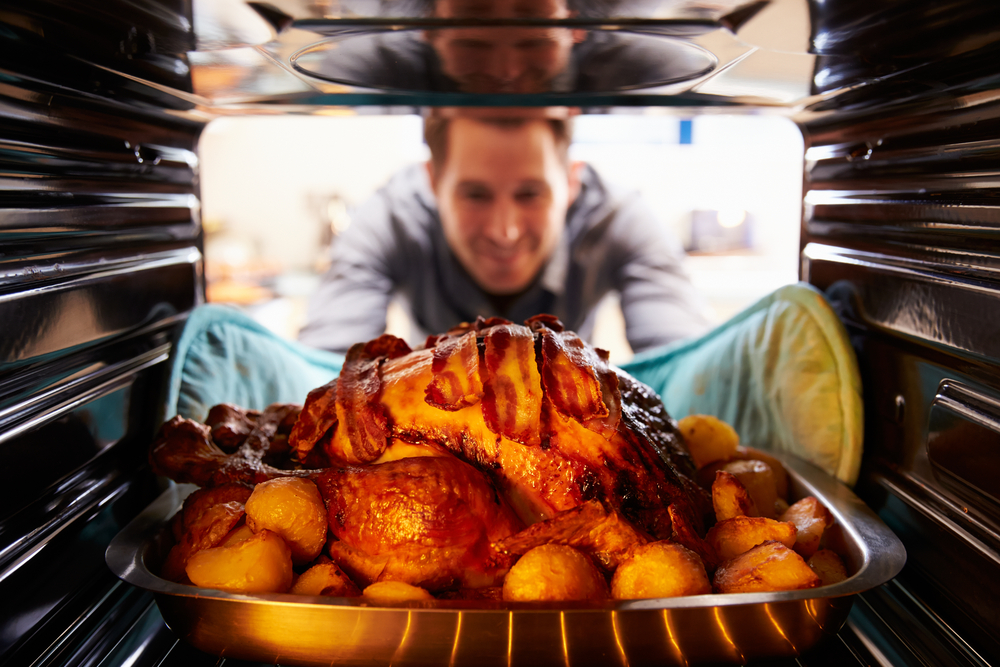 Getting down in the oven requires the right pair of gloves
In a fast-paced cooking environment where time is of the essence, oven mitts with fingers are an effective way of continuing kitchen work without the hither and dither of removing them. Elsewhere, in cooking environments involving high-temperature chambers such as pizza ovens, it is essential to wear gauntlet gloves with a good deal of wrist coverage to ensure protection from dangerous burns.
Here at Workwear.co.uk, we spend a lot of time searching for the right work protection. We believe that after months of research, we've found the right pair of oven mitts for you. Read on to see Our Best Oven Gloves.
Best Oven Gloves with Fingers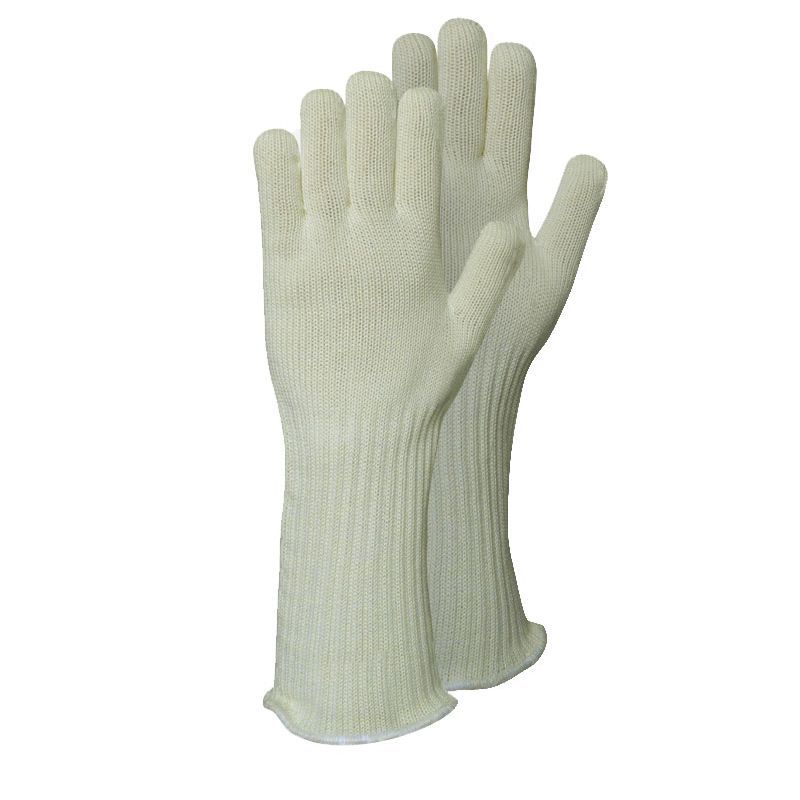 First up, we have the Coolskin Heat-Resistant Full Length Oven Gauntlet Gloves 375GTX20. Comfortable, dexterous and protective against contact heat up to 250°C, these gloves are made with an ambidexterous design, ensuring quick-and-easy donning. Quick-and-easy is the main appeal of these gloves; thanks to their full-fingered design, the Coolskin 375GTX20 are exceptionally dexterous. Moreover, these gloves feature a long and clinging cuff, allowing for superior arm protection (without dangling material).
Key Features: Contact heat up to 250°C; ambidexterous; quick-and-easy donning; full-fingered; dexterous
Best Mitts For Bakers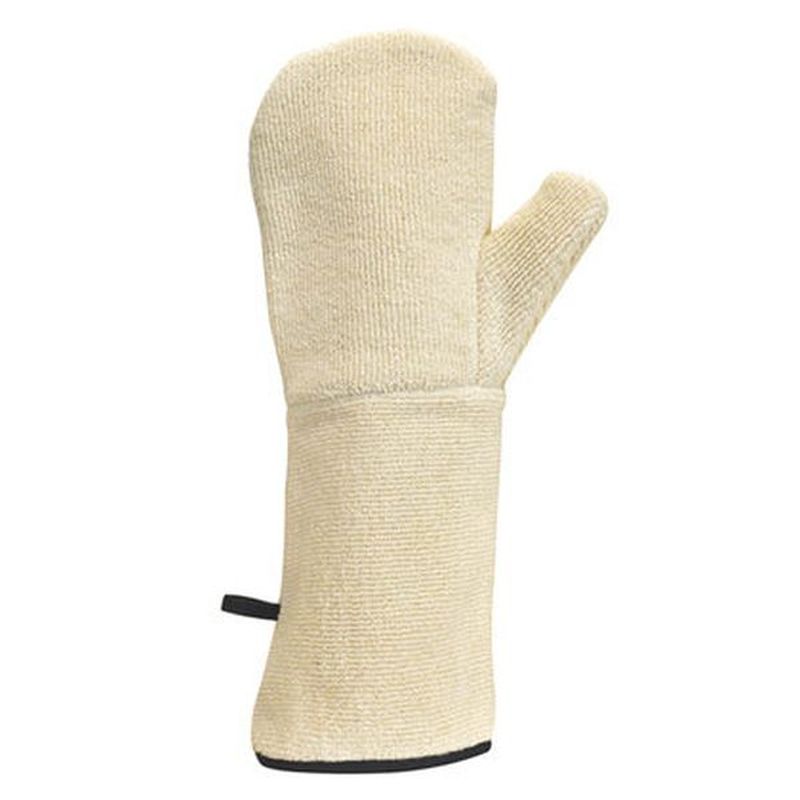 Fitted with an inbuilt PVC liquid and steam barrier, the Polyco Bakers Mitt Heat Resistant Safety Gloves 7724 are able to withstand temperatures up to 250°C. Moreover, these mitts are kitted out with a heavyweight terry cloth shell that is built to prevent abrasions and cuts, ensuring longevity. Regarding the fit of the mitts, these gloves are ergonomically designed to shape and fit the hands of the user.
Key Features: Contact heat up to 250°C; Inbuilt PVC liquid and steam barrier; heavyweight terry cloth shell
Best Comprehensive Nitrile Gloves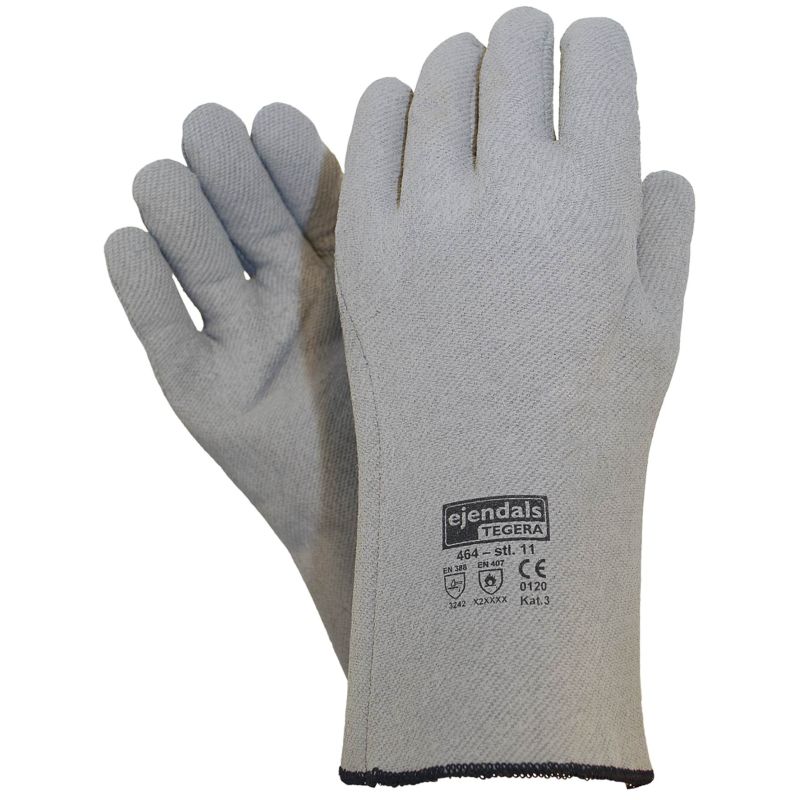 Unlike the rest of these gloves, the Ejendals Tegera 464 Nitrile Heat-Resistant Gauntlets are constructed from a robust blend of nitrile and cotton. That's not where the differences end however - these gloves also feature well-rounded scores in EN388 tests, cementing their durability as a stand-out from the crowd. The Tegera 464 withstand temperatures up to 250°C and are also fitted with an extended safety cuff, providing further protection against burns from hot surfaces.
Key Features: Contact heat up to 250°C; well-rounded EN388; extended safety cuff; nitrile and cotton blend
Best Heat-Resistant Oven Sleeves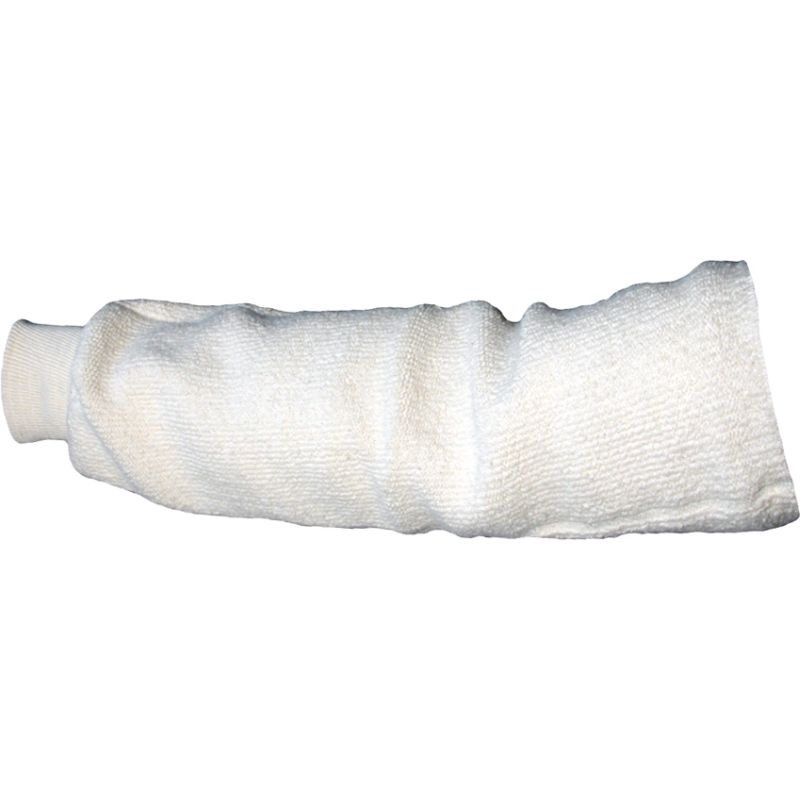 Now for something a little different. The Cotton TCSL18 18" Heat-Resistant Terry Sleeves are not oven mittens but they definitely provide protection where they cannot. Designed as an additional garment to oven gloves, they are intended to provide heat and burn protection when cleaning large industrial ovens. Knitted from 100% cotton yarn, the sleeves provide protection against contact temperatures of 250°C and are designed with elasticated knitted wrists, ensuring a tight and comfortable fit. As the name suggests, these Terry Sleeves are 18 inches in length - the perfect coverage.
Key Features: Contact heat up to 250°C; 100% cotton yarn; elasticated knitted wrists; 18 inches in length
Best Heavy Duty Gloves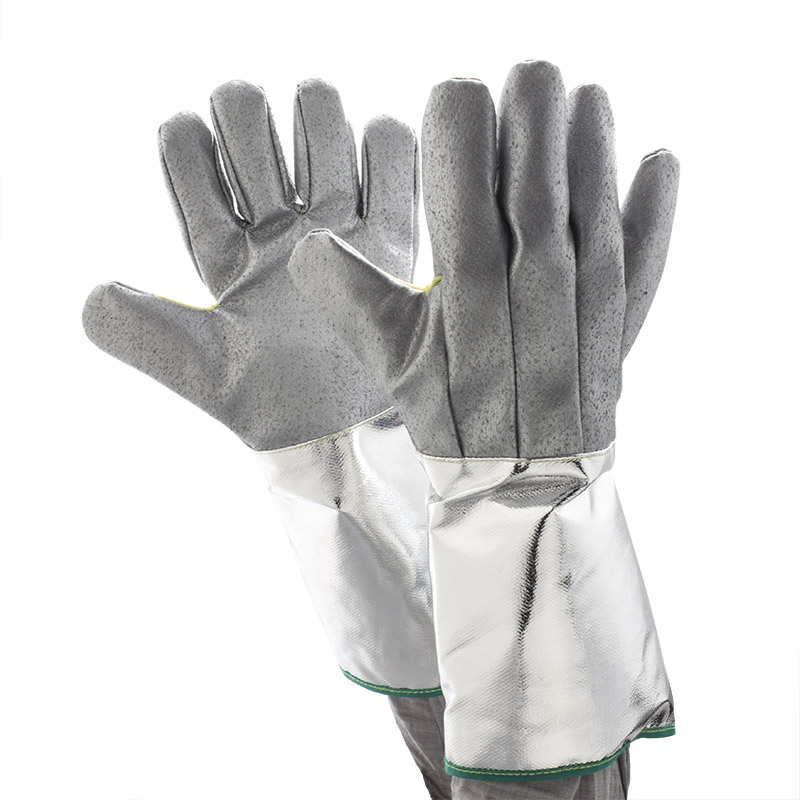 Finally, we have the Polyco Heatbeater Heat Resistant Foundry Gloves 757. These gloves are robust, high-tec, and are able to withstand sweltering temperatures of up to 500°C. This is all thanks to an impressive mixed coating of Kevlar and glass with an aluminised Kevlar glass cuff which ensures maximum protection of your wrists and lower arms.
Moreover, these gloves allow for an exceptional level of grip, ensuring the highest level of control when you're maneuvering dishes and trays. There's a lot of room to be burnt when handling a wood fire stove or another large oven, so it's imporant to kit out with some expert level protection like these gloves.
Key Features: Temperatures up to 500°C; Kevlar and glass; aluminised cuff; wrist and lower arm; exceptional grip
Protect Your Hands In The Oven
If you're going to be getting up to some cooking, it's imperative you keep your hands well protected with quality glovewear. If you want to see more of our gloves, please browse our Heat Resistant Gloves and Oven Gloves categories.
If you have any questions on our oven gloves or anything to add, then we would love to hear from you. Please leave a comment below!