Polyco Healthline: Keeping you Safe
2 Comments
Friday, 22 November 2019 |
Admin
Here at Workwear.co.uk, we're proud of the gloves that we offer. We're product because of the size of our selection, and the wide range of gloves that includes general gloves for things like handling and cut protection, and more specialist gloves that offer vibration resistance, impact protection and safety from chemicals. We couldn't be proud without brands like Polyco.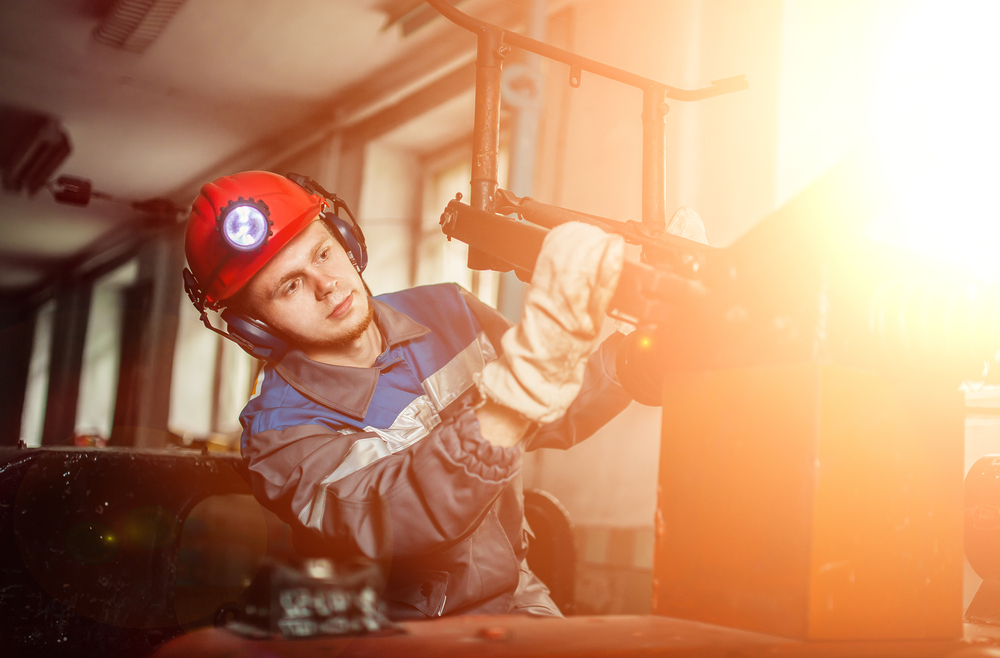 Polyco are known for their fantastic mechanical gloves
Polyco Healthline have an excellent catalogue of gloves that range for mechanical gloves for the oil and engineering industries, to disposable gloves for health and science. This short guide gives you a brief introduction into Polyco, explaining why they are among our best selling brands.
Who Are Polyco?
Polyco have been selling PPE for over 85 years. You don't trade for that long without becoming experts in the industry, and this shows in their high quality collection that includes grip gloves for mechanics, oven gloves for bakeries and chemical resistance gloves for science and lab work. Since they started, they have always prided themselves in creating products that use the newest technology to keep you safe.
Keeping you Safe
Since their start over 85 years ago, they have expanded to deliver in 38 countries worldwide. They have multiple warehouses, over 250 staff and deliver 3 billion pairs of gloves every single year. This means that they are the UK's largest handler of gloves, keeping millions safe across the world.
Environmentally Friendly
It's not just your hands that Polyco keep safe, it's the environment too. Polyco have ensured that being environmentally friendly is at the centre of everything they do. They boast the largest solar panel array in Lincolnshire, recycle all of their pallets and bail all cardboard and plastic on site, while full efficiency is ensured through driver training and vehicle utilisation.
Our Top Recommendations
It's hard to know where to start when Polyco have such a massive collection of products to choose from. Below are three top sellers that give you a small taste of what Polyco are all about.
Best Polyco Handling Gloves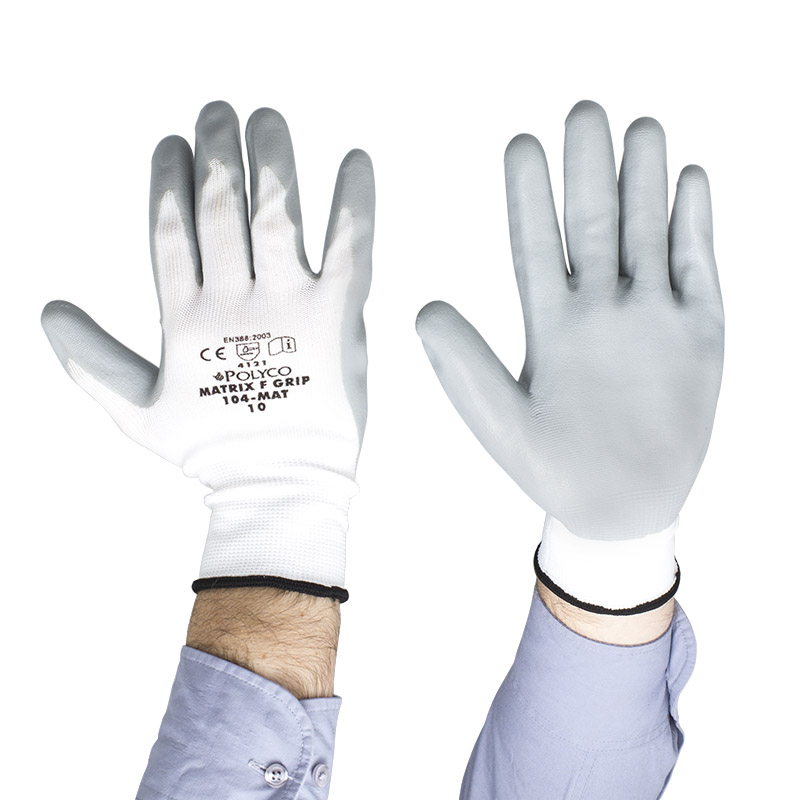 Our best all-round Polyco gloves are the Polyco Matrix F Grip Work Gloves, which offer superb grip and a tough nitrile coating that can protect your hands from cuts, scratches and abrasion. Designed with maximum dexterity in mind, these oil proof gloves excel in tasks such as handling, electronics and engineering. Comfortable and sensitive, these gloves are perfect for tricky tasks where you need full use of your hands.
Best Suited To: Engineering, mechanics, component handling, electronics, assembly.
Best Polyco Heat Resistant Gloves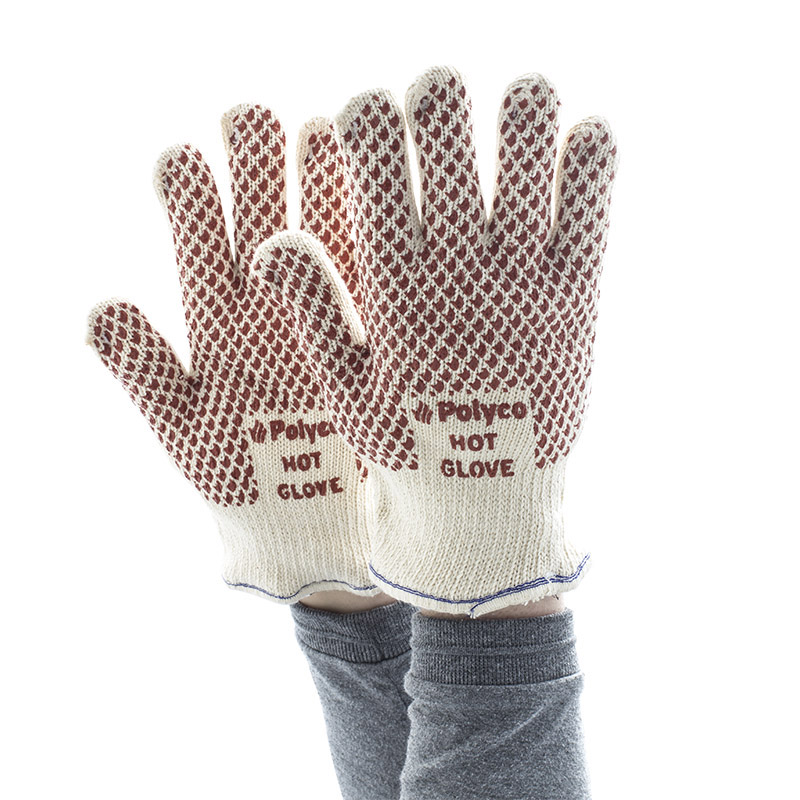 Second on our list are the Polyco Hot Glove Heat-Resistant Oven Gloves 90, which despite their dexterous design can actually withstand temperatures of up to 250°C. This makes them fantastic for not just oven use, but for other more mechanical applications such as manufacturing food, agriculture, panel handling and steam cleaning. Good resistance protects the hands further, while ensuring that they will last long after purchase.
Best Suited To: Bakers, oven use, pressings, mouldings, catering, agriculture, pressings, steam cleaning, panel handling.
Best Chemical-Resistant Gloves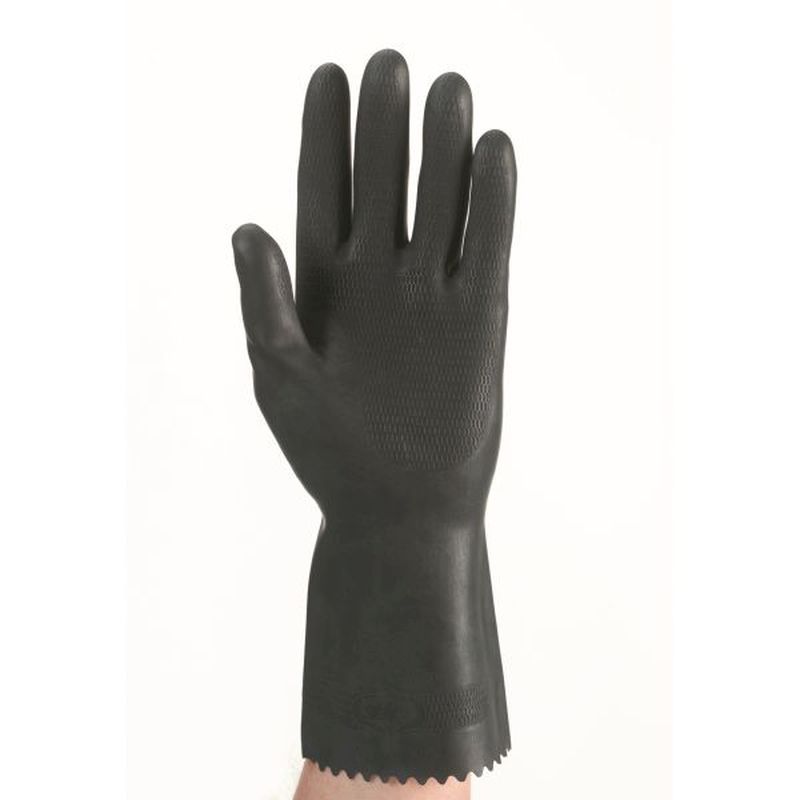 Lastly, we move onto chemicals with the Polyco Maxima Chemical-Resistant Heavy-Duty Rubber Gloves 514. Designed to provide excellent resistance against plenty of chemicals, these can ensure protection in industries that range from laboratory work, chemical use and food management. Grippy and comfortable, these gloves sum up Polyco's ability to produce fantastic productive products, that offer comfort at an excellent price.
Best Suited To: Waste management, recycling, food management, chemical manufacture, janitorial work, chemical processing.
Stay Safe With Polyco
With Polyco you can ensure that you are safe. For more information on Polyco, and to take a look at the wider range, don't hesitate to check out our Polyco Gloves category.
If you have any questions on our Polyco gloves or anything to add, then we would love to hear from you. Please leave a comment below!