Best Stylish Safety Boots 2023
11 September 2023
Safety boots shouldn't just keep your feet safe - they need to feel comfortable and look great too. In today's blog we'll give you the Best Stylish Safety Boots 2023, and explore men's safety boots, women's safety boots, and offer you designs with steel toe caps, composite toe caps, as well as waterproof options and many more. No matter what industry you're in or where you work, we believe everyone deserves to stay safe and look suave on site!
Check out our full run-down of the Best Stylish Safety Boots 2023 for PPE that looks polished!
What's Covered in This Guide?
In this blog, we'll cover the following areas:
Best Stylish Safety Boots for Men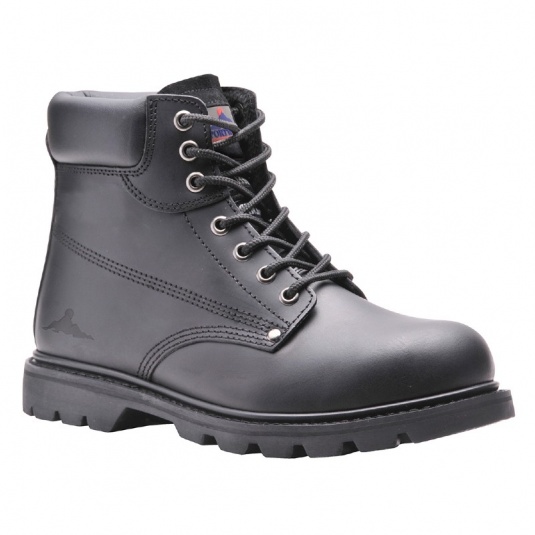 Why We Love Them...
✔ An all-rounder men's boot with a multitude of protective qualities
✔ Fashionable design blends protection with uniform compliance
✔ Steel toe cap and midsoles prevent impact injuries and knocks
✔ Anti-static, heat, fuel, oil, slip and impact for protection everywhere
Perfect For...
✔ Builders, construction workers, and active professionals
✔ The widest range of protective qualities available
✔ Protection up to 300°C for use in very hot environments
Safety Standards
✔ EN Standards: SBP HRO (check out our Handy Guide to EN Standards for Footwear to learn more)
Portwest Says: "These welted boots have a single density outsole, so while they are a simple design they're totally essential with a solid build. The steel toe caps are brilliant and the sole unit is stitched to the upper - making this boot exceptional for tough and rough conditions."
Editor's Verdict: The Portwest FW16 SBP Steelite Heat-Resistant Welted Safety Boots are our top recommendation for men needing work safety boots, but not knowing what exactly they should be looking for. Coming with protection against a huge variety of industry hazards, these boots not only look stylish but keep you safe in even the harshest working conditions. With a safety standard of SBP (which is the same as the traditional SB standard, just with additional midsole protection), these boots offer a fashionable flair on unbeatable foot protection.
Best Stylish Safety Boots for Women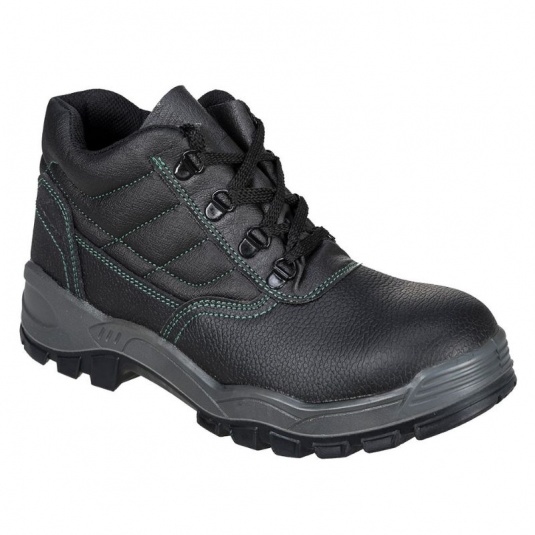 Why We Love Them...
✔ Classic safety boot design has availability in smaller sizes, ideal for women
✔ Coloured stitching adds a pop of vibrancy for a more stylish design
✔ Fuel- and oil-resistant outsole prevents slips and trips and absorbs shock
✔ Huge variation of sizes for women, ranging from size 2 to size 14
Perfect For...
✔ Women working in active jobs, from construction to warehousing
✔ Impact protection from jumping, carrying heavy items, running and more
✔ Support of the heel, static and compression resistance and shock absorption
Safety Standards
✔ EN Standards: S1 (check out our Handy Guide to EN Standards for Footwear to learn more)
Portwest Says: "Part of our essential range, this is a brilliant value for money boot. Wonderful underfoot comfort means this is unbeatable in terms of user comfort: providing total comfort to those working in warehouses, workshops, and other environment where people are on their feet all day long."
Editor's Verdict: Few safety boots consider that women too work on site, meaning that smaller sizes are few and far between in the safety footwear industry... until the Portwest FW21 S1 Steelite Steel Toe Cap Safety Boots came to be! These strong and flexible work safety boots protect women from a range of common hazards, with their S1 safety rating of protective toe caps, energy absorbing heels, antistatic properties and resistance to oil. Put an end to the often futile search for women's PPE with these boots, for top quality footwear that keeps women comfortable, safe, and included in labour industries, all while looking fabulous at the same time.
Best Waterproof Safety Boots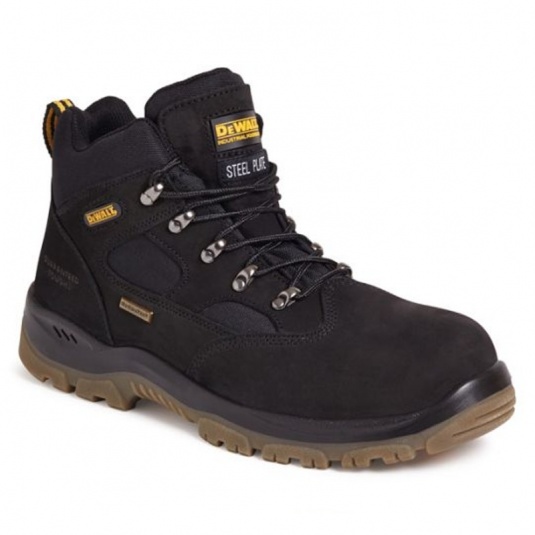 Why We Love Them...
✔ Stylish leather waterproof safety boot with a range of protective qualities
✔ Unisex design is convenient and ideal for big company purchases
✔ Leather design is inherently waterproof and prevents water penetration
✔ S3, WR and SRC safety ratings keep feet safe from various hazards
Perfect For...
✔ Anyone needing the broadest range of hazard protection
✔ Men and women, with ten sizes available for convenience
✔ Total comfort, with super soft padded tongue and collar
Safety Standards
✔ EN Standards: S3 WR SRC (check out our Handy Guide to EN Standards for Footwear to learn more)
DeWalt Says: "The DeWalt Challenger Boot is made from waterproof nubuck leather, with a Sympatex bootie construction designed to keep feet dry, while allowing them to breathe. Made with steel toe protection and midsole protection, the PU comfort foot bed offers added all day comfort."
Editor's Verdict: The DeWalt Challenger S3 Waterproof Work Safety Boots (Black) ensure total safety not just from water damage, but from achy, sore feet too! This is essential for construction workers, and other professionals on their feet all day. Featuring an S3 WR rating, this stylish pair of shoes look like conventional military boots while offering safety in the pouring rain and in generally wet, damp conditions - keeping you and your feet looking chic no matter what.
Stylish Safety Chelsea Boots
Why We Love Them...
✔ Chelsea/dealer style offers discreet toe and midsole protection
✔ TPU scuff caps, steel toe caps and midsoles prevent impact injury
✔ Pierce, static, fuel and oil resistance for safety in various environments
✔ Offers a broad range of protective qualities to outfit your workforce
Perfect For...
✔ Ideal for use in a variety of industries with heavy machinery
✔ Commuting to and from work, wear all day on and off site
✔ Safety shoes that don't look like safety shoes
Safety Standards
✔ EN Standards: S3 (check out our Handy Guide to EN Standards for Footwear to learn more)
Portwest Says: "An easy on-off product, these are the most convenient boots around, plus they look super stylish! People love the TPU scuff cap on the toe for added protection, plus it's wide fitting for people with bigger feet. This is the ultimate comfort boot that also offers convenience."
Editor's Verdict: The Portwest FT71 Safety Dealer Boots (Black) offer perhaps the most discreet solution to protective footwear needs. These Chelsea safety boots, also known as dealer safety boots, feature a sophisticated ankle-high design with back pull-tabs for convenience, comfort, style and support, creating a shoe that doesn't look like safety footwear at all and keeps your feet and ankles protected from punctures, static damage, fuel, oil and even twisted ankles. This also makes them ideal for wear on and off site, while popping between supplier meetings, and just about anywhere, meaning you can rest assured that you can look smart while staying protected from harm's way.
Stylish Breathable Work Boots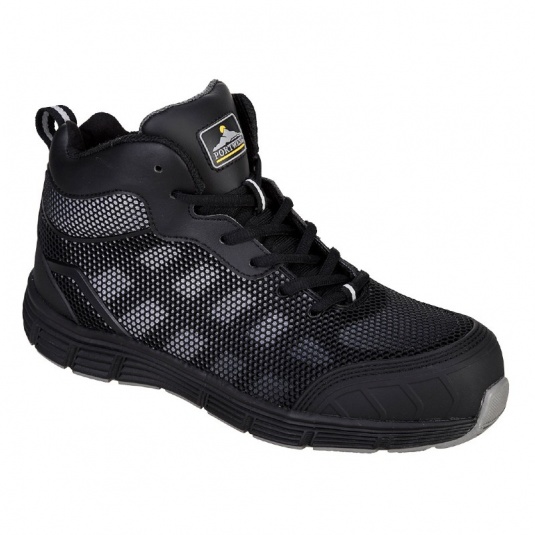 Why We Love Them...
✔ Trendy and contemporary style work boots with breathable mesh
✔ Construction allows for adequate airflow to the foot for fresh feet
✔ Breathable design doesn't compromise protection levels or safety
✔ Various protective qualities, including slips, fuel, oil, punctures and more
Perfect For...
✔ Electricians, security guards, builders, line workers and more
✔ Complete comfort, with cushioned foot beds to reduce foot fatigue
✔ Metal-free zones, with a non-metallic design for broader range of use
Safety Standards
✔ EN Standards: S1P (check out our Handy Guide to EN Standards for Footwear to learn more)
Portwest Says: "This composite trainer boot features KPU for the most lightweight use, making it great for people needing a light and easy to wear shoe - making it a great option for internal tradesmen and engineers. With a mesh liner, this design is moulded, giving it brilliant abrasion resistance and toughness alongside top tier breathability."
Editor's Verdict: The Portwest FC15 Compositelite Derwent Boots S1P (Black/Grey) are the best way to stay stylish and hygienic in active roles, featuring a contemporary mesh design and a high top trainer/boot style to protect workers from ugly workwear and sweaty feet! With a directly injected mesh with a KPU case for total breathability, these boots maintain the protectiveness of the best work boots without being stuffy, uncomfortable or heavy, plus they look pretty slick too. This not only keeps you looking smart, it keeps you happy and productive, since sweaty feet can lead to a host of other issues like blisters and sore soles that will hurt your comfort on the job.
Stylish Lightweight Safety Boots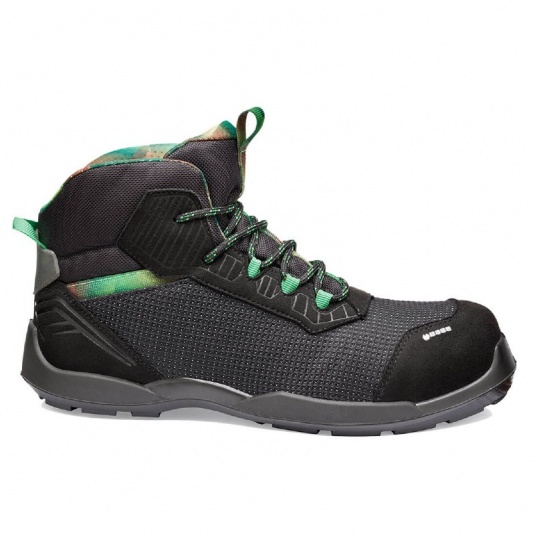 Why We Love Them...
✔ Prevent puncture injuries while keeping workers light on their feet
✔ Lightweight composite toe caps protect without weighing workers down
✔ Made-to-measure orthopaedic foot bed provides total comfort
✔ Anti-static design for work around electronics or electrical hazards
Perfect For...
✔ People on their feet all day needing light, supportive shoes
✔ A range of industries, from maintenance to electrical work
✔ People using heavy objects, needing protection from impact injuries
Safety Standards
✔ EN Standards: S1P (check out our Handy Guide to EN Standards for Footwear to learn more)
Portwest Says: "This is a super eco-friendly design ideal for warehousing conditions with a trainer type boot. The Airtech sole is low profile, making it thin while tough yet supremely comfortable. This keeps the design super light while still being ultra comfortable, keeping wearers comfortable yet protected."
Editor's Verdict: The Portwest Base Yellowstone Lightweight Anti-Static Mid Work Boots B0667B feature a trendy pop of green with a lightweight construction weighing in at only 1kg, for the ultimate comfortable safety footwear. We particularly love the eco-friendly nature of these shoes, due to their being made of recycled fabric for minimal environmental impact. These boots are also made with a microfibre finish, SmellStop antibacterial lining, Fresh'n Flex midsole and Airtech sole, keeping your style and feet fresher than ever, enhancing agility in jobs requiring total flexibility and range of movement!
Stylish Composite Toe Cap Safety Boots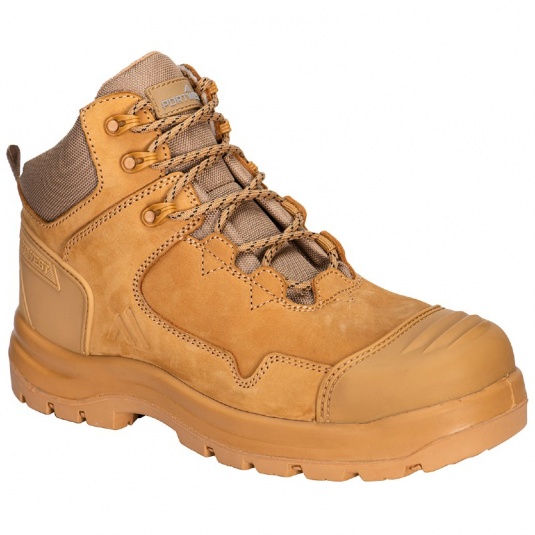 Why We Love Them...
✔ Composite toe caps offer a lightweight solution to heavy safety footwear
✔ Sophisticated wheat colour adds a cool, casual take to protective wear
✔ S3 certification provides the widest range of protection types
✔ Toe caps are capable of withstanding 200 joules for robust toe protection
Perfect For...
✔ More comfortable, lightweight and flexible toe-capped footwear
✔ Shock-absorption, with a design to minimise impact damage and bruising
✔ Midsole protection, with penetration resisting qualities for versatility
Safety Standards
✔ EN Standards: S3 HRO SR (check out our Handy Guide to EN Standards for Footwear to learn more)
Portwest Says: "This tough rugged construction boot features TPU protective toe cap with an internal zip for easy in and out access. The cut out heel padded collar reduces rubbing, making it perfect for driving, bending down and generally moving around a lot, this doesn't rub or cause discomfort around the Achilles heel. It's great for construction industries with a bellowed tongue for maximum protection against dust, grime and dirt."
Editor's Verdict: The Portwest FD04 Apex Composite Mid-Height Safety Boots S3S HRO SR (Wheat) feature composite toe caps, which have a number of very beneficial features including being lightweight, flexible, and comfortable. These boots are therefore a brilliant choice for anyone needing a more comfortable footwear solution that might not offer exactly the same protective levels as their steel counterparts, but certainly makes up for it with lightweight agility. We particularly love the wheat colourway, since it looks more like conventional (non safety) footwear, and we think this colour would go with pretty much any type of outfit, making it suitable for wear both on and off site!
Stylish Steel Toe Cap Safety Boots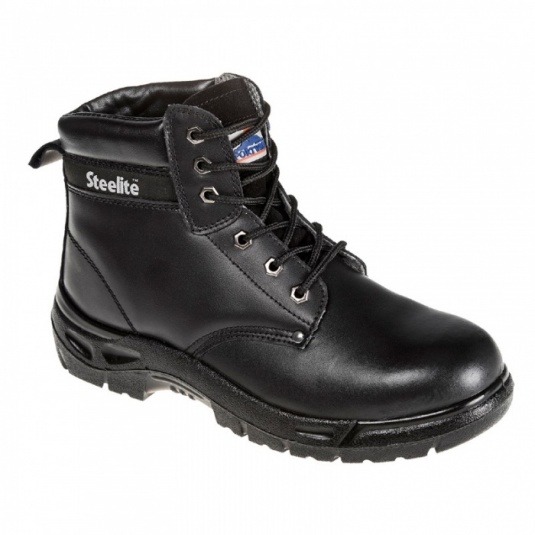 Why We Love Them...
✔ Patent leather is stylish and water-resistant for fashionable functionality
✔ Steel toe caps provide unbeatable protection from impact and punctures
✔ Shock absorbing seat region reduces impact at the back of the foot
✔ Broad range of protective qualities including anti-slip, static, fuel and oil
Perfect For...
✔ The most intense level of foot protection, with hard steel toe caps
✔ Stricter PPE laws in workplaces such as on construction sites
✔ Protection of the feet and ankle area, for improved stability
Safety Standards
✔ EN Standards: S3 (check out our Handy Guide to EN Standards for Footwear to learn more)
Portwest Says: "Part of our industry essentials range, this boot gives brilliant protection against the elements, being S3. Properly suited for someone on their feet all day in a variety of conditions, this boot is the best mid range boot out there - making it brilliant for water resistance and other more environmental protections."
Editor's Verdict: The trendy Portwest FW03 S3 Steelite Safety Work Boots offer the best steel toe capped protection that money can buy, presented in a patent-look leather design suitable for both wet and dry conditions. Ideal for preventing toe injuries and featuring static, slip, fuel and oil resistance, these boots guarantee the highest level of safety and comfort. We really like how these boots have the appearance of trendy military style leather boots, yet they offer total protection against even the toughest conditions and hazards.
Stylish Aluminium Toe Cap Safety Boots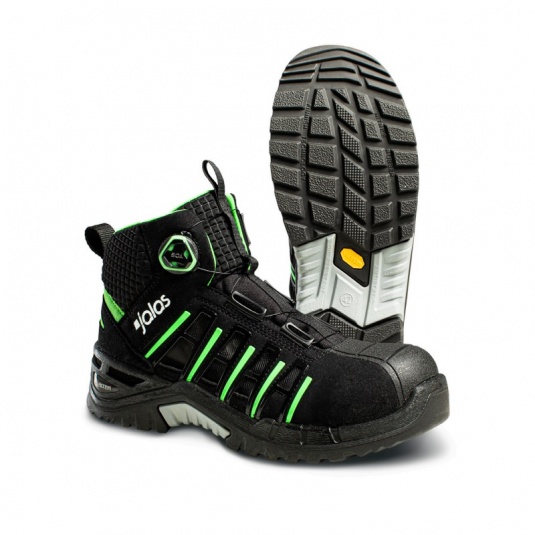 Why We Love Them...
✔ Futuristic style safety boots with fiercely protective aluminium toe caps
✔ Aluminium toe caps combine top qualities of steel and composite toe caps
✔ BOA fastening is completely unique, eliminating the need for laces
✔ Protects against ESD, oil, water, slips, trips, heat and impact
Perfect For...
✔ Puncture protection, with plasma-treated composite features
✔ Convenience, BOA fastenings eliminate need to tie and untie laces
✔ Comfort at work, with twin absorbency zones to minimise stress on feet
Safety Standards
✔ EN Standards: S3 (check out our Handy Guide to EN Standards for Footwear to learn more)
Ejendals Says: "Exalter is our most popular safety shoe range. It is a customer favourite because it is very comfortable and is designed with high ergonomics to protect feet and legs on long workdays. It is a premium safety shoe with long lasting durability...this specific model has ventilation holes to stay cool and a BOA Fit System on the side for extra comfort in various work situations."
Editor's Verdict: We love the ultra-modern design of the Ejendals JALAS Exalter 9945 BOA Fastening Aluminium Toe Cap Safety Boots, with their flashes of chartreuse for visibility, laceless design and high-top trainer-boot shape. Suitable for heavy-duty indoor and outdoor applications, for example, while carrying extremely heavy objects or working with dangerous machinery, these boots prevent injuries to the most vulnerable parts of the foot with rarer aluminium toe caps. The perks of this type of toe cap is that they have the physical lightness and flexibility of a composite design, with the rigid protectiveness of a steel toe cap - reaping the benefits of both for a formidable design in the safety footwear industry.
Useful Information about Safety Boots
Safety boots are essential in a number of places - and might even be a legal requirement. They should be worn in environments where the following hazards are likely to, or could occur:
Falling objects, such as when working with heavy machinery or work tools
Sharps could be stepped on, for example in spaces where nails are on the floor
Constriction or pressure of the feet, for example when working with heavy machinery
Electrical hazards could occur, particularly in the engineering, maintenance and electrician industries
Trips could happen, for example on slippery or wet floors in catering, hospitality or warehousing facilities
Extreme temperatures, such a extreme heat (in furnaces), or extreme cold in walk in freezer facilities
We would therefore recommend using safety boots in the following industries and work environments:
Construction sites
Warehouses
Manufacturing plants
Factories
Oil and gas industries
Utilities
Transportation
What Other Designs are Available?
Not sold yet? Check out our huge range of Work Safety Boots designed for fashion-conscious workmen and women. With designs varying in protection levels and types, we have options to keep you guarded while staying avant-garde!
In our guide to the Best Stylish Safety Boots 2023, we cover some of our favourite recommendations for protective footwear, whatever purpose you're looking for!