Steel Toe vs. Composite Toe Caps: Which is Best 2023?
10 August 2023
Toe caps are essential for protecting (unsurprisingly) your toes - but did you know that there are different types with varying qualities and standards? Some workplaces might enforce that you wear toe-capped boots, toe-capped shoes or toe-capped trainers, particularly if they're hazardous working environments.
In today's blog we'll explore the question of Steel Toe vs. Composite Toe Caps: Which is Best 2023? We'll compare and contrast both types of toe caps and give you the best footwear for both options, helping you to find the perfect safety solution for you and your workforce.
What's Covered In This Guide?
In this blog, we'll consider toe caps according to several categories:
Steel Toe Vs. Composite Toe Caps: What's the Difference?
There are a number of differences between steel toe vs composite toe caps. You can check them out in the table below:
| | | |
| --- | --- | --- |
| Feature | Composite | Steel |
| Impact Protection | Less Protection | More Protection |
| Weight | Lighter | Heavier |
| Electrical Conductivity | Non-Conductive | Conductive |
| Temperature Resistance | Insulates Heat | Can Conduct Heat |
| Cost | More Expensive | Less Expensive |
Impact Protection - Winner: Steel Toe Caps
Being made of a blend of materials and not one singular material, composite toe caps tend to offer just a tiny bit less protection than their steel alternative. While the difference is relatively minimal, you might want to consider this if you need the strongest level of protection possible.
For our most protective steel toe cap boots, check out the Portwest FW45 PVC Boots S5 (Black)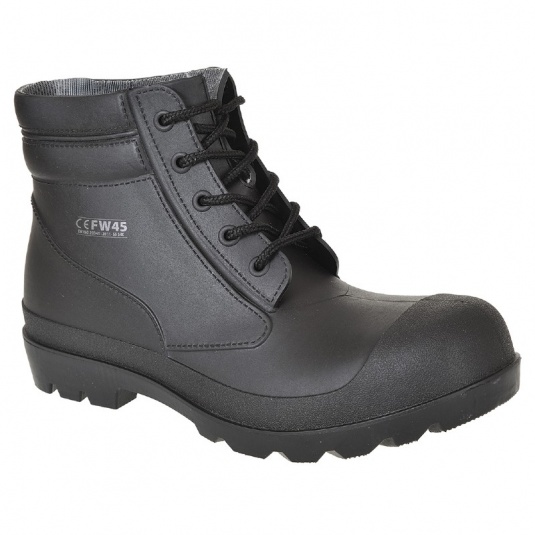 Why We Love Them...
✔ Steel toe caps and midsoles prevent impact across foot
✔ Level 5 safety standard for highest protection levels
✔ Resists a range of hazards: water, slips, fuel, oil, punctures
✔ 100% waterproof design is ideal for dryness indoors and out
Perfect For...
✔ Strongest protection against foot and toe injuries at work
✔ A vegan safety shoe, PVC construction has no animal products
✔ Use across a variety of industries against various workplace risks
Editor's Verdict: Don't be fooled by the simplistic design of the Portwest FW45 PVC Boots S5 (Black). Made of a cost-effective PVC construction, these safety shoes offer the highest level of protection against the largest variety of common workplace hazards. With a bellow tongue, scuff cap and steel toe caps and midsoles, these boots keep your feet safe (while protecting the shoe's design from superficial damage), for footwear that keeps workers light on their feet without making them light on their wallet!
Weight - Winner: Composite Toe Caps
Composite toe caps are lighter, making them more comfortable to wear. This is also important if you work in a fast paced industry, such as hospitality, which requires you to be lightning fast on your feet all day.
For our most lightweight composite toe cap shoes, try the Portwest Base Yellowstone Lightweight Work Shoes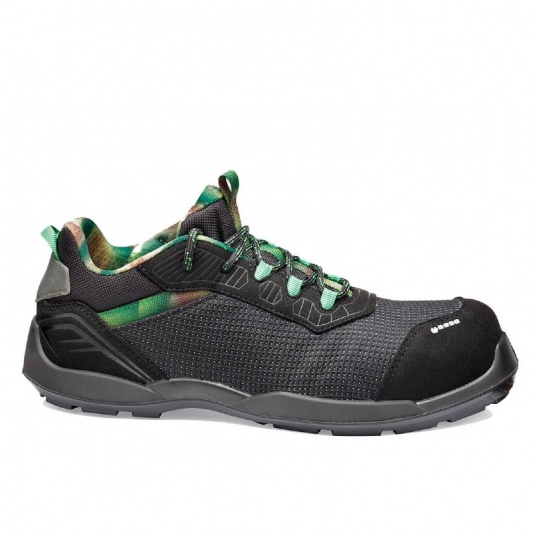 Why We Love Them...
✔ Lightweight work shoes are ideal for fast paced environments
✔ 200 joule composite toe caps prevent injury to the toes and feet
✔ Metal-free design keeps electricals safe from electrostatic discharge
✔ Impact, puncture, shock, static, ESD, hydrocarbon, slip resistant
Perfect For...
✔ People needing protection from jumps, falls and general impact
✔ Wear all day long in fast-paced environments, keeping employees agile
✔ Orthopaedic support, featuring ultra-comfy and supportive footbeds
Our Supplier Says: "Featuring made to measure footbeds, these shoes optimise the wearer's foot positioning, helping to keep workers both comfortable and safe on site. They're specifically designed for more active workers, for example for people in construction or warehousing, since they're ultra-lightweight. The weight of these shoes is significant because landing on your feet in heavy, hard shoes can do more damage to your feet and joints - and that's why these composite toe cap shoes are so good at protecting workers from several workplace hazards."
Editor's Verdict: If you're in a super physically demanding job, the last thing you need is heavily toe-capped shoes dragging you down. This doesn't just feel heavy and cumbersome, but donning excessively weighty shoes can actually compromise safety too, since it tends to make people less dexterous in favour of enhanced safety. The Portwest Base Yellowstone Lightweight Work Shoes strike the perfect belance between total protection and comfort, so you can stay speedy and safe.
Electrical Conductivity - Winner: Composite Toe Caps
Composite toe caps don't conduct electricity, making them generally safer for use in environments involving electricals or general static energy. This makes them a brilliant option for metal-free zones too, such as security offices, airports, and other secure areas.
For our top composite toe capped ESD shoes, see the Portwest FC21 Compositelite Safety Boots S1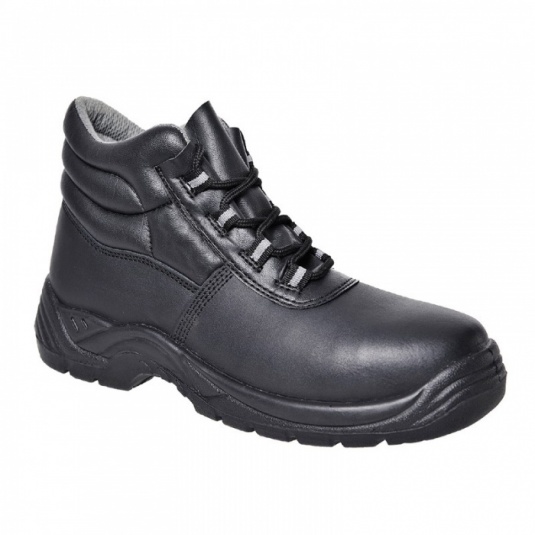 Why We Love Them...
✔ Metal-free composite toe caps prevent ESD injuries
✔ Leather construction is light on feet yet flexible as you walk
✔ 100% non-metallic design can be worn in metal-free zones
✔ Slip resistant outsole prevents slips on steel and ceramic
Perfect For...
✔ Wear in airports, security spaces, research and MRI facilities
✔ Slip, static, fuel, oil and impact resistance for safety at work
✔ Everyday wear at work, for safety that is light and effortless
Editor's Verdict: If you work in a metal-free environment, it's not just important for your health and safety to have non-metallic shoes: it's probably a legal requirement too! The Portwest FC21 Compositelite Safety Boots S1 combine composite toe caps (the only non-conductive toe caps available on the market), with super-soft and flexible action leather. With a 100% metal-free design for complete reassurance in a huge range of environments, these shoes keep workers comfortable without compromising safety levels or comfort.
Temperature Resistance - Winner: Draw
Composite toe caps are better at insulating heat, while steel toe caps can conduct heat. However, we called this a draw since heat conduction isn't really an important factor to consider when choosing toe caps.
If you have to pick one type of toe cap over the other however, you could consider how insulated you want your feet to be. If you want a warm thermal boot, for example, we'd pick the composite toe capped option, since it'll likely keep your feet that teeny bit more warm. If you want a more ventilated safety trainer though, you're better off picking a steel toe capped design.
For our best thermal composite toe cap boots, try the Portwest FC12 Compositelite Thermal Thor Work Boots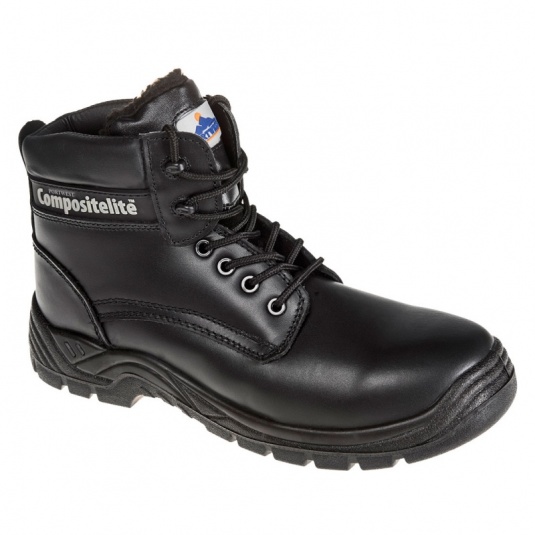 Why We Love Them...
✔ Composite toe caps plus leather construction enhance warmth
✔ Fur lined interior stimulates blood circulation for insulation
✔ Keeps workers safe in extreme cold situations and work spaces
✔ Water resistant design prevents penetration from melting ice
Perfect For...
✔ Walk-in freezers, extreme cold weather, blizzards, storms
✔ Wear outdoors in cold, warm, wet, dry, windy, stormy weather
✔ Cold, static, shock, water, slip, fuel, oil and puncture resistance
Editor's Verdict: While you can have thermal shoes with steel toe caps, they're not necessarily easy to find, and they're not the best for creating the ultimate comfy, cosy shoe. The Portwest FC12 Compositelite Thermal Thor Work Boots ensure your feet stay dry, warm and safe from damage for use in a variety of environments and weather conditions. Made of naturally water resistant full-grain leather, these boots are soft and supple on the feet while providing intensive protection to the toes, metatarsal bones, and midsole areas for all-round protection that keeps you cosy.
For our best breathable steel toe cap trainers, try the Portwest FT18 Steelite Wire Lace Safety Trainers S1P HRO (Grey/Green)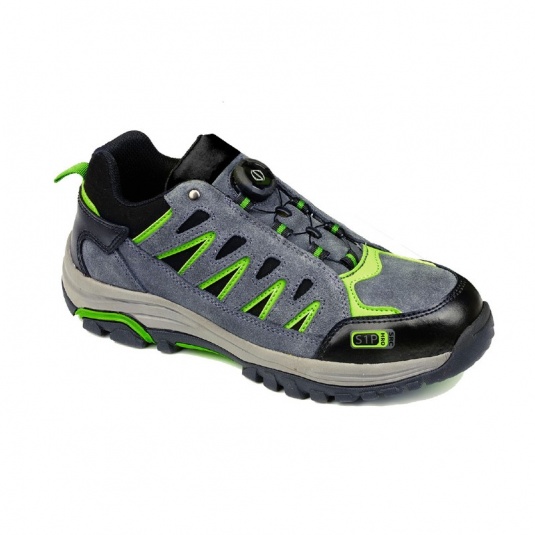 Why We Love Them...
✔ Steel toe caps keep shoes cool and breathable for wear all day
✔ Midsoles and toes are protected from impact and punctures
✔ Leather materials are naturally breathable and flexible for comfort
✔ Enhanced tread pattern ensures traction on uneven, slippery surfaces
Perfect For...
✔ Quick removal and application, with back pull tab and quick fit laces
✔ Fast paced industries requiring workers to move quickly for long periods
✔ Puncture, piercing, slip, oil, water and heat resistant up to 300°C
Editor's Verdict: The Portwest FT18 Steelite Wire Lace Safety Trainers S1P HRO (Grey/Green) offer complete breathability in high-intensity, sweaty and hot situations. With heat resistance up to 300°C, these trainers are suitable for a variety of uses with adequate protection against the majority of standard workplace hazards. The steel toe caps prevent these shoes from absorbing excess heat (which is essential if they are being used in extremely hot environments), helping to keep your feet safe and sweat-free all day long.
Cost - Winner: Steel Toe Caps
Steel is made in vast quantities and doesn't require as much manual labour to produce as composite toe caps - so if you're strapped for cash but needing a strong safety shoe, steel is your best bet.
For our top affordable steel toe cap shoes, try the Portwest FW14 Steelite Protector S1P Steel Toe Cap Shoes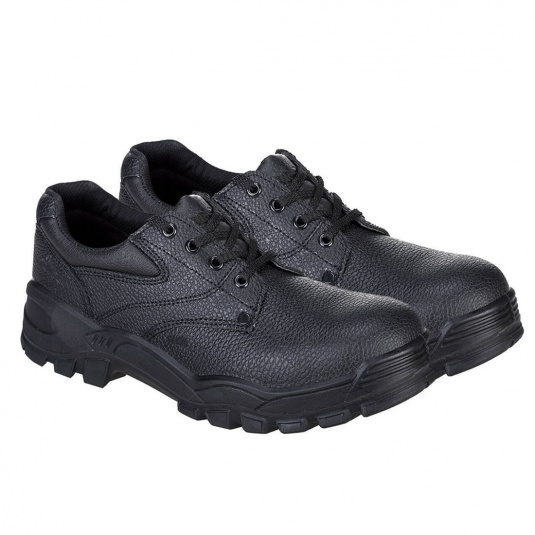 Why We Love Them...
✔ Steel toe caps, midsoles and reinforced heels stop impact injuries
✔ Simple and cost-effective safety shoe with 200 joule resistance
✔ Broad industry use: oil, engineering, mechanics, warehousing and more
✔ Seat absorbs shock to protect feet as you walk, for safety all day
Perfect For...
✔ Standard safety footwear for experts needing basic protection
✔ Wear by men and women, in a unisex design for convenience
✔ Protection against various hazards, with heat resistance up to 300°C
Editor's Verdict: Sometimes you just want a super simple, easy to use and most importantly: affordable piece of safety equipment for your workforce. The Portwest FW14 Steelite Protector S1P Steel Toe Cap Shoes offer quality hazard protection without compromising quality, using standard steel toe caps. Perfect for use in the oil industry (as well as a huge list of other professions), these shoes help businesses keep to even the tightest of budgets without sacrificing your employee's freedom of movement or overall comfort.
Why Do I Need Toe Caps?
Toe caps are important for a few different reasons:
They might be a legal requirement at your workplace (for example, many construction sites require puncture-proof toe capped shoes for fulfilment of health and safety laws).

Toe caps prolong the longevity of work footwear by protecting them against impact and puncture damage.
Toe Caps for All Industries
Toe caps are a surprisingly complex point of discussion, since they are often required for legal reasons across a variety of work environments, and many professionals disagree over whether steel toe caps or composite toe caps are superior. We have a huge range of Toe Capped Footwear to choose from, including:
Check out our selection of safety footwear below for even more suggestions:
Do you prefer steel toe capped footwear or composite toe capped shoes? Why not let us know in the comments below!