Top 5 Best Summer Work Shorts
24 June 2022 | Admin
Summer work can be downright brutal, especially if you're not well prepared. Here at Workwear.co.uk, we want our customers to feel comfortable all year round, so we compiled a list of our Top 5 Best Summer Work Shorts to help you beat the heat this summer.
What Will This Article Cover?
This article showcases the very best summer work shorts we have available, made from strong yet breathable materials with functional pocket space for all your on-site needs. We'll take you through five of the best from each of the following categories:
Our #1 Pair of Summer Work Shorts
Winner: DeWalt Hamden Pro-Stretch Cargo Work Shorts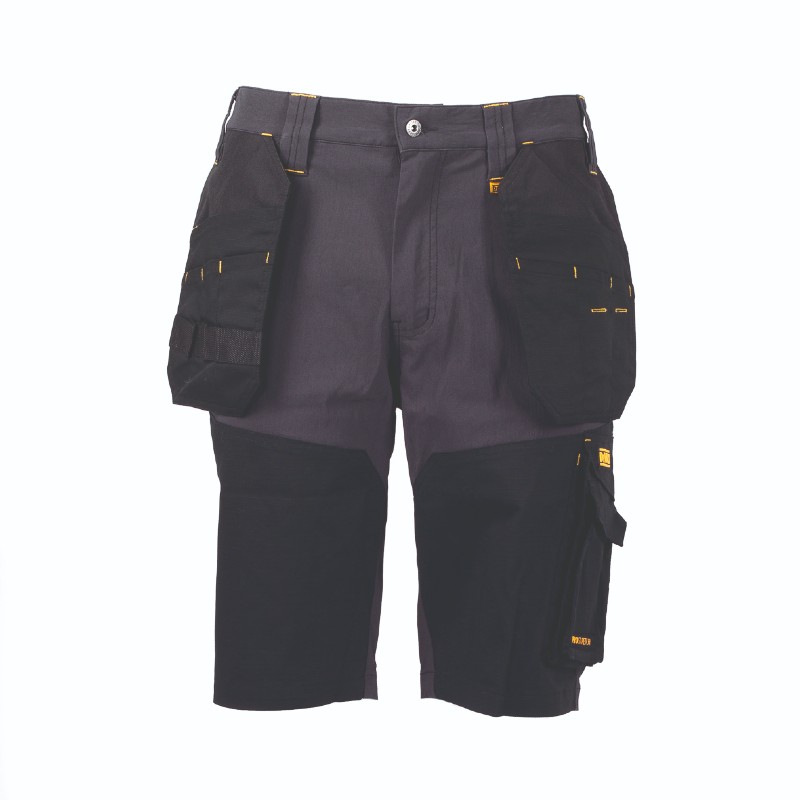 Made with special "pro-stretch" fabric, the DeWalt Hamden Cargo Work Shorts are a pair of flexible work shorts that work as hard as you do. With twin holster pockets providing plenty of storage room for your work day essentials.
What we love about them:
✔ Blends nylon and elastane for special "pro stretch" comfort
✔ Twin floating holster pockets for storing tools and equipment
✔ Engineered to withstand occupational wear and tear
Our Verdict:
DeWalt are a well-established brand that's recognised for their commitment to quality and performance, and the Hamden Work Shorts are no exception.
Our Most Durable Pair of Work Shorts
Winner: Apache APKHT Ripstop Holster Pocket Work Shorts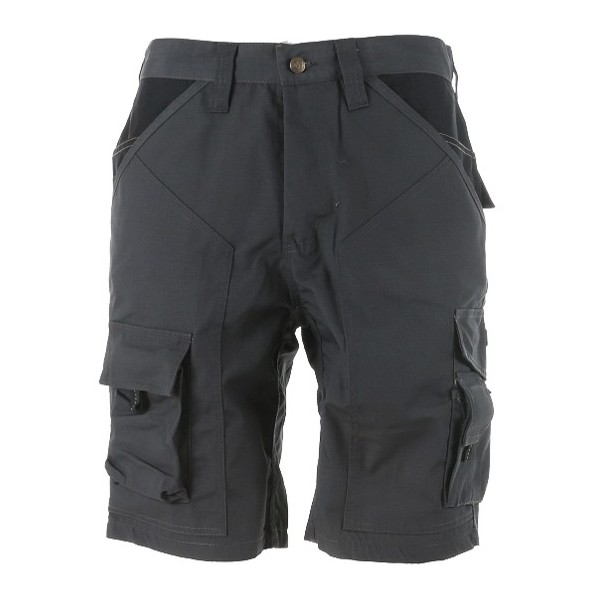 Comfort is important for summer, but you don't want to sacrifice the strength and durability that's needed for trade work. Built with strong ripstop fabric, the Apache Cargo Work Shorts are certified "trade tough".
What we love about them:
✔ Built with Ripstop fabric using special reinforcing techniques
✔ Low rise comfort waist for extra breathing room in the heat
✔ Tool belt loops and cargo pockets for work practicality
Our Verdict:
The crosshatching "ripstop" technique used to make these work shorts is the same used for parachutes and wingsuits, so you know that strength is guaranteed.
Our Most Breathable Pair of Work Shorts
Winner: Portwest S889 Black Action Shorts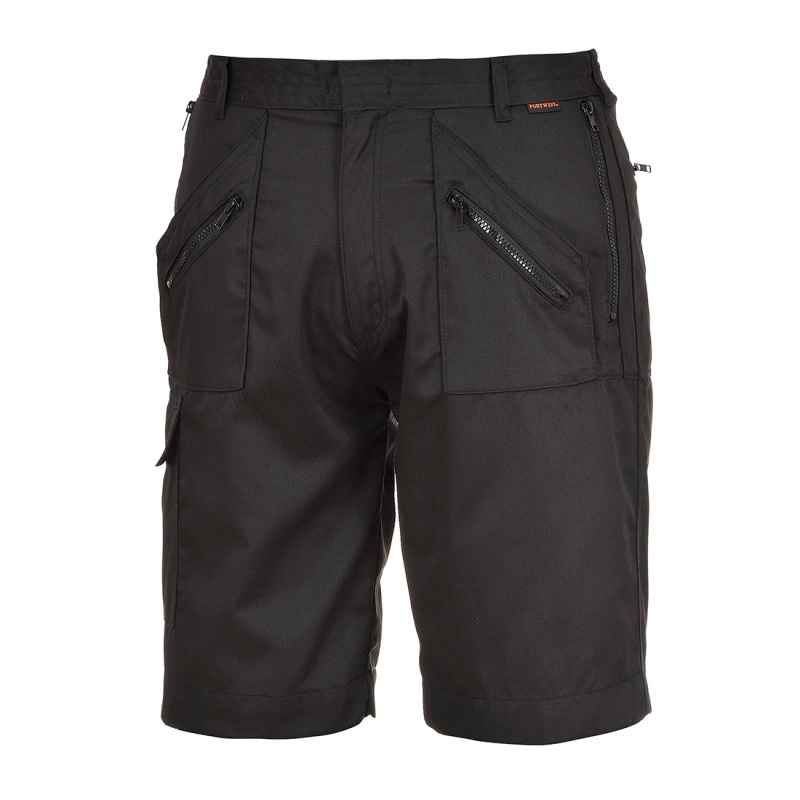 On days where the heat feels too much to bear, a pair of spacious, free-flowing work shorts are the friend you need. Made from exquisite Kingsmill cotton, the Portwest S889 Action Shorts offer unmatched breathability.
What we love about them:
✔ Premium Kingsmill cotton allows warm air to exit through the fabric
✔ Spacious design gives the wearer plenty of "breathing" room
✔ Nine different pockets provide ample storage space
Our Verdict:
A stylish, lightweight and practical work short with astonishing breathability.
Our Best Hi-Vis Summer Work Shorts
Winner: Portwest PW343 Hi-Vis Orange Holster Shorts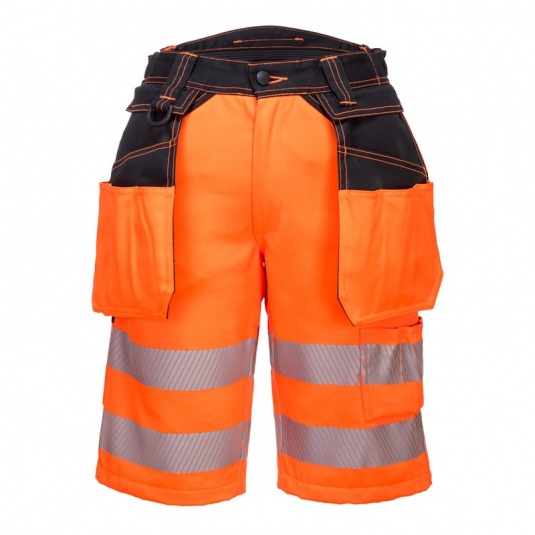 It's not just darkness that makes you harder to see, blinding sunshine can also make you seem invisible to potential hazards. In bright stand-out florescent orange, the Portwest Hi-Vis Holster Shorts helps you stay comfy and visible.
What we love about them:
✔ Bright orange colour helps you stand out in the day or night
✔ Spacious breathability keeps your legs nice and cool
✔ Nine pockets in total for convenience on site
Our Verdict:
An incredibly comfy pair of shorts that help you stand out in dangerous work zones thanks to the florescent colour that appears to 'glow' in the sunshine.
Our Most Affordable Summer Work Shorts
Winner: Portwest S790 Black Combat Shorts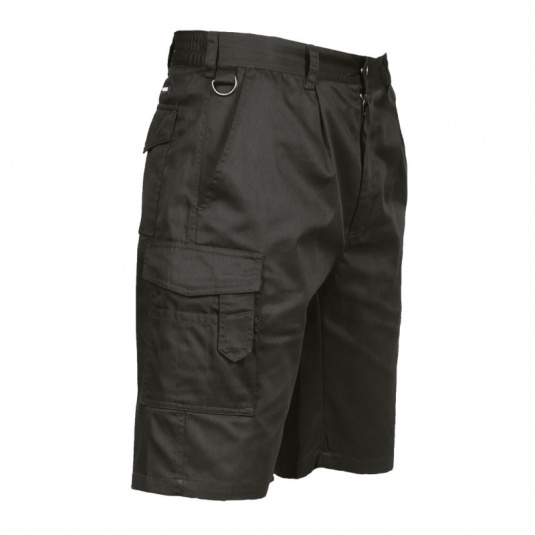 If you're in the market for no-nonsense summer work shorts at an affordable price, the Portwest S790 Black Combat Shorts are a perfect match. These low-cost cargos offer fresh-feeling comfort and feature tough, double-stitched seams.
What we love about them:
✔ Elasticated cotton shorts provide supreme comfort
✔ Reinforced stitching for excellent durability and wear
✔ Low in cost but high in quality
Our Verdict:
Working with a low budget and need something cheap but reliable? The Portwest S790's will set you back less than a tenner, and has all the essential ingredients that make an effective pair of work shorts.
Welcome Warm Weather With Open Arms
A good pair of quality summer work shorts can make the difference between a sweltering day of misery or a glorious day in the sunshine. We hope this article has guided you to the right pair of work shorts to help you enjoy this summer comfortably.
Which of our work shorts has grabbed your attention? Let us know in the comments, or check us out on Facebook and Twitter.